Buddhas of Bamyan - These statues were carved some 2000 years ago during the time of Kushan Dynasty in Bamyan, the heart of Hazarajat region in Afghanistan.
In an attempt to wipe off the cultural heritage of Afghan people, the Statues (along with hundreds of other archeological artifacts from Museums) were destroyed by the Taliban in March, 2001.
Read more about the Buddhas of Bmayan.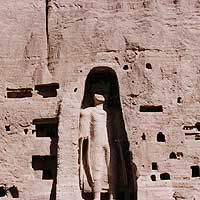 Amir Habibullah Khan ( 1901 - 1919 ), son of Amir Abdur Rahman Khan ( 1880 - 1901 ) - the Pushtun ruler of Afghanistan that persecuted Hazaras based on their religious beliefs, addressed this letter to the Hazaras acknowledging the atrocities committed by his father against the Hazaras. The letter asks the Hazaras to return back to their land, Afghanistan. This is the original letter preserved by a Hazara family through generations.
We are working to get a translation of this letter in English.
(Courtesy - Gulzari.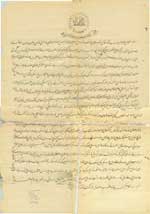 A Hazara prisoner brought to Amir Abdur Rahman's court - 1893
[ Original Illustration from a German Newspaper ]
( Courtesy - Gulzari)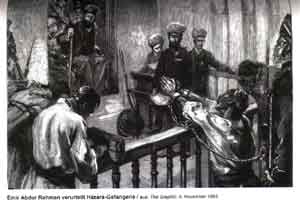 click on the link to see a bigger image.