Following is a partial list of Hazargi Proverbs and will be translated into English soon. The list will be updated frequently as we get more proverbs and other Hazargi cultural items.
Hazargi Proverbs ( Zurb-ul Misl )
Ash marda dair pukhta musha
Asp bumra ba qaiza, na ba naiza
Az Khirs moi kundo
Aube do adam-e shiq da yak jai na mora
Az khane hindu Quran bur shuda
Az chul chul-e sug , auu murdar na musha
Az gundum gundum meroyad, az jau jau
Az thai chakuk khesta, (barish) tai naudun (the pipe when the rain falls, the water is drained through that from the roof - nawa) bishin
Az ghushna sa mund, ki gada bukhura
Az yuk satoon ta satoon dega faruj-a
Agar ghusna da khana, sadaqa the sahra harama
Aziz-kudha Khuda Khawhar na mukna - God never lets a special person down.
Bar Kuj hej ghayud da munzil na mersa - Niyat bud
Bukhor khud pisand, Buposh Alam pisand
Buzuk Buzuk na mur, ke jao laghman mairasa
Bekhund tha the dunya the rui to bekhunda - If you meet people with open heart, they will do the same
Bhane Gozuk, Aard Jau
Buz kum, chai' chai' she kum
Buz gharg az ghalla thoor
Buzi shakaki qirti (subuk, qirtak) ya, quli cheez she sur bala
Bukhsish the kharwaar, hisaab dah misqal
Chah kun ra chah dur paish
Dar-ra bugi, dewaar bishnawa
Diste Sher ra ke the jungle shushta?
Diste waz ra Khuda hej ghayid busta na mukuna
Dil-e ma, bais-cle ma
Da dil mund, da gil mund
Dair Aayad, Durust Aayad
Dunya ra auu bigra, lube daig-dune az tu khusk basha
Durwaze murdum ra qud angusht na zun, ta qud laghud darwaze to ra nazuna
Dushman-e dana, behtar az dost nadaan
Gor-e Khasis hamisha thunga
Guzishta ra Salawat, Ainda ra ihteyat
Gushna da khana, sadaqa da sara haram a
Gushpund ki dumbae she ziyad musha, sur she khamtur musha
Guftum Khosh-amadi, Goft Lalai Khur kho kuja basta kunum
Himmat Murdha, madad Khuda
Joinda (the person who is looking for something) yabinda (piada kadan)
Junge Daigho (mali, kaashtkar) ra dah sur-re shud yaar (kaar ra kitabi ko kee subah kudam masala naya dur ma bain )
Khaak shunu the surma bishe
Khuda Khush kada ra hamisha Khuda Khosh kada
Khane Khair yug roz paish tur kharaba
Koh da koh na mairsa, adam da adam mairsa
Khana az gah khrab bood, bhana dah baad shud
Khur ma az kuragi (chucha-gi) dum nadasht
Khur-ra biyaro, Baquli baar ku
Khurbouza, az kharbouza rung migra
Kun kho da shakh gau jung mida
Kun luj atish bazi, sur-e khar naiza bazi
Khur-e kho bidi dah kirah, khodi to bishi da nisfe rah
Kismat ke sheerbiranja, hur jai ke bori naa tu sheerbiranja
Kulee-ge ra qud yuk chim sail kani
Lughmae murd da dile-namurd khau mukna
Mah hamisha pusht Aawur na mumna
Mazagh Mazagh, qud rishe baba mazagh
Maar az pudina budh she maya, Pudina the wor (snake hole) she sawuz mukna
Maar aga deega jai kuj mora, da wor kho ras dur meya
Murghe ki langa, the pie-she sunga
Musulmani ahsta ahsta (slow slow)
Murghe zeerak, thou alqa bunda
Niyat-u Murad
Na kuna Mabood, chi kuna Sultan-e mamood
Nake ma-mila ra baaz ma-mila, bud ma-mila ra, bus (enough) ma-maila
Namake sia, safid na musha
Nan Piyaz, Qash waz
Naeku khora da durya binduz ki auu zaya na mukna
Nan-e ghushna dair pukhta musha
Nan-e yug nafar ra khordon nimak don shira maida kadon rawa neya
Nau ke beya the bazar, khona musha dilazar
Pie-ee bibi dana shuda, barai bibi bahana shuda
Punj anghust brathara , brabar neya
Qurba bayzani, yuk nana tanha mayzane
Qeemat be himmat neya, arzon (cheap) bay ilaat
Roze badh birar nadra
Roba kira shahid bur kud, ... Dum khora
Salah ra bala kud
Salah Samarkandi, badthur az rishkhundi
Sazai bay peer ra la mazhab midya
Shaft Shaft nako, Shaftalo bugi
Shule kho bukhur, pardai kho kanu
Shur Bikhez, ke Khair-e mo baasha
Sur salamat, kola bisyaar
Sung da pai lung
Sung o gundum khod khur bechin
Ta naan dare , naam dare
Ta jan batan-a jan bikun-a
Theez (goz or fart) biland khane khod, tukht-e biland khane khod
Taulai na kushta, seekh russ kadu khob neeya
Umr-e Khotah wa andaisha-ye diraz
Yuk Sur, hazar sauda
Yuk beleest (punjae dist , or yuk qarish) bashad, az khud shuma basha
Yak qurd au ra puf kada bukhur, parda kho ku
Yuk qiran the kune jaib she na, nam she patay khan
Zemistan sukht tair musha, se-yahi da zughal mumna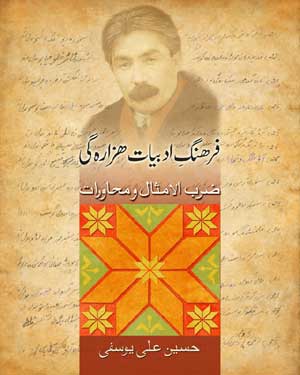 Book Title: Farhang Adbiat Hazaragi: Zurb-ul Imsal O Muhawarat
Author : Late (Shaheed) Hussain yousufi
Publisher: Hazaragi Academy
Price: $15 (approximately)
Available from: Norban Books
phone:
+92-321-800-1965
+92-321-800-6919
Summary: Launch ceremony by Hazara Democratic Party (HDP) on June 6th, 2010. Book contains a life time work on collection of over 3000 Hazaragi proverbs translated in three languages (Dari, English, Urdu) simultaneously.