15th Anniversary of Baba Mazari in UK
(Courtesy: Zakir Hussain, UK)
Saturday 20th march 2010
On Saturday March 20, 2010, a seminar was held in Shenly Brookend Theatre in Milton Keynes England commemorating the 15th anniversary of the martyr leader Abdul Ali Mazari.The seminar started at 2pm and finished at 5.30 pm. A huge number of the men and women attended the seminar from all over the United Kingdom. All the speakers paid their respect and tribute to the Shaheed Mazari.The speakers also discussed the current political sitution in Afghanistan
.
Among the main speakers were Hafeez khurram (Writer and Political Analyst), Syed Inayat Shah (Deputy Secretary General HO, UK) Abdul Ahad Bahaduri (Political Analyst), Syed Munnawar Hiadary(Chairman Hazara Organisation UK), Shaheed Zadaah and others.The speakers also discussed on the concept of the world hazara organisation.The seminar was organised by Afghan community of Milton Keynes and Hazara community of Bedford.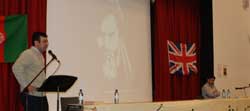 Quotes of Shaheed Mazari
" Our only wish for our people is
that being a Hazaras should no
longer be a crime "
---