Reaction to the terrorist attacks on Hazaras by Lashkar Jhangvi on June 8 and
July 4, 2003
Al-Qaida link with Lashkar Jhangvi behind hazara Killings - Sept 10, 2003
Balochistan Inspector General Police, Dr. Shoib Suddle's press briefing on the terrorists involved behind the Hazara killings ...
Peace rally by Hazara Democratic Party (HDP) - July 18 and 19, 2003
A Peace rally was held in Quetta city due to the recent tragedies of 8th june and 4th july in which all the major political parties - BNP, BNM, Pushtunkhwa MAP, JWP, and PPPP.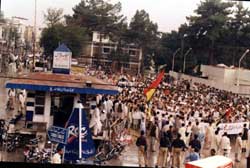 [ more detail ... ]
Lashkar Jhangvi claims Quetta killings - July 15, 2003
Lashkar Jhangvi - a group condemned as a "Terrorist Organization" both by the Government of Pakistan and United States of America, in a video tape confession handed over to BBC News Service, accepts the bloody attack on the Hazaras on June 8, 2003 and July 4, 2003 in which over 65 people were killed and more then a 100 were critically wounded.
[ note: more info on Lashkar Jhangvi will be coming soon ]
Statements of Condolnces and Condemnation by various Organizations
What is being done:
Press Release - Hizb Wahdat, Afghanistan
What you can do?
Pakistan
Quetta, Pakistan - June 8, 2003
Victims: 12 Hazara Police, 9 critically wounded by unidentified gunmen
Karachi, Pakistan - 2002
Haji Abbas (known Agahe Juice) - a renowned Hazaras Businessmen gunned down by unidentified gunmen
Quetta, Pakistan - Feb 2001
Victims: 5 Hazaras, and one non-hazara killed, 5 injured by unidentified gunmen
Quetta, Pakistan - 2000 (date not confirmed)
Elected member of Provincial Assembly, Sardar Nisar Ali Hazara and his driver attacked by unidentified gunmen. Sardar Nisar Ali recovered from his gun wounds, but his driver died.
Afghanistan
Iran
"Hazaras as Berberis" a deragatory term the Iranians use for Hazaras for their association with Ghenghiz Khan (Changez Khan in the East) - the mongol warrior of 12th century.
In the 12th century, Chengiz Khan attacked then Persia (modern Iran) which the Iranians still hold against the Hazaras in year 2003
Picture Gallery - HAZARA UNITY USA rally in NewYork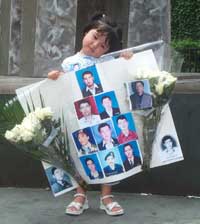 Rally in Toronto