Kabul, Afghanistan - Friday, Feb 6, 2009
Hazaras in Afghanistan held a commemoration ceremony to honor Martyred leader, Hussain Ali yousufi.
The ceremony started at 9:30am with Qur'anic recitation, followed with speeches by prominent Hazara personalities that included: Ahmad Behzad, Hussain Fahimi Balkhabi, M. Ali Stegh, member of parliament, respectively from Herat, Balkhab and Daikundi, Akram Gizabi , Zolfeqar Omid - leader of the party of Work and Development. Mr. Fasehi spoke as the representative of Khalili's Wahdat party and later a resolution was read and then the great Hazara historian, Haji Kazem Yazdani ended the ceremony.
There were many MPs, members of the council, a minister, second vice president, UN Special Rep for Darfaur Mrs. Sema Samar, activists of the Human Rights Commission, University professor, students, tribal leaders, military officer, clergy and common people.
News/Pictures: Courtesy of Kamal Nateqi / Thomas Bolles / NOMA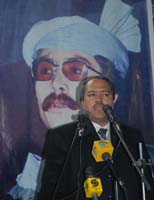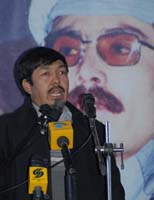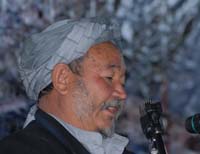 Great Hazara Historian, Haji Kazem Yazdani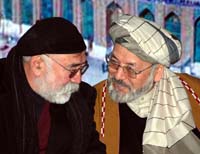 Mr. Akram Gizabi, Vice President Karim Khalili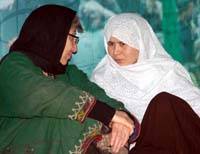 Dr. Sima Samar