MOHSIN CHANGAZI
Jameel Uddin Aali from Jang Newspaper on Mohsin Changezi ...
BIODATA:-
Mohsin Changazi was born on September 3,1979 in Hazara neighborhood of Nichari in Quetta, Pakistan. He got his primary eduction from Islamia High School Quetta and did his matriculation from Yazdan Khan Model High School Qta. Then he successfully completed his Faculty of Arts (F.A.) from General Musa Inter College. Continuing his quest for education he earned his B.A degree from University of Balochistan.
Mohsin formally started writing poetry when he was doing his matric. Ever since, he has held a unique style and a depth unique to him and acknowledged by the many awards and praise he has received by some of the best and well known poets at such a young age. This love for poetry resulted in writing his book by the name of "Sarab Jaw" in 1998 which recieved immense appreciation and acknowledgment. He launched another master piece of poetry as "Khuab Sey Khali Aankein" which is really a precious gift for literature lovers.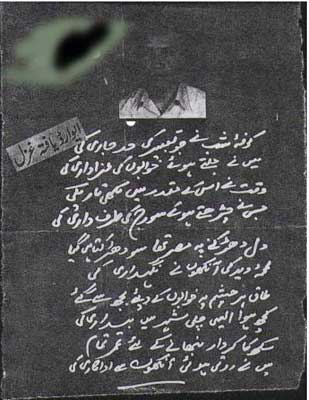 Awards:-
1- "NASHAN-I-GHAZAL AWARD" Rupees 100,000 given by SK.Traslar, Iftikhar Arif, Dr. Javaid Seikh and
Dr. Inam-ul-Haq Javaid at Holliday Inn, Islamabad.
2- "5 marla plot" (land) Kul-Hindu-Pak Mushaira at AbuDhabi and receive the tittle of "Star of the Night"
3- "Gold Medal and Shield" at special function arranged for Moshsin and Jon Alia from Karachi Club at Karachi.
4- Selection of his book (2nd book)from Government of Pakistan for special award. Mohsin attended many Musharia not only at National level in Karachi, Islamabad and Lahore as well as other places. He has also participated at the International level such as UAE (Dubai, Sharja and AbuDhabi).
NEW BOOKS:-
Mohsin's two new poetry books "Gira" and "La Patha" are expected next year.
We take pride in Mohsin's success and wish him all the luck in his future endeavors and we hope that he will serve as a role model for the Hazaras and others all over the world.
More On Mohsin can also be found at the Manji Website by Sibtain yousufi.
Courtesy: Sharafat Ali, Wahdat Guardian Organization