NEWS 2001
US troops arrest top Taliban official - Dec 25, 2001
ISLAMABAD, Dec 24: US forces in Afghanistan have arrested the deputy head of the ousted Taliban regime's intelligence department, Abdul Haq Wasiq, the Afghan Islamic Press said on Monday.
Taliban ambassador seeks political assylum in Pakistan - Dec 25, 2001
ISLAMABAD, Dec 24: The government on Monday confirmed that former Taliban ambassador to Islamabad, Abdul Salam Zaeef, had requested political asylum in Pakistan.
General Dostum appointed deputy Defense Minister - Dec 24, 2001
Pakistan holds Senior Taliban Official - Dec 20, 2001
A reporter for the Reuters news agency saw plainclothes personnel pick up Aminullah Amin, former Taliban border security chief for the southern half of the frontier.
Role of multi-national peace keeping force in Afghanistan - Dec 20, 2001
Explosion rips through Mazar-e Sharif market - Dec 20, 2001
Desperation in Bamyan - Dec 11, 2001
Surrender of Kandahar for the safety of Mullah Omar - Dec 6, 2001
Afghanistan's interim Prime Minister, Hamid Karzai, told the BBC that there may be an amnesty for Omar if he denounces terrorism and his foreign Islamic militants based in Afghanistan.
Commander Ismail Khan of Herat rejects Bonn deal - Dec 6, 2001
General Rahid Dostum boycotts the new govt. - Dec 6, 2001
``This is a humiliation for us,'' he declared, adding that he would deny officials of the new government access to the north, where Afghanistan's oil and gas resources are located.
3 Taliban Commanders in Opposition custody - Dec 4, 2001
The HRW said that Mullah Fazil and Maulvi Nurullah Nuri were known to be in Mazar-i-Sharif in the custody of Northern Alliance Commander Gen Abdul Rashid Dostum. Mullah Dadaullah was also known to be in Northern Alliance custody, but his precise whereabouts were not known, the report said.
Kunduz captured - Nov 26, 2001
Kunduz residents said that during the past three nights there was intense air activity at the airport. They believe Pakistani aircraft had evacuated trapped foreign fighters.
Refugee girl hope to be a professional - Nov 26, 2001
QUETTA, Nov 25: The young girls of the Hazara quarter in old Quetta city all know what they want to do when they grow up. While the boys scratch their heads at such a question, the girls chirp up: "teacher", "doctor".
Clashes near Kandahar - Nov 25, 2001
Kunduz resistance crumbles - Nov 25, 2001
The Taliban appear to have lost control of the city of Kunduz - their last foothold in northern Afghanistan - as Northern Alliance leaders close in from east and west after a 10-day siege
Revolt by pro-Taliban foreign fighters in Afghan prison - Nov 25, 2001
The Northern Alliance said earlier that its forces at the Qala-e-Jhangi fortress had quelled the revolt.
Kabul women keep the viel - Nov 24, 2001
US releases Taliban 'catalogue of attrocities' - Nov 22, 2001
Alleged atrocities in the report:

The 1998 massacre of 600 Uzbek villagers.
The 1998 capture of Mazar-e Sharif, which included, according to Human Rights watch, the execution of scores of men and boys and the rape of women and girls.

The 2001 massacre in Yakaolang, which included, according to Human Right Watch, the executing of at least 170 men.
Taliban flee Kunduz - Nov 22, 2001
Some fighters, joining fleeing civilians, are even shaving off their beards in the hope of escaping the revenge of alliance forces.
Hazaras demands to be heard by Peter Greste
BBC, Nov 21, 2001: It's the home of the city's Hazara community, an ethnic group, the legend says, which is directly descended from Genghis Khan's Mongol army.
N. Alliance agrees to talks in Europe - Nov 20, 2001
"The U.N. will pay special attention to the Hazaras, who have been in the past, historically the most disadvantaged group amongst various ethnic groups in Afghanistan," Vendrell.
US hopeful before Afghan talks - Nov 21, 2001
US special envoy James Dobbins had several days of talks in Afghanistan and neighbouring countries.

He met representatives of the Pashtuns - the largest ethnic group - as well as the leaders of the Northern Alliance which includes the Tajiks, Uzbeks and Hazaras.
4 Journalist killed by armed Taliban thugs - Nov 19, 2001
Al-Qaida killing Taliban men to prevent defection - Nov 19, 2001
Mohammed Ibrahim, 50, who escaped on Saturday from the city, told the paper: "A commander who was foreign gave the order for 150 local Afghan Taliban to be killed because they wanted to surrender." "They showed them no mercy," he added.
New great game is about oil and gas - Nov 19, 2001
Afghan TV back on air - Nov 19, 2001
Swiss plans to rebuild Buddhas of Bamyan destroyed by Taliban - Nov 18, 2001
Hazaras marching on Kabul - Nov 16, 2001
Taliban leaving Kandahar - Nov 16, 2001
The Afghan way of War - the capture of Mazar-e Sharif and the ethnic rivalries within the alliance
Fight for Kunduz rages as Ramadan begins - Nov 16, 2001
A thousand-strong force from Hazaras march on Kabul -
BBC - Nov 15, 2001
The Hazaras, who form about 20% of the population, say they want to protect the Hazara community of the city and will only enter Kabul in co-operation with the Northern Alliance.
BBC Interview on Hazaras - Real Audio - Nov 15
Analysis: Afghanistan's tribal groups - Nov 15, 2001 by Daniel Lak , BBC.
UN passes resolution on Afghan rule - Nov 15
Interview with Mullah Omar - BBC Nov 15
Bamyan destroyed by Taliban - Nov 13
BBC has confirmed that the central Afghan town of Bamiyan was totally destroyed by the Taliban before they fled over the weekend.
Evidence has also emerged of Bosnian-style ethnic cleansing in the region involving the execution of hundreds of local ethnic Hazara men.
Map of NA advances in Afghanistan - Nov 13
Taliban flee Kabul - Nov 12
All provinces in Northern Afghanistan captured by Northern Alliance - Nov 12
Bamyan, Taloqan captured by Northern Alliance - Nov 12
Mazar-e Sharif: 200 pro-Taliban Pakistani fighters killed
Dawn News, Nov 12: Haji Mohammad Muhaqiq, who heads the faction representing the Hazara community, also told the Iranian Entekhab daily that the Northern Alliance had encircled some 1,200 Pakistanis, in the Maktab Soltan Raziyeh area, who were "not able to flee" with the Taliban.
Afghan Women take arms against Taliban - Nov 12
3 Journalists killed by Taliban attack - Nov 12
Mazar-e Sharif captured by Northern Alliance - Nov 9
BBC News: Afghanistan's opposition Northern Alliance say they have captured the strategically important northern city of Mazar-e-Sharif.
Taliban murdering Hazara refugees who try to flee the country - Nov 8
Taipei Times : ENFORCED PATRIOTISM: Refugees who have made it to Pakistan report of having seen the Taliban gunning down masses of people who were fleeing the country
Taliban murdering fleeing refugees; Armed Taliban fighters hiding in refugee camps
Student who fled to US speaks of a Land divided: Sept 4
Nejati, 27, who fled for eventual asylum in the United States, has his own story of Taliban persecution, and of a mission to make known ''ethnic realities'' of Afghanistan.
Airstrikes on Kabul, and on Bamyan - Oct 27
Account of bombing by Hazara commander Khodadad Urfani -
Pakistani Involvement: 10,000 armed fighters cross border to fight alongside Taliban - Oct 27, 2001
Refugee Family Finds Hardships - Oct 21, 2001
Laura King, Associated Press
Eyewitness: Hazara People's Long Suffering
by BBC's Daniel Lak - Friday Oct 19, 2001
Looking 'Freedom' in Face
Afghan Man Holds up Mirror in Search for Answers
By David Finkel, Washington Post Foreign Service
Tuesday, October 16, 2001; Page A12
QUETTA, Pakistan
Hizb-e Wahdat, the Hazara Party, Urges for Participation of Women in the future Government of Afghanistan -
Oct 6, 2001
Statement of Hizb-e Wahdat Regarding United States Declaration of War Against International Terrorism - Sept 22, 2001
Refugees tell of Taliban Abuses in Central Afghanistan
BBC Aug 21, 2001 - There have been new reports of human rights abuses carried out by the Taliban in the central highlands of Afghanistan

Film just smuggled out of Yakawlang lends weight to their stories. It shows the blackened remains of the once bustling bazaar, what used to be the economic hub of the whole district. ...
Part 1. Discrimination against the ethnic Hazaras of Afghanistan even by the UNHCR office in Tashkent, Uzbekistan
Part 2. Origin of Hazara People
June 6, 2001: Wahdat Press Release on capture of Yakawlang in central Bamyan province
107 Pakistanis held as Prisoners of War (POWs) by Northern Alliance in Afganistan
Pakistan has always denied its involvement for helping the Taliban.
---
Afghan gunmen murdering those who dare to flee
AFP- QUETTA, PAKISTAN
via the Taipei Times
11/8/01
ENFORCED PATRIOTISM: Refugees who have made it to Pakistan report of having seen the Taliban gunning down masses of people who were fleeing the country
The Taliban are slaughtering Hazara Afghans who try to flee the country, gunning them down in cold blood, claim refugees who have made it to Pakistan.
Thousands of "invisible" refugees from the minority Shiite community exist in poverty on the outskirts of the southwestern Pakistani city of Quetta, near the Afghan border.
They say they have fled the US bombing of Afghanistan, a severe drought and more than anything, persecution by the ruling Islamic militia.
Of a dozen Afghans interviewed, all had tales of random killings, human rights abuses and persecution.
Some told of mass murders.
Ovr Mohd, 65, fled to the hills from Bamiyan to avoid the rampaging Taliban. When he returned he said he found his three sons shot dead.
He said they were targeted because they were ethnic Hazaras, whose sympathies lie with the opposition Northern Alliance.
"When we decided to leave Afghanistan we saw the Taliban attacking people who were fleeing. People were gathering on the road to leave and they were shot. We have seen this," he said.
"I saw 50 people in front of me who were killed. They were women, children and men," he added, claiming the killings happened a month ago. "I hate the Taliban for doing this."
Senior officials at the Taliban embassy in Islamabad were unavailable to comment on the claims.
Peter Kessler, the UN High Commissioner for Refugees spokesman in Quetta, said: "Clearly the Hazaras and other minority groups have been victims of massacres over the last years but there are also reports of Hazara exactions on Taliban prisoners they have taken. "It is difficult to verify any reports coming out of Afghanistan right now. But these ones certainly deserve to be examined very carefully."
Most of the 5,000 or so people who live in "Hazara town," a dusty maze of dirt roads and mud brick houses in west Quetta, are Persian-speaking Shiite Muslims descended from Mongol troops.
They are among the 100,000 Afghans believed to have crossed the border illegally since the US began pounding Afghanistan.
They have no identity papers and officially do not exist in Pakistan. They refuse to move into refugee camps for fear of deportation. Consequently they receive no help from aid groups.
Saeed Zaman, 35, said he witnessed similar killings in Kabul, the Afghan capital.
"There is a roundabout where the people go when they want to leave. The Taliban are attacking them there. I saw dozens killed [on Friday]. The people were pleading to leave but the Taliban shot them," he said.
"They left the bodies where they fell. The animals were eating them."
Zaman paid a smuggler 1,300 rupees (US$21) to escape the terror, arriving in Quetta on Monday. Six of his family members have been killed by the Taliban, he said, including his wife.
Sad Shah Musa, 50, echoed these experiences.
"People are running and the Taliban are shooting them," he said. "We have lost our lives in Afghanistan. We have lost everything.
"`Why are you fleeing, this is your country,' they say. They say, `You are against the Taliban, you are running away' and then they shoot."
The Taliban have also been accused of forcibly conscripting young Afghans to fight their holy war jihad.
They came for the three sons of Baqhtawar, a 60-year-old woman from near Herat, in western Afghanistan, 12 days ago.
When she protested she was punched in the face, losing four front teeth. She was left sprawling on the floor with a bloodied mouth and has heard nothing from her sons since. She fled soon after under the cover of darkness and arrived in Quetta 10 days ago.
"The Taliban took our husbands and our sons. They burned our homes and our mosque," she said.


---
Refugee Family Finds Hardship, Oct 21, 2001
Associated Press.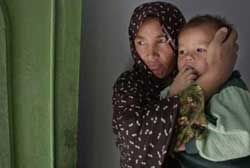 Afghan refugee Bakhtnisa holds her son Mahammed Zukir in a room her family has rented in Hazar Town near Quetta, Pakistan, Sunday, Oct. 21, 2001. The family said that they had been living in a cave after the Taliban burned their home and they fled to Pakistan the day after the United States began bombing Afghanistan. The family belongs to the Hazara ethnic group, which lives mainly in Afghanistan's forbidding central highlands. In part because of religious differences--they are Shiite Muslims, not the majority Sunnis--they have long been at odds with Afghanistan's ruling Taliban. (AP Photo/Laura Rauch)
QUETTA, Pakistan (AP) -- At the start of their journey, the family had a small stone house, a few goats, and not much food, but enough to fill the bellies of the children. By its end, they were hungry, sick, deep in debt to human smugglers, and counted two cracked cups as their sole possessions.
Afghan refugees are spilling by the thousands across the border with Pakistan, and for nearly all, the passage has been filled with difficulty and danger. But even against such a backdrop, this family's sojourn was remarkable for the sheer number and variety of hardships they have faced -- with more to come.
``Every day, it seemed there was something else to be afraid of,'' said Bakhtnisa, a mother of seven with a careworn face and broken teeth, who thinks she is about 37 years old. ``I couldn't accustom myself to it, because there was always something new and terrible.''
The family belongs to the Hazara ethnic group, which lives mainly in Afghanistan's forbidding central highlands. In part because of religious differences -- they are Shiite Muslims, not the majority Sunnis -- they have long been at odds with Afghanistan's ruling Taliban.
In the family's home district of Bamiyan, about 50 miles northwest of Kabul -- best known to the world as the site of enormous carvings of the Buddha that were blown up by the Taliban this year -- tensions rose after the Sept. 11 attack on the World Trade Center and the Pentagon.
When blame fell on Osama bin Laden as his Taliban protectors, the Hazara community began to feel increasingly menaced by Taliban loyalists who expected American retaliation and resented Hazara sympathies for a rebel military alliance trying to topple the Taliban.
A few nights before U.S.-led airstrikes began on Oct. 7, Taliban supporters burned down the family's house, along with those of several neighbors. They took shelter in a cave and sold their goats to raise money. Once the American airstrikes began, they knew it was time to leave.
Taking only a small supply of patiri, a traditional flatbread, they set off on foot through the mountains for Ghazni, a province south of Kabul where there is another concentration of Hazara. The journey took three days.
At night, they wrapped themselves in cloths and slept on the ground. Bakhtnisa and her husband, Azizullah, did not eat; they saved the food for the children, the youngest a toddler of 2 and the eldest a boy of 16.
Along the way, they heard the distant thud of explosions and saw fireballs lighting the sky outside Kabul, bombarded nightly by American warplanes. When they saw Taliban troops or officials, they hid; Azizullah feared that he and his eldest son, Sharif, would be forcibly conscripted if they were spotted.
In Ghazni, they decided to try to make their way across the border to Pakistan. Together with two other families, several dozen people in all, they hired a smuggler to sneak them across a remote, unmarked stretch of frontier.
They traveled mainly at night, on switchbacked, rutted roads that left them bruised and battered from being flung against the truck's wooden bed and bare metal sides. Packed together, the children vomited, and there was nothing to clean up with.
Whenever they approached a checkpoint or a stretch of road where they might be stopped, the families were ordered out of the truck and told to make their way through the countryside, meeting up with the driver miles down the road -- a trek that sometimes took hours.
All the while, Bakhtnisa and Azizullah worried about how they would pay the smuggler what they owed. He was charging the family nearly 8,000 rupees -- $140 -- an amount of money they had never possessed. The proceeds from selling their goats fell far short.
The smuggler told them he would work out payment later, but did not explain how. Once in Pakistan, they found out.
Azizullah and Sharif would be indentured to the smuggler, working in a coal mine outside the border city of Quetta. It would probably take them several months to work off the debt, they were told.
Four of the other children, aged 6 to 12, were sent to live and work in a carpet-weaving workshop. The smugglers arranged that, too. The family is effectively indentured.
In a Hazara neighborhood on the outskirts of Quetta, Bakhtnisa found a room to rent while she waits and hopes for the family to be reunited. It is a storage cellar, down a steep flight of stone stairs from a dusty courtyard where a dozen other refugees are sheltering.
She sleeps on the bare floor with the two youngest children, 2-year-old Zakir and 4-year-old Bakir, in blankets lent to them by the landlord. All they own are ragged clothes and two cups. Bakhtnisa thinks the landlord may lend them a plate to eat bread off of, perhaps next week.
As the days pass, she worries about one thing, then another. The nights are growing cold, and Zakir has been running a fever. She misses the other children and is afraid they are being mistreated at the carpet workshop.
She has borrowed more money to pay for food and the $6 monthly rent, and wonders how long her husband and son will have to work to pay off this new debt.
``I don't see any hope for our lives here,'' she said. ``I don't want to stay in this place. I think of all of us together in our home. But how can that ever happen again?''
---
- Saudi Arabia cuts diplomatic ties with Taliban.
- Exiled King of Afghanistan, Zahir Shah, lobbied to return to Afghanistan
- JUI warns US against attack on Afghanistan
- Afghan opposition claims pushing back Taliban
- UAE cuts diplomatic ties with Taliban
- Afgan Opposition claims making gains
- Mosque burnt in Australia
- US Intelligence Sources: Apposition leader
Masood was killed by Bin Laden men
- Osama men leaving training camps
- US warplanes land in Uzbekistan
- US hints in seeking help from Northern Alliance in
Afghanistan
- Fighting raging in Afghanistan
- Four killed during Anti-US demonstations in Pakistan
---
Hizb Wahdat Statement regarding Assassination attempt on Ahmad Shah Masood by Bin Laden / Taliban group - Sept 13, 2001
Arab-isation of Afghanistan
PESHAWAR, Aug 12: An Afghan intellectual and director of Afghan Study Centre, Prof Rasul Amin has warned of Arabisation of Afghanistan if steps were not taken to allow the Afghans to exercise their right to self-determination. ...
Commander Masood seriously injured in the suicide bomb attack carried out by two Arabs
News Update from Northern Afghanistan:
Sept 21, 2001. According to the Northern Alliance spokesman, the last posts of the enemies (Taliban) are fallen toward the sholgara and 8 bodies of the enemies are left behind. A big load of the arm and immunition and various type of light weapon are captured. Northern Alliance have arrived near sholgara, dalan and qaraighaj - areas inhibited by ethnic Hazara.
Sept 20, 2001 : 16:00. Joint forces of Hizb Wahdat and Jumbish launched a big attack on the joint Taliban and Taliban mercenaries

By 18:00 they captured Saphid Kotal, Chapchal,
Maqsood, Toqsan. The Taliban-Osama forces completely
dispersed from the front line. A big number of arm and
ammunition is captured by the Allied forces. We are at the moment just 30 km away from Mazar Sharif. Tomorrow we are expecting more intense battle and if the
battle front of taliban is broken in Baluch and Kishindeh our forces will arrive in Sholgara. Around 250 prisoner are caught among of which Arabs are also seen.
Taliban Website Hacked AGAIN - Aug 19, 2001
Taliban Website is once again hacked by the Russian hacker. As of this writing, the website still displays the hacked message. See http://www.Taliban.com
The second hack of the site in two days shows the helplessness of the Taliban site administrators.
Taliban Website Hacked - Aug 16, 2001.
Taliban website administrators were left running around in panic when their website was found defaced by a hacker claiming to be from Russia.
June 4, 2001: Taliban's leaders approves war budget of $80 million dollars
Taliban's Hindu Tagging Condemned
BBC News, May 23: An order by Afghanistan's ruling Taliban that Hindus in the country should wear identity tags has been fiercely denounced by world leaders.
Pitiable Afghan Women
"If you are unable to stretch your food supply from noon to evening, what do you do?" asks Shahpari, the 40-year-old mother of 11, and a regular beggar. She lost her husband in the war, and the garbage that her two elder sons collect does not fetch enough money to buy food for the family and medicines for her sick daughter.
Taliban launch new offensive
KABUL, April 28: The Taliban launched an expected spring offensive on Saturday with major assaults against enclaves held by opposition forces in the country's north, an opposition spokesman said. ...
Fighting breaks out in Afghanistan
PESHAWAR, April 26: Heavy fighting has broken out between the ruling Taliban and the Northern Opposition Alliance in northern Afghanistan, heralding the beginning of what is known as the summer fighting season in the war-battered country. ...
It makes sense for the US to be nice to Iran
First, help those forces within Iran that want to get rid of Saddam Hussain. For the first time, the Iranian-backed opposition to the Iraqi leader has said it would work directly with the US to topple Saddam.
Second, work with Iran to defeat Afghanistan's ruling Taliban, which threatens Central and South Asia as well as the West.
Third, recognize that the Islamic Republic is of enormous strategic importance to the US and its friends and allies. Sixty-five per cent of the world's known oil reserves lie below and around the Gulf.
UK officials makes first trip to Kabul in 3 years
ISLAMABAD, April 25: British officials left for Afghanistan on Wednesday for the first time since 1998 as part of a UN trip, which includes members of the US Drug Enforcement Agency, UN and diplomatic sources said.
A United Nations official said four Britons and two Americans were part of the trip planned by the UN Drug Control Programme to survey the ruling Taliban militia's efforts to stamp out poppy cultivation.
Taliban to slash war expenses
PESHAWAR, April 25: The Taliban government have decided to cut down its war expenses necessitated by their increasing financial straits, sources informed Dawn, on Monday.
Taliban's war expenses on Takhar front alone were estimated at US $200,000 per week and the fronts in Bamiyan and the northern plains had weekly expenses of about $400,000, said the sources.
Amid straits emanating from ban on poppy cultivation, the Taliban income of Rs100 billion from the border trade with Pakistan was also in trouble due to the tightening of borders by the Pakistani anti-smuggling forces since last year.
Shift in US policy as envoy visits Afghanistan.
ISLAMABAD, April 17: In a significant departure from its policy of no direct official contact with the Taliban, Washington has allowed four of its diplomats to go to Afghanistan on what sources here describe as a humanitarian mission.
Peshawer, April 16. Mullah Rabbani, second in command of Taliban, dies Taliban declares 3 days of state mourning in Afghanistan contradicting their own stand against open mourning. Recall that the Taliban had banned the mourning of Prophet Muhammed's (SA) family by the Shiite muslims in the month of Muharram. Thus either (naooz billah) Mullah Rabbani is more important figure then Prophet Mohammed's (SA) family. Or they will themselves become "infidels" according to their own religious decree they have issued against the Shiites in Afghanistan for mourning during the month of Muharram.
107 Pakistanis held as Prisoners of War (POWs) by Northern Alliance in Afganistan
Pakistan has always denied its involvement for helping the Taliban.
Switzerland announces new Sanctions against Taliban
BERN, April 11: The Swiss government on Wednesday announced new sanctions against the Taliban, tightening visa restrictions and banning the shipment of a chemical used to make opium
European MPs back Masood
BRUSSELS, April 6: Afghanistan's opposition Northern Alliance leader Ahmad Shah Masood won enthusiastic European Parliament support on Thursday for his anti-Taliban campaign and calls for tougher international action ...
Masood seeks dimplomatic pressure against Pakistan ...
PARIS, April 4: Afghan opposition leader Ahmad Shah Masood made an impassioned plea on Wednesday for foreign aid in his war against the Taliban and called for diplomatic pressure against Taliban's backers in Pakistan.
Afghanistan: New alignments on the anvil
PESHAWAR, April 4: New alignments for Afghanistan are on the anvil ahead of approaching summer, but analysts are taking the details with a pinch of salt, given the Afghans' inherent trait of divisiveness on the one hand ...
Pieces of Buddha Statues on Sale in Peshawer, Pakistan.
LONDON, April 1: The remains of the 2000-year-old Bamiyan Buddhas, blown up by Taliban last month have now been put on sale in Peshawar. Ten truckloads of pieces were driven into the tribal areas between Pakistan and Afghanistan last week ...
Kabul lifts curb on Shias during Muharram
KABUL, April 1: Shias in Afghanistan observed the Muharram rituals on Sunday as the Taliban lifted curbs on mourning and flagellation. Witnesses said thousands of devotees including a large number of women ...
Statues can't be restored, says UNESCO
PARIS, March 27: The giant Buddhas of Bamiyan destroyed by the Taliban cannot be restored, UNESCO director Koichiro Matsuura informed a press conference here on Tuesday. ...
Newsmen visit site of destroyed statues
BAMIYAN, March 26: The Taliban on Monday lifted their ban on visiting the site of two colossal statues of the Buddha, allowing outsiders to see the almost total obliteration of Afghanistan's most famous monuments. ...
March 12, 2001: Hizb-e Wahdat's Statement with regards to the demolition of inimitable Buddha Statues:
The Hizb-e Wahdat Islami Afghanistan joins peace loving Afghans, International community, and other Hazaras in mourning the monumental loss of the cultural heritage of Afghanistan at the hands of the illiterate Taliban.
The Taliban leaders issued a religious edict deeming the two of the World's tallest Buddha Statues, which are carved into a mountain, as non-Islamic and ordered their destruction. The Taliban are supported by their masters - the Pakistan army and Saudi Royal family.
Islamic scholars all over the world have condemned this decision and act of barbarism. The 2000 year old Buddha Statues (see pics on this page) are believed to have been carved during the time of the Kushan dynasty which are believed to be the ancestors of the Hazara tribe that inhabits Bamyan, the heart of Hazarajat region.
March 12, 2001, Dawn News
Taliban - Annan talks failed - Buddha Statues destroyed.
ISLAMABAD, March 11: The Taliban regime has rejected the UN Secretary-General's plea to halt destruction of the Buddhist statues when Afghan foreign minister Mulla Wakil Ahmad Mutawakkil met Kofi Annan here at a local hotel ...
completely destroyed: Afghanistan's two colossal Buddhist figures were completely destroyed on Sunday, the Taliban militia said, as a delegation of key religious leaders arrived in a last-gasp bid to save them, adds AFP. "Consider them finished," Taliban spokesman Abdul Hai Mutmaen said in Kandahar.
March 11, 2001, Dawn News
- 80% of Buddha Statues destroyed
- US Muslim groups Slams destruction of Statues by
Taliban
- Pakistan fails to convince Taliban
March 9, 2001, Interior Ministry of Afghanistan Press Release
Spokesman for the Interior Ministry of Afghanistan, Haji Muhammad Muhaqiq in a letter addressed to UN Secretary General, Kofi Annan, today presented a two point formula to prevent the loss of Buddha Statues - the cultural heritage of Afghanistan in Bamian city ... [ more ]
March 9,2001 Dawn News
Taliban destroy top of Bamyan Buddha Statues:


ISLAMABAD, March 9: Taliban have blown up the top quarter of one of the ancient Bamiyan Buddha statues, AIP reported today. Sources said Taliban used a large amount of explosives to destroy the top part of one of the giant statues. It was not clear which of the two statues had been blown up, AIP added. (Reuters) (Posted @ 11:45 PST)
Muslim Intellectuals condems destruction of Buddha
Statues by Taliban:
KARACHI, March 8: Muslim intellectuals world-wide have condemned the destruction of statues in Afghanistan, and appealed to the Kabul government to refrain from doing it because this was "un-Islamic." ...
March 5, 2001: Dawn News
- Last moment UNESCO efforts failed: almost all statues
destroyed
- Taliban reject Iranian offer to take Buddhas
March 2, 2001 Hizb-e Wahdat Press Release -
Wahdat expresses sadness over the destructions of the Buddhas
... [ more ]
March 02, 2001: Dawn News
- Taliban begin smashing statues: Worldwide appeals
ignored
- Diplomats oppose destruction of Buddha Statues
- India slams Taliban for smashing statues
- Pakistan asks Taliban not to destroy statues
New York, 27 Feb 2001 - Annan Urges Taliban to Preserve Afghan Relics
The Secretary-General has learned with alarm of the edict issued yesterday by the Taliban supreme leader ordering the destruction of all statues and non-Islamic shrines in the country. This follows reports of the recent destruction of a number of precious items in the National Museum of Kabul ... [ more ]
Feb 26, 2001: Taliban leaders order destruction of ancient Buddha statues in Bamyan:
In a display of extreme prejudice against the Hazara people the Taliban have decided to destroy two of the world's tallest ancient statues of Buddha in Bamyan, Afghanistan. Bamyan is the center and heart of Hazarajat region inhabited by the Hazara people since the 11th century and maybe earlier ... [ more ]
Feb 27, 2001: Hizb Wahdat Islami Afghanistan -
Press Release by Haji Muhaqiq comdemning the order by Taliban to destroy the Ancient Buddha Statues over 2000 year old in Bamyan ... [ more ]
March 2, 2001 Hizb-e Wahdat Press Release - Wahdat expresses sadness over the destructions of the Buddhas
... [ more ]
March 02, 2001: Dawn News
- Taliban begin smashing statues: Worldwide appeals ignored
- Diplomats oppose destruction of Buddha Statues
- India slams Taliban for smashing statues
- Pakistan asks Taliban not to destroy statues

New York, 27 Feb 2001 - Annan Urges Taliban to Preserve Afghan Relics
The Secretary-General has learned with alarm of the edict issued yesterday by the Taliban supreme leader ordering the destruction of all statues and non-Islamic shrines in the country. This follows reports of the recent destruction of a number of precious items in the National Museum of Kabul.
The General Assembly has repeatedly called on all Afghan parties to protect the cultural and historic relics and monuments of Afghanistan which are part of the common heritage of mankind. The Secretary-General appeals to the Taliban leadership to abide by their previous commitments to protect Afghanistan's cultural heritage in general, and the two great Buddhist sculptures in Bamiyan in particular.
The Secretary-General urges the Taliban to do all in their power to preserve the unique and irreplaceable relics of Afghanistan's rich heritage - both Islamic and pre-Islamic -- as the strongest foundation for a better, more peaceful and more tolerant future for all its people. Destroying any relic, any monument, any statue will only prolong the climate of conflict. After 22 years of war, destruction and drought, there can only be one priority for the Government: to rebuild the country, to renew the fabric of society, and to relieve the immense suffering and deprivation of the people of Afghanistan.
[ This Article on UN Website ]
Feb 26, 2001: Taliban leaders order destruction of ancient Buddha statues in Bamyan:
In a display of extreme prejudice against the Hazara people the Taliban have decided to destroy two of the world's tallest ancient statues of Buddha in Bamyan, Afghanistan. Bamyan is the center and heart of Hazarajat region inhabited by the Hazara people since the 11th century and maybe earlier. In September 1998 when the Taliban held the Bamyan Valley, they made good on their earlier statments and fired several rockets at the Giant Buddha's statues, eliminating half of Shamama's head and causing considerable damage to the rest of the statue.
The Taliban have declared this an Islamic act in accordance with the beliefs of the religion. This presents a distorted, inaccurate and damaging extremist view of the religion to the entire world, as Islam is a religion of tolerance not vitriolic destruction. Haji Mohammad Mohaqiq, Chairman of the Political Committee and General-in-Charge of the Northern areas controlled by the Hizbe-Wahdat Islami Afghanistan, and Hazaras all over the world has stongly condemed this barbaric decision.
The main support for the Taliban comes from Saudi Arabia, Pakistan and United Arab Emirates (UAE). The Taliban movement is supported by the Saudi Government which believes in the Wahabi Sect - an extreme and radical sect that deems destroying the archeological artifacts as Islamic. It is interesting to note that the so-called guardians of Islam who order the destruction of such historical monuments are the biggest hypocrits themselves. Most of the Arab states including Saudi Arabia, Kuwait, and UAE are all ruled by Monarchies which are strictly prohibited by Islam. The Saudi's have also validated the decrees given by the Wahabi Taliban that killing the Hazara people is not a sin as they consider Hazaras to be non-muslims. [see Mazar Killing]
- Taliban massacres 660 innocent civilians in Yakawlang - Jan 30, 2001

- Yakawlang Liberated by Hazara forces - Jan 22, 2001.