" The policy of the Taliban is to
exterminate the Hazaras"
Maulawi Mohammed Hanif, Taliban
Commander
Announcing their policy to a crowd of 300
people summoned to a mosque [after killing
15,000 Hazaras people in a day]
" Hazaras are not Muslim. You can kill them.
It is not a sin."
Mullah Manon Niazi
Governor of Mazar-e Sharif
Speaking to a crowd in a mosque after the
fall of mazar city
[ details of the above religious decrees ]
" We do not need women to work. What
positive roles can they play in the
society?
What is the impact of their roles? We do
not need women. They should stay in
their houses"
Mullah Manon Niazi.
Taliban leader and appointed
Governor of Mazar-e Sharif
On Destroying the 2000 year old
Buddha Statues:
" Some people believe in these statues and
pray to them ... If people say these are not
our beliefs but only part of the history of
Afghanistan, then all we are breaking are
stones."
Mullah Muhammad Omar
Taliban Supreme Leader
"The use of opium is wrong, but the selling
is not wrong according to Islamic law"
Mullah Omar - the Taliban Supreme Leader
[ In reality, Islam forbids both the use of
and selling of any type of illegal drugs,
including opium ]
Update Jan, 2011:
Since US bombing of Taliban positions in 2001, the Taliban fighting forces have retreated into the lawless regions of Pakistan in the Federally Administered Tribal Agencies (FATA) where they have significant support from the local population and perhaps from the intelligent agencies of Pakistani Government. The Taliban leadership shura has been sighted in an around the city of Quetta in the provincial capital of Balochistan. Quetta is a short distance away from Kandahar -- the Taliban birthplace in Afghanistan.
---
The Taliban first appeared on the political scene of Afghanistan in September, 1994 in the southern Province of Kandhar, and have since taken about 90% of Afghanistan. Never has any group been more controversial then the Taliban of Afghanistan. Patrolling the streets in the pickup trucks, the Taliban members, under the General Department for the Preservation of Virtue and Prevention of Vice (Amr-bil Maroof Wa Nahi Anil Munkar), search houses and destroy any television sets, radios, cassettes, and photographs. The bands of Taliban thugs roam the streets beating those they deem to be violators of the Shariah (Islamic code of Law) [2]. The Taliban's harsh fundamentalist rule has dismantled all civil institutions, and closed all women Institutions. Their leader, Mullah Mohammad Omar, cloaks himself in secrecy, refusing to grant interviews or allow his photo to be taken.
NO PRESS or International media is allowed in Afghanistan.
While the inhuman execution of the innocent civilians are carried out in Afghanistan, the "champions of democracy" , including the USA, Great Britian, all the Western powers and the so-called civilized institutions such as the United Nations remains as spectators on the side.
Taliban links:
[ Update: Following the Sept 11, 2001 bombing of World
Trade Center Taliban website has been shut down ]
Taliban related links:
Taliban Leader Mullah Omar: (courtesy CNN )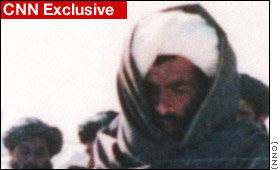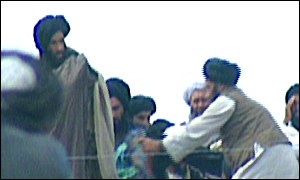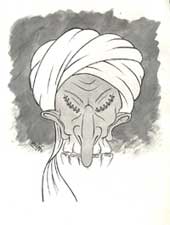 Artist: Bashir Bakhtiari