NEWS 2002
Mass Grave of Hazaras found - Oct 9, 2002
Hazara Student Federation ( HSF ) rally, Quetta ( June 16 )
Karzai sworn in as president of Afghansitan - June 19, 2002
Reality of Afghan Kochees - May 5, 2002
For over two centuries, the Pushtun rulers of Afghanistan played the Kochee card (Pushtun Nomads) in inflating their population to gain political benefits in Afghanistan.
This document provides a factual analysis of the reality of the Pushtun nomads known as the Kochees.
Mass graves found in Bamiyan, Afghanistan - April 7, 2002
Three mass graves have been found in the central Afghan region of Bamiyan, a UN spokesman has said.
The UN has been told the graves are thought to contain bodies of members of the local Hazara community killed before the fall of the Taliban late last year, spokesman Mano de Almeida e Silva said.
Afghan Quake kills 2000 - Casualties as high as 5000 - Mar 26, 2002
KABUL, Afghanistan (CNN) -- Afghan officials have said that an accurate death count may be weeks away after a devastating earthquake in the mountains of northeastern Afghanistan, where early reports indicated the town of Nahrin may have been destroyed.
Taliban Foreign minister, Wakil Ahmad Mutawakil surrenders - Feb 9, 2002
15 kids in suicide pact : 370 Afghans on hunger strike in Australia - Jan 29, 2002
SYDNEY, Jan 28: Fifteen children and youths at the Woomera Detention Centre in South Australia have made a pact to commit suicide while more than 200 asylum seekers at four of Australia's five detention centres remain on hunger strike as the crisis enters its second week.
More Asylum Seekers join hunger strike - Jan 28, 2002.
The immigration department said 162 men, 14 women and five children, mostly Afghans, were refusing to eat for a 12th day at the Woomera Detention Centre in southern Australia, although a lawyer representing them said on Sunday the figure had swelled to 370.
Hazaras survive on aid - Jan 24, 2002
Widespread burning and looting of areas[ by Taliban] in the centre of the highlands of Afghanistan took away the Hazaras' means of livelihoods.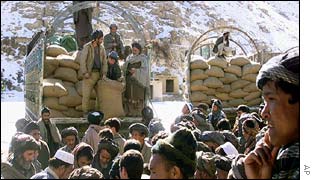 Taliban Ambassador to Pakistan, Mullah Abdul Salam Zaeef, detained by US - Jan 5, 2002
But the Taliban's leader, Mullah Mohammad Omar, has escaped from his hideout in southern Afghanistan on a motorbike, according to an Afghan official.
Taliban intelligence chief reported killed - Jan 3, 2002
ISLAMABAD, Jan 2: The former chief of the intelligence department during the Taliban rule, Qari Ahmedullah, was killed by US air strikes in Paktika province last month, the Afghan Islamic Press (AIP) said on Wednesday.
These governments are the only ones that could possibly influence the Taliban NOT to destroy the statues. Please contact them to express your opinion and ask them to SAVE THE STATUES OF BAMYAN.
A Profile on Bamyan Civilization has more information on the history of these world treasures.