Update:
Courtesy: Sharafat Ali
Friday, Sept 30, 2011:
Update on protest rally organized by Hazara Organization for Progress and Equality (HOPE), USA
Protest started exactly about 2:30pm in front of the Pakistani Consulate in Newyork city. Hazara families from Newyork, Newjersey, and other parts of United States, travelled to join the rally. HOPE organizers termed it an amazing turnout. In addition, representatives from several Mongol organizations joined the rally as well to show their solidarity with Hazaras. Recall, there is an estimated 5000 Mongols living in the Washington DC and Newyork areas. There has been several high level organizational contacts between the two nations.
Later the protest rally moved to the posh shopping district of 5th Ave. HOPE distributed around 400 flyers to highlight the plight of Hazaras in Pakistan. In the words of the organizer, Mr. Sharafat Ali, "every single one of the 400 pamphlets were distributed to the crowd."
Earlier, a letter addressed to Pakistani Ambassador, Hussain Haqani, was handed over to authorities of Pakistani Consulate (Pakistani Embassy is in Washington DC). The Deputy Consulate general received Mr. Liaqat Sharifi, Mr. Ishaq Mohammadi, Mr. Subtain Yousafi. The Pakistani Consulate expressed regret on the recent incident in Mastung and told HOPE representatives that they are aware of situation in Quetta, and will forward the HOPE binder/letter to the Ambassador in D.C.
NYPD 9th Precinct's Sergent personally reached out to HOPE organizers and was very accommodating. The protest ended at 5:00pm. Members of the rally recorded their testimonies in a video format aimed at the situation in Quetta. The common message from everyone was the condemnation of the ongoing situation along with a message of solidarity with the families who lost the loved ones or sustained injuries, that they are not alone in this.
There are ongoing efforts by HOPE to reach out to US House Representatives and Senators to raise the plight of the Hazaras in Pakistan.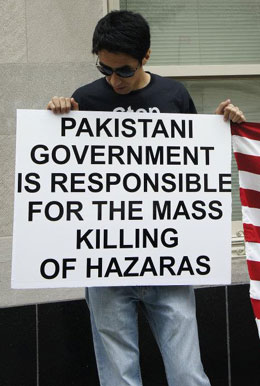 HOPE organized protest rally in Newyork - Sept 30, 2011