Hate Leaflet calling Shias as Infidel ...
2003 - Religious decree (Fitwa) issued by the Salafist (Wahhabis) declaring Shia Muslims as "Infidels" and urging followers for taking extreme steps.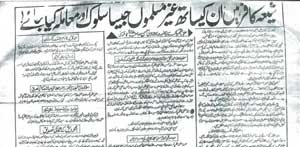 Main Personalities:
Mufti Wali Hassan

Jamia-ul-Uloom Islamia, Karachi


Senator Mulana Sami-ul-Haq

Senator, Government of Pakistan


Mulana Abdul Haq

Member Pakistan National Assembly,

Government of Pakistan


Mohammad Malik Kandahlvi

Member Islami Nazaryati Council


Hafiz Hussain Ahmad

Member Balochistan Assembly,

Government of Pakistan


Qazi Abdul Latif Kalachawi

Dar-ul-Uloom Devbund

Senator, Government of Pakistan


Muhammad Ajmal Qadri,

(Khateeb) Imam Badshahi Mosque


Muhammad Abdul Sattar Tonsovi

President Tanzeem Ahle Sunnat Pakistan


Sheikh Abdullah Abdul Aziz
Pakistan Madrassas:
BALOCHISTAN

Madrassa Muthla-ul-uloom, Bruri Road, Quetta
Madrassa Arabia Siddiqia, Qalat, Balochistan
Madrassa Dar-ul-Uloom Islamia, Loralai



NWFP

Jamia Imdad-ul-Uloom, Peshawer
Dar-ul-Uloom Haqania, Akora Khattak, Peshawer
Dar-ul-Uloom Surhad, Peshawer
Jamia Uloom Sharia, Banu
Jamia Madina, Attock



PUNJAB

Jamia Ashrafia, Lahore
Jamia Madina, Karim Park, Lahore
Anjuman Khuddam-ud-Deen, Badshahi Mosque, Lahore
Nusratul-Uloom, Gujranwala
Jamia Khair-ul-Madaris, Multan
Tehrik Khuddam Ahle-Sunnat, Chakwal
??, Rai Puri, Lahore
Dar-ul-Uloom, Faisal Abad



SINDH

Mudrassa Furqania Taiba, Karachi
Khanqah Haliji Sharif, Sindh (x)
Khanqah Aliah Qadria Rashidia, Umrot Sharif, Sindh
Madrassa Najm-ul-Madaris, Karachi
Muftah-ul-Uloom, Azizia, Peer Goth, Zila pur, Sindh



RAWALPINDI & ISLAMABAD

Jamat-ul-Uloom Islamia Alfaridia, Islamabad
Jamia Islamia, Kashmir Road, Rawalpindi
Musjid Siddiq Akbar, Rawalpindi



STATE UNKNOWN

Madrassa Najm-ul-Madaris, Dera Ismail Khan
Khanqah Surjia, Kundia Sharif
Foreign Madrassas:
BANGLADESH

Mohammad Inam, Mujma-al-Josh?? Islamia, Bangladesh


KENYA
UNITED KINGDOM

??, Birmingham, UK
??, Sheffield, UK


INDIA

Masood Ahmad, Naib Mufti, Dar-ul-Uloom, Devbund
Fazil Braili Maulana Ahmad Raza, ??place??
Muhammad Ashraf Sialwee and Khadim Dar-ul-Uloom Zia, Shams, Sial Sharif


SAUDI ARABIA

Rabta Alam Islami Arab Sheikh Abdul Aziz, Mecca , Saudi Arabia
Leaflet Published By:
Sipah Sahaba, Pakistan (banned Terrorist Org by Pakistani Government)
Leaflet Discovered at:
Madrassa Dar-ul-Uloom Jamia Imdadia, Mari Abad, Quetta, Pakistan
Legend:
?? = indicates that we were unable to comprehend the right information from the photocopy of the leaflet we have recieved.
Relevant News