Quetta: Shia Session Judge of Balochistan High Court and Hazara driver killed by Al-Qaida affiliated LeJ terrorists - Aug 30, 2012
Session Judge of Balochistan High Court, Zulfiqar Ali Naqvi, and his driver, Musa Hazara, were shot and killed by Al-Qaida affiliated Lashkar-e-Jhangvi terrorists in Quetta. Hazara sources has said that Musa Hazara was filling in as a replacement driver as the original driver was on vacation. Hazara sources allege a foul play may be involved by the driver that was on the holiday the day of the attack. No investigation is expected since it is widely believed that the terrorists have full protection of the Pakistani security apparatus.
Terrorist group taking responsibility: LEJ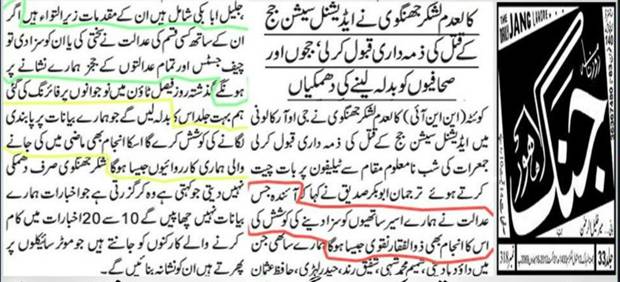 English Translation of the above news in Urdu:
THE DAILY JANG LAHORE.
Vol.33 No. 318. 31 August 2012.
Banned Lashkar-e-Jhangvi accepted responsibility for the killing of Additional Judge and threatened the Judges and journalists for revenge.
Quetta (NNI). Banned Lashkar-e-Jhangvi has accepted the killing of Additional Judge in GOR colony. On Thursday night, spokesperson, Abubakr Siddiq, called from an unknown destination and said that in future, if any court tried to punish their imprisoned colleagues, their fate will be like that of Zulfiqar Naqavi's. "If any court treated our colleagues, including Dawood Badeni, Shamim Mohammad Shahi, Shafiq Rind, Haider Lehri, Hafiz Usman, Jalil Ababaki, whose cases are under trial, harshly or punished them, Chief Justice and Judges of other Courts will be on our target", said the spokesperson. "Yesterday, some youngsters had come under firing in Faisal Town; we will soon take their revenge". "The ones who try to ban our statements will face same reactions as seen in the past.  Lashkar-e-Jhangvi not only threatens but acts upon what they say. We know some 10- 20 newspapers' employees who travel on motorcycles and cycles. We will target them if our statements aren't published", said the LJ spokesperson.