Update:
Update April 9, 2004:
Victims families and injured still not compensated by the Government.
Hazara.net sources: Hazara Community in Canada and Hazara Community in USA holds Fatiha for the Shuhada of March 2, 2004 terrorist attack.
GEO News: Federal Minister for Information, Sheikh Rasheed Ahmad, has announced that one of the main suspect in the Ashoora case has been detained although his identity have not yet been released.
Dawn News: March 7, 2004
FIR has been registered against Sipah Sahaba members Maulana Mohammad Ramzan Mengal, Haji Mohammad Rafiq, Abdul Karim Lango, Abid Abdullah, Mohammad Zubair, Maulana Mehmood Ghaznavi and Haji Abdul Baqi Barach.
USA: Emergency meeting of "Hazara Unity" held in New York ...
March 6, 2004
Hazara Unity USA held an emergency meeting in New York, USA to condemn the terrorist attack on the Ashoora procession and on the Hazara community in Quetta, Pakistan. Hazara Unity members also held a phone meeting with prominent members of Hazara Democratic Party (HDP) in Quetta for about 2 hours and discussed the latest situation in Quetta.
UK : Hazaras offer Fatiha and condemns the terrorist attack ...
(March 6, 2004)
Fatihas were offered in various places across the United Kingdom for the Quetta victims. The fatiha was organized by Mr. Marzooq, Anwer, Fida Hussain in different cities such as London, Birmingham, Leicester, Bedford and Miltokynes.
In Burmingham Agha Mortaza Poya from Pakistan also participated and everyone condemned the terrorist attack in Quetta and demanded from Pakistani Government to arrest and severely punish the terrorists and their supporters behind the Quetta incident(s).
(Hazara community , UK)
---
Update - March 4, 2004: Shuhada buried today.
Update Before Mass Burial: Imambargahs requested on loud speakers for people to bring ice from their homes for dead bodies.
Quetta, Wed Mar 3, 2004 - 2:00 pm (quetta time)
The total numbers of casulities in Quetta incident on ASHURA are listed below. HDP had a press confrence in HDP office and released a statement (coming soon).
It should be noted that the high number of casualities and injuries have taken place due to police firing and in this connection a ASP rank poice officer with some sepoyes been arrested by the authorities which attested by provincial govt.
Latest.......... on demand of Hazaras the Government has released all the arrested Hazaramen excluding two for whom the dailogue is continue.It seem the furenal pocession will be started after prayer.
Imambargahs has reportedly requested people to bring ice from their homes to protect the dead bodies.
(Ishaq/ Khaliq Hazara / Dr. Narjis / HDP)
Quetta, Wed Mar 3, 2004 - 10:00am (Quetta time)
The first fire was shot from Bano Market (see pic below) at 1:05pm , followed by burst of automatic weapons and hand grenades. The victims are mainly from Naseer Abad Imambargah area (in Alamdar Road) as they were the first dasta (group). Many of the victims are young children who were carrying the Alams. Eye witnesses describe the scene of chaos at the site of the terrorist attack. One of the terrorist was also killed when his grenade blasted in his hands. Hazara Democratic Party (HDP) sources tells Hazara.net that the room the terrorist were using had chalkings that called "Shia Kafir" and "Riaz Basra zindabad". Following the shooting angry mourners burned stores in Liaqat Bazar, Prince Road, and Archer Road areas.
Note: Riaz Basra was the terrorist head of the Lashkar Jhangvi group which was killed in a police shoot out.
Who are the terrorists?
Thirteen (13) suspected terrorists arrested came from Jhang (Punjab) and from Akora Khattak (Peshawer, NWFP). Recall Akora Khattak is the home of the infamous terrorist Maulana Sameeul Haq (Senator , Pakistan Government) who has openly supported and supplied men to fight alongside Taliban and Al-Qaida in Afghanistan. Mr. Haq has also issued a fitwa (religious decree) calling Shia's Kafir in a leaflet (below) discovered from a Madrassa Imdadia in Quetta after the last terrorist attack on Hazaras on July 4, 2003.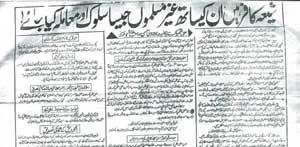 [ Click on image to goto Translation and full image]
Angry Hazaras also captured two suspected terrorists and brought them to Naseer Abad Imambargah. Later on they were handed over to Pakistan Army after they were video taped.
Was Pakistani Police involved in shooting at the Ashoora procession?
Disturbing evidence has been emerging that proves Pakistani police was also involved in shooting at the crowd. An army officer reportedly witnessed A.S.P. Amir Muhammad Mandokhel from Anti-Terrorist Force (ATF) shooting at the crowd. He has been arrested in that regard.
[ Correction: ASP Amir Muhammad Mandokhel is reportedly seen using his official car and thus we can assume that the news of his arrest by Pakistani government was either false or govt lied once again]
Critically wounded ... have been taken mainly to the Combined Military Hospital (CMH), Mohammed Ali Hospital, and Shafa-Khana Imam Zaman (A.S.) on Alamdar Road.
Curfew ... on Alamdar Road has now been extended all the way to Syed Abad area. Army has camped in Musa Khan College. Pakistan army has reportedly allowed the dead bodies for burial and thousands of people were gathered at the time of this writing in the Nichar Imambargah to prepare the dead bodies for burial.
Bruri Imambargah Dasta stuck on Toghi Road ...
Bruri is the far opposite side of Alamdar Road. This year Bruri Imambargah had came with a big dasta. After the shootings, they were reportedly stuck on Toghi road (close to main bazar where shooting happened). Hazaras refused to take protection of Pakistani police due to alleged involvement of the Pakistan police shooting at the procession. HDP sources worked with Pakistan Army and Bruri dasta reportedly arrived safely in their area at 7:00pm.
---
Earlier Update from M.A. Musa ...
Number of death 25 and above 100 wounded, I have been to Civil Hospital the medical facility is very poor and there is no bed for patients, people do bring their own bedding and medicines. What I could do was to connect the patients to their home with my cellophane. There are wounded children's that they have no contact with their parents. There was announced for blood group A positive and B negative. Later I came to Nichari imambargah (on Alamdar Road) ... there were three dead body and many were waiting for GHOUSAL (ritual of washing the deceased before burial) and I went to Hazara QUABRISTAN (graveyard) the community members were busy digging the graves for Shuahada (martyrs).