Note to the reader: The following list of books on Hazaras are compiled by Mr. Ishaq Muhammadi and other Hazaras for more than two decades.
See DOWNLOAD page for PDF formats of many of the books mentioned in this section.
Books & Journals in Urdu, Persian, and Hazargi - The following page contains all the list of books and journals on Hazaras in Urdu (national language of Pakistan), Persian (Iran) and Hazargi (the language that the Hazara people speak)
Bisat-e-Shatranj - a new book in Dari, written by Hassan Raza Changezi and Qais
Osama and Rai Ama (Osama Bin Laden in the view of News Media) - by Rehmat Bahriab
Books on Hazara's
Unpublished Work -
By Part - the following books contains partial contents on the Hazaras.
State and tribe in nineteenth-century Afghanistan: the reign of Amir Dost Mohammad by Christine Noelle. 1997
Taliban (highly recommended)
Militant Islam, Oil and Fundamentalism in Central Asia
by Ahmad Rashid
(Note: you can find this book on Amazon.com as well. It is little more expensive)
Afghanistan and its inhabitants by M. A. Hayat Khan. translated by Henry Priestly.
Afghanistan by Lauis Dupree
Afghanistan by H. W. Bellew
The emergence of Modern Afghanistan by Vartan Gregarian.
The Kingdom of Afghanistan by G. P. Tate. 1973.
History of Afghanistan by G. B. Mallercon. Peshawar, 1984.
Travel into Bukhara by Alexander Burnes
Kingdom of Kabul by Elphinstone. London, 1972.
Memorial of Afghanistan by J. H. Stoe Queler. Peshawar, 1983.
Jawan to General by General (Rtd.) M. Musa Khan Hazara. Karachi, 1987.
Music in the Mind (concept of music in Afghanistan) by L. H. Sakata, USA.
A Study of Internal Afghan Politics, during the time of Amir Abdur Rahman, 1880-1896, by Hassan Kakar, Lahore.
Afghanistan & Afghans by H. W. Bellew.
---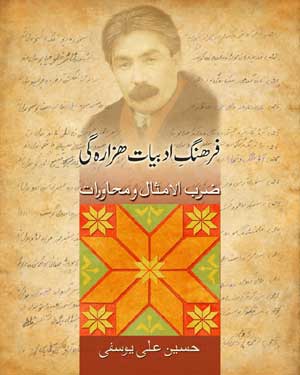 Book Title: Farhang Adbiat Hazaragi: Zurb-ul Imsal O Muhawarat
Author : Late (Shaheed) Hussain Yousufi
Publisher: Hazaragi Academy
Price: $15 (approximately)
Available from: Norban Books
phone:
+92-321-800-1965
+92-321-800-6919
Summary: Launch ceremony by Hazara Democratic Party (HDP) on June 6th, 2010. Book contains a life time work on collection of over 3000 Hazaragi proverbs translated in three languages (Dari, English, Urdu) simultaneously.