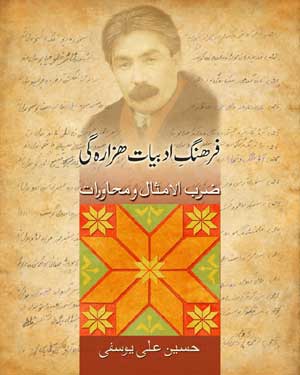 Book Title: Farhang Adbiat Hazaragi: Zurb-ul Imsal O Muhawarat
Author : Late (Shaheed) Hussain Yousufi
Publisher: Hazaragi Academy
Price: $15 (approximately)
Available from: Norban Books
phone:
+92-321-800-1965
+92-321-800-6919
Summary: Launch ceremony by Hazara Democratic Party (HDP) on June 6th, 2010.
Book contains his life time work on compilation of over 2000 Hazaragi proverbs translated in Dari, English, and Urdu.
Bisat-e-Shatranj
The book " Bisat-e-Shatranj " written by Qais and Hasan Reza Changezi has been published by Hazaragi Academy Quetta. This book is now available in market. It contains 250 pages and the Price is only Pak.Rs.60-00. The book, which is written in Dari language is basically a news analysis, relating political changes in Afghanistan, Pakistan and Iran. Authors have made their efforts to prove, every political changes in the region particularly, the never ending warfare in Afghanistan is due to Political, Economical and military interests of foreign countries. In this regard specially the interests of USA, Pakistan, Iran and Saudi Arabia have been pointed out. To prove authenticity of incidents mentioned in this book; different articles, reports and books published in Pakistan, Iran, Europe and USA have been consulted. Which have been mentioned in footnotes. Shortly the approach of authors is that foreign countries have turned the region into a chessboard and people have no choice but to be ruined and exploited for the interests of foreign countries.
Special thanks to Ali Madad Sharifi (New York) Who provided 50% finance for the book. Also thanks to:
1- Abdul Lateef Bahaduri (Denmark)
2- Rahim Changezi (Islamabad)
3- Imdad Ali Noyan (Quetta)
4- Syed Dawood Hazara (Quetta) and
5- Waseem Himayat (Quetta).