Australia – May 23, 2014|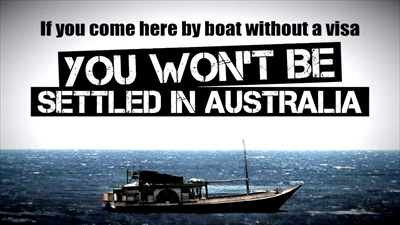 Australian government has been facing the issue of asylum seekers getting to the country via boats for the last over a decade. Unfortunately, the two major political parties, the Liberal and the Labour, have politicized the issue to the full extent on various occasions particularly on the eve of elections to obtain maximum number of votes from naive Australian citizens who mostly are oblivious of the actual facts about asylum seekers.
While the Labour projected the image of asylum seekers as being hapless, persecution-stricken and the destitute, the Liberal presented them as criminals, illegal economic migrants and dangerous creatures. But, the fact is that both the parties propagated their respective visions just to secure their own political interests. None of them has ever made serious efforts to tackle the issue on purely humanitarian ground and both have rather tried to exploit the plight of these asylum seekers in their favor to secure more seats in the parliament. Asylum seekers have continued to suffer irrespective of change in government in the country.
The current Australian coalition government has adopted a very harsh policy towards asylum seekers getting here by boat in search of a safe haven. Soon after coming to power last September, it introduced a new border protection policy aimed at stopping asylum seekers boats destined for Australia. There is no denying the fact that the government has succeeded to stop the frequent arrival of boats to Australia for the time being, but this is not a permanent solution to the issue as thousands of desperate asylum seekers are still awaiting in Indonesia to get to Australia to secure their lives. Another thousands of people mostly women and children are also looking forward to undertaking the perilous boat journey to reunite with their loved ones who have already sought asylum in Australia as the government has almost stopped processing of their sponsorship applications.
According to Refugee Council of Australia, a non-government organization, Australian government is going to spend $2.963 billion on detention and community placement services inside and outside of Australia over the next financial year (2014-15) though the government claims it will save $2.5 billion in next four years through its hard-lined immigration policy.
Spending billions of dollars on unauthorized maritime arrivals, as the Liberals themselves say, is really a big burden on national exchequer and a wastage of public money which calls for immediate attention to be addressed as this huge amount could be diverted to other uplift schemes in the best interest of the masses. This is possible provided Abbott government decides to adopt a realistic and humane approach instead of its current cruel and unreasonable immigration policy towards asylum seekers.
The following three-step approach could prove helpful not only to keep the prospective asylum seekers away from boats and bust the human smugglers business but could also save the government billions of dollars which is currently being incurred on management of detainees and detention facilities.
1. Grant of Visas:
None of the asylum seekers would ever think of putting their lives and life-time earnings at stake by setting out on a perilous sea voyage if they were granted legal visas to get to Australia. Issuance of legal visas would also solve the problem of identification of the irregular maritime arrivals and their past life record at their homelands which has always been a big headache for immigration officials to determine. The Australian government should direct its embassies in the source countries like Pakistan, Afghanistan, Iran, Syria, Sri Lanka, Burma, and their neighboring countries to relax the stringent rules for grant of visa to people who are undergoing religious, racial or any other kind of persecution in the region. This step would prove much effective to cut down the number of unauthorized arrivals from these source countries.
2. Establishment of Australian Assessment and Processing Centres in Indonesia:
Indonesia is the final destination of almost all asylum seekers before they get on boats to reach Australia. Unfortunately, assessment of asylum seekers claims in Jakarta by UNHCR is carried out at a snail's pace. Those who are even declared refugees have to wait for years to be resettled in Australia or any other country.
This is a push factor which acts as a catalyst to speed up the dangerous sea voyages. In fact, asylum seekers have lost their trust in UNHCR officials in Jakarta as they have to wait for couple of months just to get themselves registered let alone the commencement and completion of processing of their claims which take several years. This might be due to heavy burden of applications or some other reasons, but the issue needs to be addressed as soon as possible. To sort out this problem, Australian government may establish assessment and processing centres in Jakarta while proclaiming simultaneously that no assessment would be conducted on the mainland or Christmas Island. Australian government may also fix some amount as processing fee which the asylum seekers would pay happily without any objection. The amount thus collected could be used to pay salaries of the processing centre staff and defray other expenses of the centres. However, the centres should be made bound to assess the claims within a stipulated time frame not exceeding 120 days. Those recognized as refugees should immediately be relocated to Australia and those rejected should be given a chance to try their luck again in refugee review tribunal. In this case, the Australian government will neither have to bear the daily-life expenses of the detainees like they do in detention facilities nor have to spend a huge amount on running onshore and offshore detention centres.
3. Rapid Processing of Family Visa Applications:
Most of the newly settled asylum seekers complain of lengthy visa processing to bring their spouse and children to Australia. The situation has further compounded after the recent instruction by immigration minister to keep the family sponsorship visa applications of irregular maritime arrivals at the lowest priority as part of government's border protection policy. This sort of negative approach would further complicate the situation and promote human smugglers business as families would be left with no other option except the boat journey to reunite with their loved ones in Australia. Human smugglers can exploit the situation by alluring the families with slashed prices or free travel offer to children.
In the meantime, Australian government must also start the processing of asylum claims of thousands of asylum seekers whose frustration is growing with each passing day that could ultimately put a negative impact on their health. The government needs to understand that it can delay justice to asylum seekers but can't deny it.
The following two tabs change content below.
Haider Ali
The writer is a Human Rights activist in Australia and can be contacted at: haiderali.aus@gmail.com
Latest posts by Haider Ali (see all)