This Site is dedicated to the souls of hundreds of thousands of Hazara men, women, and children who have lost their lives to religious persection during the 19th through 21st centuries in Afghanistan, Pakistan and elsewhere.

The memory of these, our brothers, sisters
and children will live forever in our hearts.

---

Profile on Bamyan Civilization




2000 year old Buddha Statue in
Bamyan, Afghanistan - protected by the Hazaras for centuries until destroyed by the ignorant thugs named Taliban
PRESS RELEASES
.
RELEVANT
.
OPINIONS
Global Protest Against
Genocide of Hazaras in Pakistan
[ 2011 | 2012 ]
United Kingdom
Hazara Genocide: Response to MP Alan Johnson by Alistair Burt - Minister of South Asian Affairs (dated April 4) - released May 4, 2012
I am writing to follow up on last month's Adjournment Debate on the Treatment of the Hazara people in Quetta, Pakistan. You raised two points during the debate which I promised to come back to you on...

London Proteset, MP Alan Johnson speaking to Hazara protestors - April 30, 2012

UK human rights report may overshadow Gilani's visit - May 1, 2012
The contents of the report threaten to overshadow the visit will definitely cause a lot of unease in Pakistan's diplomatic and political circles. The report heaped embarrassment on the civilian government of Pakistan People's Party ...

Human Rights and Democracy: The 2011 Foreign & Commonwealth Office Report - May 2, 2012
"Minority rights:
This year has seen further incidents of discrimination against minorities in Pakistan, including against the Hindu and Hazara populations. In particular, we are concerned about targeted attacks on the Hazara population in Balochistan in the second half of 2011 and the Ahmadi community in Pakistan."

Hazara killers need to be brought to justice: Alan Johnson
Reported By Muhammad Younas / April 30, 2012
"Since the parliamentary debate on March 1st, 2012, scores of Hazaras have been killed and targeted that's why it is very increasing concern for our parliament and I think your demonstration today will raise the profile of this issue and will draw the attention of other parliamentarians to what's going on so the concentrated actions through the UN, Foreign office, European Union can ensure that we stop what is a horrendous killings and the Hazaras can live in peace in a country that they have done too much to contribute over the years"

Hazara Progressive Alliance (HPA), UK, Press Release regarding Hazara protest in London - April 30, 2012

Hazara Progressive Alliance (HPA), UK, Memorandam to Pakistan Embassy in London on the day of protest - April 30, 2012

Ex-home secretary, current MP - Alan Johnson, joins protest against Hazara killings in London - April 30, 2012

Australia Demonstration - May 10, 2012

[ picture gallery ]



Hazaras joined a protest rally in Canberra, Australia, after a 10-day sit in infront of the Pakistan Embassy. There is an indefinite protest scheduled infront of the Embassy of Pakistan to bring the Pakistani Government to shame whose security agencies are colluding with the terrorists in carrying out the genocide of Hazaras for the last one decade. US government cables on Wiki Leaks blames the Saudi and UAE governments for financing these terrorists and the Asian Human Rights blames the Pakistani government for training and protecting the terrorists. No terrorist has ever been brought to justice for the past 10 years.



Speech of Kaneez Hazara who joined the 10-day sitin protest.



Press Release of Australian Hazara Federation


SBS News Australia
Australian Associated Press

Hazara Genocide in Pakistan and Afghanistan: Letter of Australian MP Anthony Byrne to Minister for Foregin Affairs, Senator Bob Carr (dated April 11, 2012) - released May 4, 2012
Re: Resolution of Hazara People Worldwide on behalf of Australian Hazara Federation Inc.


BBC: Pakistan's Shias Fear Sectarian Attacks - May 9, 2012
Shias all over Pakistan - Skardu, Gilgit, Parachinar, Quetta, Karachi, and major cities in Punjab province - are coming under increasingly brazen attacks by terrorists that are rarely caught and brought to justice.



Terrorists back in action: Mohammad Ali Hazara gunned down by terrorists in Mastung

- May 6, 2012
It is unclear why the Pakistani state is unable or unwilling to break a terrorist network in the small town of Mastung which is no larger than a mile long.



Terrorist Cowards released gruesome execution video of 12-Hazaras in Akhtar Abad, Quetta, Pakistan

- May 2012
Chanting "Allah o Akbar" (God is great) and "Shia kafirs" (Shia infidels), a group of 6 to 8 terrorists carrying Rocket Launchers, Ak-47 and pistols can be seen executing the Hazaras in the bus and dead bodies thrown outside. The terrorists can be heard speaking in Balochi and Urdu [languages].



The US Govt cables on Wiki Leaks blames the Saudi Government and other wealthy Arabs as the source of financing of these terrorist organizations.

"financial support estimated at nearly 100 million USD annually was making its way to Deobandi and Ahl-i-Hadith clerics in south Punjab from organisations in Saudi Arabia and the United Arab Emirates ostensibly with the direct support of those governments." [ Source ]

The Asian Human Rights blames the Pakistani intelligence and the FC force for training and protecting these terrorists. Despite two World Wide protests in over 25 coutries and several resolutions handed to UN, the UN and most of the world powers including the US (with noted exception of United Kingdom) has paid absolutely no attention to the ongoing genocide of the Hazaras in Pakistan.

Countries that are involved in the genocide of Hazaras are: Saudi Arabia, Iran, Pakistan, United Arab Emirates, and non state actors such as wealthy [Wahhabi] Arabs.
[ Lej Terrorist Org | Akhtar Abad Incident ]


Misc Other News:
Al-Jazeera Special Feature: Pakistan's Hazara Under Attack - May 1, 2012

Hazara killings a systematic genocide - HSF/NSF - April 29, 2012

Labelled as "infidels", minority Shiite group tracked down and killed in Pakistan - France24 News - April 24, 2012

UPDATE


Yuk Manji Barai Tamam Qaum-e Azra


Pakistan - Quetta (Hazara Women)

[ Picture Gallery ]
Organizer: HDP Women Wing
Location: Quetta in front of Balochistan Assembly
Date and time: Apr 2, 2012.

"If they can't protect citizens and maintain peace than they [members of parliament] should leave their seats, sit home [like a bum], wear our bangles and enjoy this [target killing] circus from their homes"



Hazara woman's message to President Zardari in his native Sindhi language



April 15, 2012 - "Wheel jam" strike (transportation strike), observed on call of 

HDP

, no traffic on high ways, Brewery road, Kirani road, Jinnah road and the rest of city; shops remained totally closed.

Hazara democratic party (HDP) refused meeting with CM balochistan who called them at CM house, considering the government equally responsible in Hazara genocide.



Hazara Organization for Peace and Equality (HOPE) - A Global Alliance of Progressive Hazara Organizations - rallies behind the HDP strike call; confirms ongoing conversation with Hazara organizations world wide - April 14, 2012.



Thousands of Hazaras march on the Governor House on the call of HDP -April 13, 2012




British Parliament Debates Persecution of Hazaras in Pakistan - Mar 1, 2012
[ Video Link | Full Text ]

44 Hazaras Executed by Taliban/Al-Qaida on way to Hazarajat in the last 2 months in Afghanistan - Hazara Sources - Jan, 2012

Hazara Demonstration in Perth, Australia to protest the arrival of Pakistani Prime Minister in Australia to attend Commonwealth Heads of State meeting - Oct 29, 2011


Hazara Delegation meet with President Zardari regarding Genocide of Hazaras in Pakistan - Oct 14, 2011

The Delegation include Hazara Democartic Party Chairmen Abdul Khaliq Hazara, Secretary General Ahmed Ali kohzad, Prof. Nazir Hussain, Dr. Nawroz
and Haji Barat Hazara.


Balochistan: Anti-Pakistan elements attacking Shia community will be dealt with Iron-Hands (Rehman Malik, Interior Minister) - Oct 14, 2011
In Ten years of Hazara Genocide, not a single terrorist has been brought to justice by Pakistani government. Mr. Malik and Chief Minister Aslam Raisani of Balochistan are widely known for their colorful and unintelligent media remarks.


Islamabad: Hazara Member of Pakistan's National Assembly (MNA), Nasir Ali Shah on a continued strike, refuses to attend Parliament sessions



Hazara Diaspora: Hazara target killings meets UN's definition of

GENOCIDE


Rome, Italy: Member of European Parliament, Rita Borsellino, joins Hazara protesters in Italy to condemn the Hazara Genocide in Pakistan


Ulaanbaatar, Mongolia: Mongolians join Hazaras in the world wide condemnation of the Hazara Genocide in Pakistan - Oct 12, 2011



---



Bamiyan, Afghanistan: Hazara youth standing united with the earthquake victims in Japan

Courtesy: Muhammad Jawad Hamdard Kia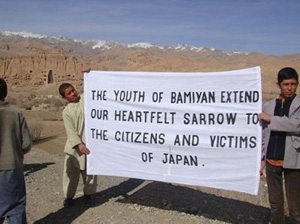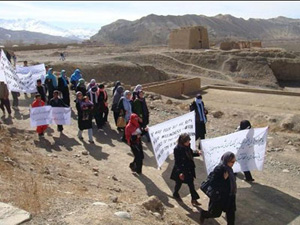 Afghanistan Elections 2010- Hazara women waiting outside Masjid Amir-ul Momineen to cast their vote

Courtesy: Masouma Zargar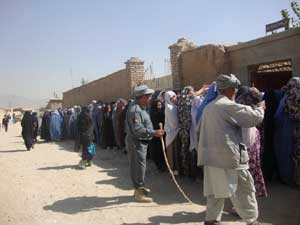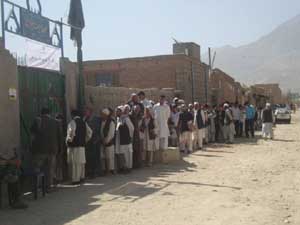 ---
Persecution and Genocide of Hazaras
in Afghanistan
---
Featured Links