Twin-blast in the heart of the Hazara area on Alamdar Road: 108 killed, 120+ injured - Jan 10, 2013
Update:
Al-Qaeda affiliated Lashkar-e Jhangvi cowards claimed responsibility for the carnage on Alamdar Road in which 106 are confirmed dead and at least 120 injured, many in critical condition.

First blast happened next to Star snooker club on Rehmat-ullah chowk, next to PEARL Computer Institute. The second blast occurred as large crowd of people gathered to help the victims of the first blast, causing maximum casuality.

The Saudi-financed and Pakistani-Government trained and protected Lashkar-e Jhangvi terrorists claimed responsibility for the attacks.

In 15 years of Hazara genocide carried by Al-Qaeda affiliated LEJ terrorists, not a single terrorist has been brought to justice by the Pakistani Government. However, the bullet-ridden bodies of Baloch nationalist (fighting against the Pakistani government) killed by Pro-Government terrorists are found on a daily basis.
ATTACK

FUNERAL

In-Depth Coverage by Dawn News
Jang News Special Report
Press Statements:
Statements by Human Rights Organizations:
Al-Jazeera: Pakistan's Hazara Shias living under siege - Jan 20, 2013

LEJ / SSP involved in Genocide of Hazaras in Afghanistan
"The LeJ is an offshoot of the SSP, and the actors that constitute the SSP and LeJ fought in that theatre of operations against the Hazaras and were part of [a massacre in the Afghan city of Mazar-e-Sharif]. And so there is a specific history of massacre and persecution that these groups have engaged in against the Hazara, both in Afghanistan and now in Pakistan" - Ali Dayan Hassan, HRW Director, Pakistan

Complicity of Pakistan Government
"The kindest explanation [of government inability to curb such attacks] is that the state and its security agencies are criminally incompetent and incapable of providing basic security to their own citizens. The more cynical explanation is that the state - meaning the security establishment, intelligence agencies and paramilitaries - is complicit." - Ali Dayan Hassan, HRW Director, Pakistan



Complicity of Pakistani Army


"The Pakistani military's default reaction has been that, instead of challenging and seeking to curb militancy and extremism, they seek as a matter of policy to appease and accommodate extremists. Also, because these militant groups have been allies of the state, within the security establishment there are large numbers of sympathisers or people who are tolerant of these groups and their activities."



Complicity of Frontier Corps (FC) Security Force


In interviews with Hazara activists, allegations of Frontier Corps complicity in the killings were repeatedly made by all who spoke with Al Jazeera. Several cited examples of attacks - including the offloading of Hazaras from buses, to be shot at point-blank range at the side of the city's main international highway - having occurred within metres of FC checkposts.


HRCP Pakistan - Jan 11, 2013
"Lack of any apparent distress at these brutal attacks and absence of much urgency to nab the killers has understandably prompted human rights organisations in the country and abroad to accuse the state of looking the other way, if not of downright complicity, as more and more citizens of the Shia faith are mowed down in appalling attacks ... It defies belief how in a city like Quetta the attackers can manage to get through security checks and strike at will" - Zohra Yusuf, Chairperson Human Rights Commission Pakistan (HRCP)


HRW: Massacre in Quetta provides damning indictment of authorities - Jan 11, 2013
NEW YORK: The Pakistani government's persistent failure to protect the minority Shia Muslim community in Pakistan from sectarian attacks by Sunni militant groups, is reprehensible and amounts to complicity in the barbaric slaughter of Pakistani citizens, Human Rights Watch said on Thursday.
Informative Articles:
Dawn: A simple demand: no more dead bodies by Dr. Saleem Javaid - Jan 22, 2013


BalochHal: Hazaras' Thousand Woes - Jan 21, 2013


Outlook Afghanistan : Hazara: A peaceful community by Mohammad Younas - Jan 16, 2013


TheNews: Usman Kurd, the man who caused fall of Raisani govt by Hamid Mir - Jan 15, 2013 [ URDU Version ]


Dawood Badini is the nephew of al-Qaeda's former No. 3 Khalid Sheikh Mohammad and the brother-in-law of Ramzi Yousaf, the mastermind of the first terror attack on the World Trade Center in New York 1993.



The sectarian attacks in Quetta had virtually been stopped following the arrest of Kurd and Badini. But quite unfortunately, both the LeJ men managed to escape under mysterious circumstances on January 18, 2008 after breaking the jail located in the high-security zone of Quetta Cantonment where no one can go without a pass.


TIME: Pakistan's Newest Martyrs: Why Anti-Shi'ite Violence May Be the Country's Biggest Problem - Jan 15, 2013


Complicity of Pakistani Army/Govt


The failure to stop these militants is the collective failure of Pakistan's power elites: the politicians, the army and the judiciary. Less than 24 hours after the Quetta attacks, Malik Ishaq, a notorious LeJ leader, was in Karachi inciting further anti-Shi'ite hatred. "I don't have fun making speeches," the self-confessed killer of Shi'ites told his supporters. "You know what I have fun doing."



Provoking 30 million Shias in Pakistan can have grave consequences for Pakistan and wider region


If, however, Shi'ites are not going to feel safe in Pakistan, it will have grave consequences not just for the country but also the wider region. Pakistan's Shi'ite population is second only to neighboring Iran, where Shi'ites are the majority and Shi'ite Islam is embedded in the heart of the country's politics. In the long term, it could be the most destabilizing of all of Pakistan's problems — with the violence not restricted to a remote borderland, but tearing into the country's very fabric.


CS Monitor: Protests spread in Pakistan over Shiite killings - Jan 13, 2013
"Military dictator Zia [ul-Haq] created Lashkar-e-Jhangvi in the '80s to counter the rising influence of Shiites in Pakistan and the group continues to enjoy that support," says Ayesha Siddiqa, who has authored two books on the Pakistani military. "Now the military is backing them in Balochistan so that it can weaken the Baloch nationalist movement and create differences among local communities like the Hazaras and the Baloch to suppress the insurgency."


The News: Raisani govt not interested in stopping Hazara killings - Jan 13, 2013
Damning report on Raisani and Zulfiqar Magsi's government who are interested in their own lesurely hobbies such as motor cycle racing and in case of Magsi getting 10 of his family members on different ministerial positions.


The Independent (UK) : The war against the Shia catches all in its crossfire - Jan 13, 2013
In a revelatory piece in the New Yorker in 2007, Seymour Hersh described how this "redirection" has moved "the United States closer to an open confrontation with Iran, and, in parts of the region, propelled it into a widening sectarian conflict between Shia and Sunni Muslims". Iran, strengthened by the outcome of the US invasion of Iraq, was demonised as a greater threat than the Sunni radicals. Its allies, Hezbollah and Syria, were targeted for clandestine operations. Hersh says "a by-product of these activities has been the bolstering of Sunni extremist groups that espouse a militant vision of Islam and are hostile to America and sympathetic to al-Qa'ida."

Blogs:
Dawn: Who are Hazaras [Urdu] by Majid Asghar - Jan 30, 2013
Dawn: The talkative dead by Masud Alam - Jan 17, 2013
"Suddenly, the Alamdar dead's voice rose as one and addressed me directly. I could hear it clearly. It said what started with the Ahmadis is not going to end with the Shias. When all Shias are killed or forced out of Pakistan, or tamed into submission, then what? Who is next? It could be you, or your sons and daughters. If you want to live, you'll have to speak up for the right of others to live. Sit down with these protesters or run away from this country as fast as you can.

And that was when it happened. I never mix work with emotions. I always control crowds and never become part of one. And I never, ever listen to the dead … I took off my service beret, wrapped a chador around my uniform and name plate, and sat down on the darri among my own."

Express Tribune: The travails of the Hazara community by Samira Shackle - Jan 13, 2013
Tribune.com Blog: Ethnicity trumps humanity in Quetta - Jan 11, 2013
Dawn Blog: Of Deaths and Marches - Jan 11, 2013
Dawn: Yak Sadd Hazara – One hundred Hazara - Jan 11, 2013
News Sources: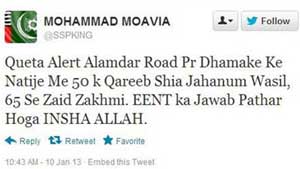 Translation of the message:

Quetta Alert: 50 Shias in hell and over 65 injured due to blast on Alamdar Road. The response of brick will be given by stone God willing.

Note:
Moavia was the father of the so-called Muslim caliph, Yazid - that slaughtered the grandson of Prophet Muhammad, Hussain and his entire family some 1400 years in the battle of Karbala in Iraq. Yazid wanted Hussain's endorsement of his rule, which Hussain never endorsed. Shias are followers of Hussain (for Shias, there are 12 Holy Imams) and the Saudi/Salafis/Wahabis are the followers of Moavia
Flag used is LEJ Flag
SSPKing alludes to parent organization of LEJ - Sipah-e Sahaba Pakistan (SSP) which is headed by the terrorist leader Ahmad Ludhianvi (a terrorist ally of the Pakistani Government)
IMAGES





Relatives sitting with the dead bodies of their loved ones for 76-hours in Sub-Zero temperatures before the callous, inhumane, shameless leaders of Pakistani Government decided to show up.


Sub-zero temperature has failed to shake the resolve of thousands of mourners in Quetta.




HDP Party chairman, Khaliq Hazara, and party leadership
on a 3-day hunger strike [ Picture gallery ]



Pakistan Tehreek-e Insaaf Party (PTI) leader, Imran Khan, meeting with HDP delegation at their Hunger Strike camp on Mission Chowk - Jan 13




A Hazara kid with slogan: KILL ME, I AM SHIA




A martyr's body is carried to his home for last visit for his family. Women do not go to grave yard at the time of burial. Ritually, the dead body is carried by men to his/her home, and then on foot to the graveyard.


A victim's family holding his picture during Quetta protest




Lahore, Pakistan - people from all walks of life gathered to sit-in-solidarity with Quetta mourners

.

Peaceful protests were carried all over Pakistan and throughout the world.






Statement from Ayatollah Mohaqiq Kabuli (only Hazara Ayatollah) - [PDF / DARI]



Balochistan Governor, Zulfiqar Magsi visits Qandhari Mosque to pay respect [fatiha] to the martyrs - Jan 17