Bomb blast targeting vegetable market in Hazara Town: Death toll reaches 94, over 190 injured [ Updated March 4, 2013 ]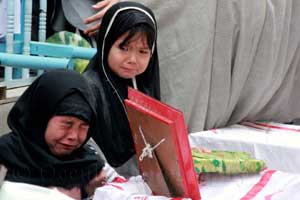 Update:
March 4

- Fatima wife of Mohammad Amin, passed away in Liaqat Hospital in Karachi. She had received 60% burns during blast. Her young son, Murtaza, around 6 or 7, was also killed during the blast.

March 1

- Abdul Rasheed passed away around midnight on March 1st in a hospital in Karachi and was buried in Hazara town graveyard next to other martyrs. He was 43, and left behind a widow and an 8-year old daughter. He was the sole earner of the family and worked as a tailor in a shop.

Date not determined

: Gul Afshan, 60, passed away in Liaqat National Hospital in Karachi.


The relatives and the peaceful Hazara masses, much like they did after Jan 10, 2013 attack on Alamdar Road, refused to bury the bodies of their loved ones and sat with the bodies non-stop for 4-days in sub-zero temperature and rain demanding the Pakistani Govt bring the army to take action against the Al-Qaeda affiliated LEJ network.
Pakistani Government, once again refused to bring the Army, calling the situation in control and negotiated a deal with made-up leaders, many of whom are not even Hazaras.
On Saturday, Feb 16, 2013, around 5:45 local time in Quetta, a "liquid bomb" stapped with 10 kg of explosives (also originally reported between 800 to 1000 kg of explosives) and hidden inside a tanker was detonated at a vegetable market in Hazara town targeting women and children resulting in 89 deaths (including scores of women and children) and left over 192 injured (including 52 women and 25 children). The area inside the Hazara Town is known as Hussain Abad and is located on Kirani Road.
The Al-Qaeda affiliated Lashkar-e Jhangvi terrorists have claimed responsibility for the attack and has vowed to wipe the 600,000 Hazaras from Pakistan in 2013. The LEJ, as well as all Sunni-based religious terrorists in Pakistan, are directly or indirectly supported by the Pakistani Government which uses them as the "blunt instrument of strategic depth" to counter its arch-foe India.
This is the second major attack in less than 40 days. The last major attack targeting Hazaras on Jan 10, 2013, in the other Hazara enclave of "Alamdar Road", resulted in 107 deaths and over 120 critically wounded. The responsibility for that attack, as well as all other attacks, have been openly accepted by the Lashkar-e Jhangvi. Though the Pakistani Government calls LEJ "banned organization," it is anything but banned and its national leader goes all over Pakistan giving hate speeches against Shias as well others that does not cater to their extreme "Saudi-influenced" Wahhabi / Salafi Islam.
The Human Rights organizations have accused the Pakistani army and the security agencies for training and providing safe havens to the terrorists. The Pakistani political leadership such as the Sharif brothers (Former Prime Minister Nawaz Sharif and current Chief Minister of Punjab and brother of Nawaz Sharif, Shehbaz Sharif), and the Punjab Law Minister, Rana Sanaullah, are involved in financing these terrorist networks inside Punjab.
In Afghanistan, the same religious outfits (LEJ, Taleban, etc.) have killed between 10,000 to 25,000 Hazaras in their genocidal campaigns in Mazar-e Sharif, Bamyan, YakAwlang, Robatak pass, and West of Kabul.
The LEJ terrorists, as well as the 20,000 network of extremist madrassas, are funded by Saudi Arabia and other Sunni Arab states which is using Pakistan as a proxy ground in its war with Shia Iran.
Iran on its part uses its own proxies - the Shia clergy - to foment sectarian sentiments inside Pakistan. The Iranian proxies and other lobbies (including websites over the Internet such as criticalppp.com) are aggressively going after any Hazara leaders or individuals that wishes to be identified only as Hazaras labeling them as "Agents of America or Israel." It should be noted that Hazaras are not only Shia Muslims but also include hundreds of thousands of Sunni and Ismaili Muslims and have active members of parliament from both sects in Afghanistan. However, in the Pakistani media, one can always observe the word "Shia Hazara" tagged to Hazaras. While the Hazaras makes a tiny minority (600,000 to 700,000) of 20% of Shias (30 to 35 million out of 180 million) in Pakistan, the media portrays them as the flag bearers of Shiism in Pakistan. Interestingly, Hazaras have no ethnic kinship with Iran. On the contrary, the Iranian governments for centuries have used a deragatory word "Berberi" (Barbarics) for the Hazaras and refused to use the word Hazaras to this day. In Iran, the Hazaras are officially called as the "Khawaris" (Esterners).
Historians believe Hazaras a mixed race: partly Turks, partly Mongols, and some that are thought to be descendents of 2000 year old Kushan Dynasty - that carved two of the tallest Buddha statues in the mountains of Bamyan - the ancestral homeland of the Hazaras in the heart of "Hazarajat" in Afghanistan.
The world powers, on its part, such as the United States Government is playing the role of a hypocrat. In order to contain the threat of a Nuclear-Iran, US and Israel, has pushed for a Sunni-coalition to contain rise of Shia power which is dubbed as the "Shia crescent" which includes Iran, Lebanon, Syria. While there are several other notable Shia states, such as Iraq and Bahrain, they are not thought to be in the Iranian influence at the moment. Led by Turkey, the Sunni-coalition includes the following main actors: Saudi Arabia, Jordan, and Egypt. This coalition, that has full support of US and Israel, can be seen at play in current war in Syria.
If the current course remained, the 600,000 Hazaras in Pakistan will go through a slow genocidal campaign by the State-actors while the world powers, an important stake holder in this game, will look the other way as the holocaust of the Hazaras continues in Pakistan.
Picture and Video footage:
Explosive used in the Blast
According to intelligence reports, 10kg of explosives used in Hazara Town blast was brought in a tanker. The explosive material was crafted inside a water tanker. The ingredients used to make the explosives were: Phosphorus, Ammonium, and Potassium, Diesel, Sugar, and Ammonium powder. The use of Ammonium Nitrate made it similar to a 1000 Kilo Watt explosion. The ensuing blast created a shock wave which destroyed the buildings. Many bodies became unidentifiable coming under building and charred by fire.

.. [ More ]
FUNERAL [ picture gallery ]
Feb 20 - Amid tears, the broken-spirited mothers, fathers, and sons and daughters, laid the shattered and charred bodies of their loved ones to their final resting place in the mass grave at the Hazara Town graveyard.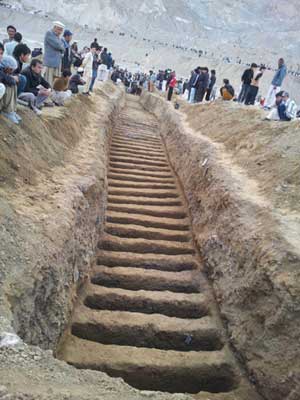 Location of the attack: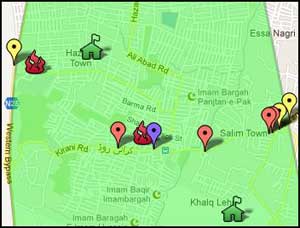 Google Map of Terrorist Attacks Against Hazaras - 1999 - 2013
World Response:
Protests across Pakistan and around the World
International News: Quetta carnage: Protests cripple life in country - Feb 19
Dawn: Outrage across country at Quetta carnage - Feb 18
BBC Urdu: Protests all over country - Feb 18
Islamabad, Feb 18: Like elsewhere in the country, Saturday's attack on the Hazara community in Quetta led to protests in the federal capital, Rawalpindi, Taxila and across the region.

Karachi, Feb 18: Protests cripple life in Karachi
KP, Feb 18: One day mourning and sit in protests

Hazara Students Federation (HSF)

protests the killing in front of Quetta press club - Feb 17


Hazara Organization (UK), Friend of Hazaras (UK),

Hazara International Forum (UK), Hazara United Movement, and People's Islamic Unity Party of Afghanistan

has announced protest in front of Pakistani Embassy in London, UK, on Sunday, Feb 17, for continued support of Pakistani Government for the [Lashkar-e Jhangvi] terrorists.
Articles / Blogs by Hazaras:
Informative Articles / Blogs:
News Sources:
Profile: Lashkar-e Jhangvi Terrorist (LEJ) Org
Dawood Badini, LEJ #2 in Balochistan, is the nephew of 911-master-mind, Khalid Sheikh Mohammad, and is a close relative of Ramzi Yousef, the master-mind of first world trade center bombing in 1993, who is currently serving life sentence in the United States.

LEJ claims responsibility for attack - [ Urdu | English ]



Quick Profile of Hazaras in Pakistan:

600,000 - 700,000 population in Pakistan
Largest population of Hazaras live in Quetta with smaller pockets living in other cities in Balochistan since 1890's - well before Pakistan's establishment in 1947
Hazaras are predominantly Shias but a sizeable majority also belong to Sunnis and Ismaili faiths living in Afghanistan
Over 90% Education rate (Alamdar Road has the highest number of schools, colleges than anywhere in Balochistan)
Virtually 0% crime rate in both Hazara dominated areas in Quetta city (Women, girls of all ages walk home at 2:00am wearing expensive jewelry coming from weddings without being harrassed or fear of life). There are no Police precincts in Hazara areas. The closest police precinct (Quaid-e Abad Thana) is on the outskirts of Alamdar Road
Hazara officers in Army are known as "Changezis" - a reference to Mongolian look/heritage of Hazaras. The word Changezi personafies a person who is extremely fit
Non-discrimination - fruit sellers and anyone from any ethnicity, religion, background, are welcomed in Hazara areas. No one has ever been harmed!
Hazara neighborhoods are the cleanest in Quetta city.



Protests / Vigils across Pakistan and around the World




| | |
| --- | --- |
| | |
| | |
| | |
| | |
| | |
| | |
| | |
| | |
| Mundi Bahawudding, Punjab | |
| | |
| | |