Updated: Oct 31, 2016 |
Summary
In its shameless and vicious anti-refugee/asylum-seekers campaign, the Australian Government seems to be collaborating with the Pakistani government to close all escape routes for Hazaras undergoing genocide. The "NO WAY" campaign [in Pakistan/Afghanistan] is specifically designed to profile and single out the vulnerable Hazara community on what Amnesty International calls "shocking" and "extremely complicit [in Hazara persecution]."
Australia's Deadly Game – Dec 12, 2012
The Global Mail investigates how Australian authorities are co-operating with corrupt local [Pakistani] authorities who bend the law to keep would-be refugees trapped in a country that they desperately want to escape.
In recent years, Australian authorities have increasingly turned to a strategy some find disturbing: they are taking their mission directly to countries such as Pakistan that are sources of refugees, rather than concentrating on the transit points. And in collaborating with local authorities, their efforts have gone beyond targeting people smugglers — they're also using the powers they gain locally to directly stop the escape of asylum seekers themselves."
Mustafa Qadri – Amnesty International
You're looking at a population that is persecuted in the worst kind of way, and the Australian authorities appear to be effectively trying to stop them from trying to go somewhere where they will be safer. It's pretty shocking…

I think that makes Australia actually extremely complicit [in the persecution of Hazaras]
Hazara Genocide in Pakistan (1999 – Ongoing)
As of 2016, Hazara Organization for Peace and Equality (HOPE) has documented nearly 200 separate attacks on Hazaras in Pakistan, killing approximately 1500+, injuring 3500+ and forcing between 55,000 – 200,000 Hazaras to leave Pakistan for safety [ See Live Google Map of all attack locations ].
Further Reading: Evidence of Hazara Genocide in Pakistan
This is a reference page with links to credible documents providing evidence on Hazara Genocide in Pakistan. The documents collected, over the last 1.5 decade, are from Government sources, Human Right organizations, main media, and Hazara sources.
Australia-Pakistan Collaborating on vicious "NO WAY" campaign: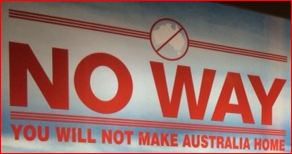 AlQuds Attack, Mezan Chowk, Quetta – Sept 3, 2010
Scene of AlQaeda affiliated Lashkar-e Jhangvi (LEJ) suicide attack targeting a Hazaras rally killing 73 (including 53 Hazaras) and injuring 195 (mostly Hazaras). Australian Government's deterrence campaign ad can be seen in the background to discourage [Hazaras] from coming to Australia.
Click to see a higher resolution image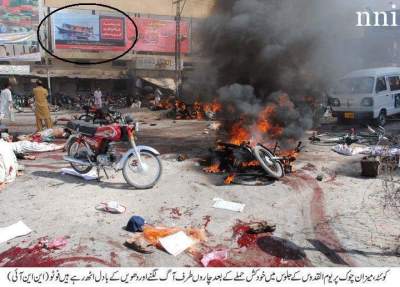 Daily Jang Newspaper Quetta – Sun Aug 18, 2013
(below) Australian Govt. ad in Urdu Language Newspaper – Urdu / Dari language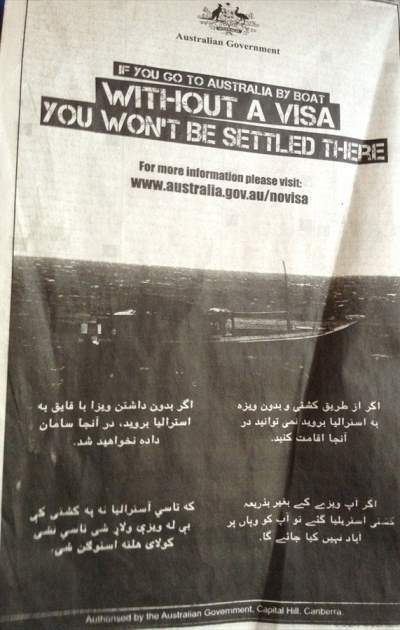 Karachi Airport, Pakistan (Nov, 2014) – English / Urdu language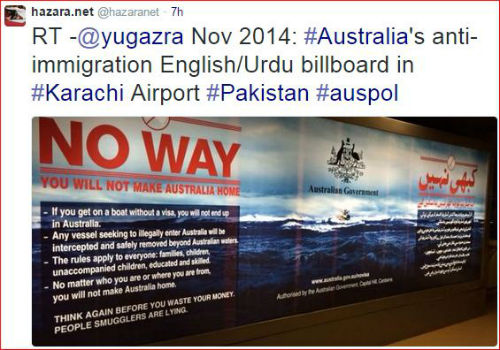 Quetta Airport, Pakistan (Nov 2014) – Urdu / Dari language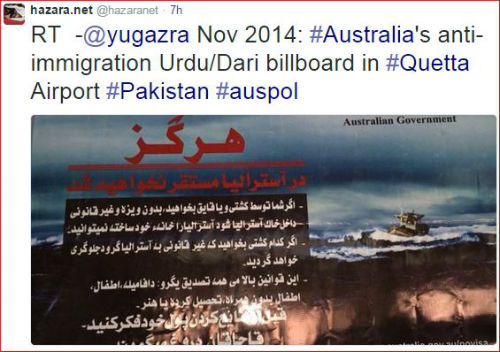 Lahore Airport, Pakistan – English/Urdu language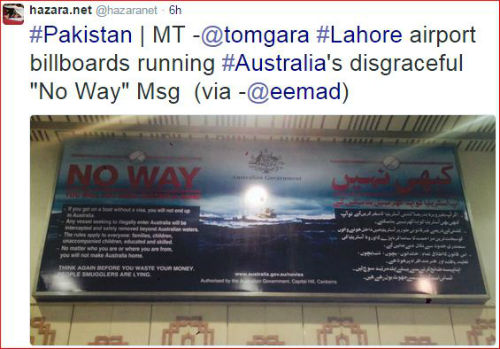 Ethnic Profiling of Hazaras by Australian Government
(Below) Pictures from Australian Government Booklet. The level of carelessness shown in preparing this document is obvious. For example, the file name is Storyboard-Afghanistan but entire booklet is about Pakistan.
PIA stands for Pakistan International Airlines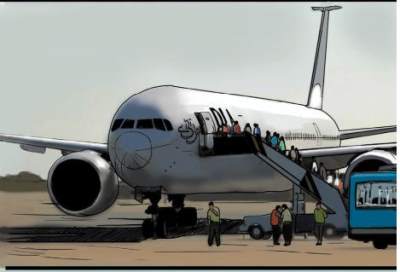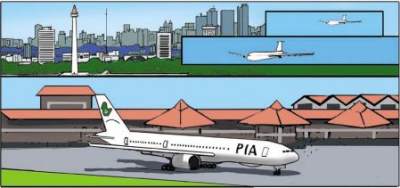 (Below) A Hazara is profiled with his typical mongoloid looks
This profiling technique is used both by Australian Government and AlQaeda affiliated terrorists that singles out a Hazaras based on their looks. This Mongoloid look is unique to Hazaras in the Afghanistan and Pakistan region making it very easy to target a Hazara.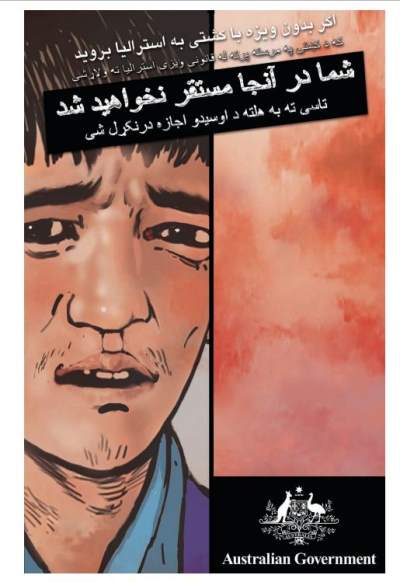 (Below) The intent, it seems, was to show that the Hazara character is missing "home." Minor difference: it is a typical dance of the Pashtun tribe. In Afghanistan, Hazaras and Pashtuns are rivals. For example, 99% of all Taliban are from Pashtun tribe. However, that said, by no means does the animosity of Pashtuns have started with Taliban. For well over a century, successive Pashtun governments of Afghanistan have carried out genocide of Hazaras, sold tens of thousands of Hazaras as slaves to those taking part in Genocide and forcibly displacing Hazara populations from their lands and distributed the lands to Pashtuns. This picture is rubbing salt in very deep wounds of the Hazara nation.
See -> Hazara Genocides in Afghanistan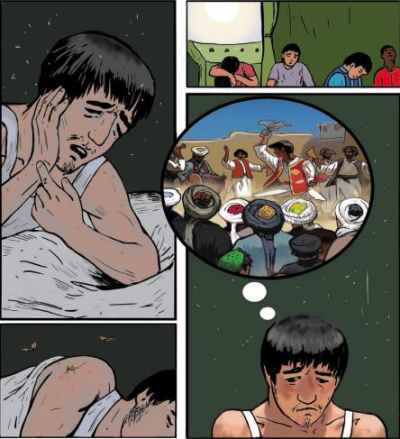 Are Hazaras genuine Refugees?
Difference between Asylum Seeker, Refugee, Prima-facie Refugee
According to UNHCR, an asylum-seeker is someone who says he or she is a refugee, but whose claim has not yet been definitively evaluated.

During mass movements of refugees (usually as a result of conflicts or generalized violence as opposed to individual persecution), there is not -and never will be – a capacity to conduct individual asylum interviews for everyone who has crossed the border. Nor is it usually necessary, since in such circumstances it is generally evident why they have fled. As a result, such groups are often declared "prima facie" refugees.
Why don't Hazaras "legally" come to Australia via UNHCR?
Irony of this question was not lost on us in the below tweets where a user suggested the proper 'legal way'
On Oct 28, 2010, a Hazara UNHCR driver gave his life in trying to protect the UNHCR chief, John Soleski, from abduction in Quetta, Pakistan. In Pakistan, UNHCR is not there to protect us, we literally gave our blood to protect UNHCR!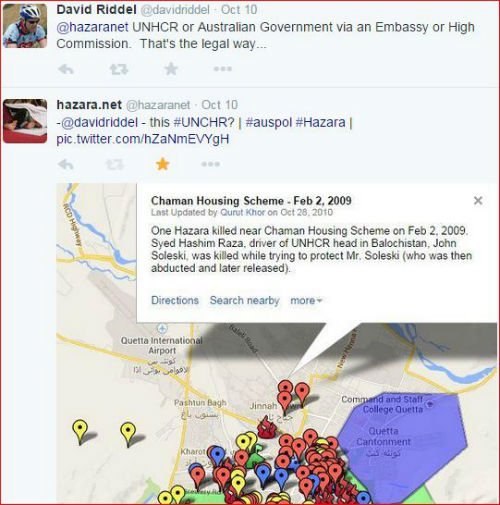 A person familiar with Pakistan/Afghanistan will not suggest going to Australian Embassy" (or any Western Embassy for that matter) in Islamabad for a "visa to Australia/West" as a viable option. Some reasons are as follows:
There is a "kill zone" outside 4-mile radius of two Hazara enclaves. Hence, majority of Hazaras have not left the enclave for last 5-years.
In normal circumstances, entering any Western Embassy requires mailing "proper" documents (showing proof of funds to reach destination and funds while you are there) via a courier service and waiting for a "interview token" – which gives a specific date/time for interview. Token is only given after certain checks (proof of property, bank accounts, family in Pakistan). Courier service is used to prevent people from entering Embassy premise. Most Western Embassies are like fortresses where you cannot even enter the road or get within hundreds of meters of the Embassy due to terrorist threats. Additionally, the interview process is racist/sexist by design where interviewee is 'guilty until proven innocent.' Hence, any type of question is "okay" to ask. Example, you are a single female. Are you going to country X to marry a native of country X? (actual question asked by a female official of the Embassy from a Hazara female).
The word Genocide is used when killing becomes systematic, which means that "system" does not leave any option for a vulnerable community to escape. Australia, as such, is now part of that system that is colluding with Pakistani government in its "NO WAY" campaign.
Any Western Embassy Official in Pakistan/Afghanistan? We would love for you to prove us wrong!
If you are an officer of a Australian/Western Embassy in Pakistan/Afghanistan, we would love for you to prove us wrong. Kindly contact us via twitter or send us a private message via our Facebook page.