Ankara, Turkey – June 2, 2014|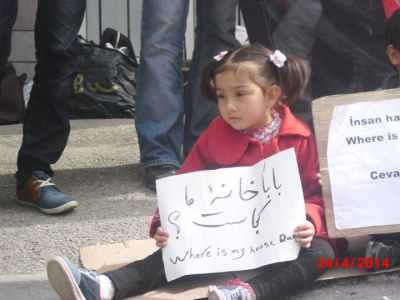 "Where is my home dad?"
Devoid of their own separate homeland, Hazaras have been in a state of constant migration from one country to another after confronting persecution for the last over a century. They were forced to leave their homes and properties in central Afghanistan's Hazarajat region in the last two decades of the nineteenth century after being subjected to the worst kind of racial atrocities by the then Afghan ruler, Abdur Rehman. According to historical documents, 60% of Hazaras were exterminated during that reign of terror. Some Hazaras migrated to neighboring Pakistan and some moved on to Iran to secure their lives.
Afghan Hazaras witnessed another wave of mass migration after a century in late 1990's when they were again meted out the worst kind of inhuman treatment by the then anti-Shia Taliban regime (1994-2001). Hazaras faced severe repression and persecution including a series of mass killings in northern Afghanistan where thousands of them lost their lives and were forced to flee their homes. This time again Pakistan and Iran turned out to be their destinations to save their lives though some of them also succeeded to make America, Europe and Australia.
Recently, mass killings of Hazaras in Pakistan and the repressive government in Iran have forced a large number of Hazaras in these two countries to flee for their lives. Most of the Pakistani Hazaras sought asylum in Australia while those in Iran moved on north-west to enter Turkey to get themselves registered with the United Nations High Commission for Refugees (UNHCR). A number of Afghan Hazaras from Afghanistan also moved to Turkey to enroll themselves with the UN refugee body. Unfortunately, these asylum seekers proved unlucky as they have to undergo oppression at the hands of Australian and Turkish governments.
Afghan Hazara asylum seekers in Turkey are facing an uncertain future due to a shift in policy by UNHCR. Compelled by what they call the discriminatory policy of the UN refugee body, these asylum seekers in Turkey resorted to sit-in protest on April 14, 2014 in Ankara in front of the UNHCR office which is still in progress after a lapse of one and a half months. Some of the protestors including women have even sewn their lips and are staging hunger strike to press the UNHCR authorities to treat them fairly.
Afghan asylum seekers coordinator in Turkey, Ali Hikmat, claims that there are 26000 Afghan asylum seekers in Turkey at the moment. He says a number of them have moved on from Iran after facing repression and discrimination as the Iranian regime adopted a stricter approach towards Afghan Hazara refugees in 2012. Speaking to the writer from Ankara on phone, he said 17000 of these asylum seekers are yet to be enrolled by the UN refugee body. Claims of the remaining 9000 have been processed, half of which have been declared refugees while the remaining half are yet to receive a final decision.
"We are staging this protest as UNHCR has suspended registration of Afghan asylum seekers in Turkey since May 2013 unlike the asylum seekers from other countries including Syria, Iran, Iraq, Pakistan and Somalia", Hikmat complained adding that processing of claims of the Afghan asylum seekers who were enrolled earlier and settlement of declared refugees to third country have also been withheld by the UN refugee body without telling them any specific reason. He said UNHCR has displayed a poster outside its office in Ankara to make the announcement and to ask the Afghan asylum seekers to contact another organization, Association for Solidarity with Asylum-seekers and Migrants, for their registration which reports to Turkish interior ministry.
"Why is this discrimination with Afghan Hazara refugees only? If the enrollment of new asylum seekers and processing their claims for protection has been suspended, it must be applicable to all asylum seekers irrespective of their nationalities; but, here the case is different and only a particular nationality is being targeted which is a flagrant violation of International human and refugee laws", argued Hikmat while expressing wonder as to how a UN body which is the custodian of rights of all refugees across the world could be so discriminating towards the refugees of a particular nationality. He said a five-member delegation of Afghan asylum seekers have met the UNHCR officials at their Ankara office thrice since launching of the protest to sort out the issue, but with no positive outcome.
"UNHCR officials at Ankara office have asked them to approach their higher ups in Geneva while expressing their inability to do anything in this regard", he informed.
Hikmat claimed that the Turkish government is also opposing the registration and processing of Afghan nationals in UNHCR office as it is afraid of increasing number of Afghan asylum seekers coming into the country for enrollment in the UN body.
He said the Turkish government has restricted the Afghan asylum seekers to fifty-two sites in far flung areas of the country from where they are not allowed to move to any other place. They are required to report to their respective area police thrice a week. They have also no work permit and if they work somewhere covertly the employers on many occasions have refused to pay them their wages being illegal, he maintained.
Hikmat also complained that the Turkish government does not allow them to celebrate festivals and hold social gatherings. Eminent Afghan sportsman, Hussain Sadiqui, visited Turkey last year to participate in a sports event and they invited him to a gathering of Afghan refugees, but police busted the event.
Surprisingly, there is no comments available from UNHCR officials in Ankara or Geneva regarding suspension of registration and processing of Afghan Hazara refugees in Turkey. While the influx of Syrian refugees into Turkey appears to be the main cause for suspension of registration of Afghan asylum seekers there is still a need for addressing the grievances of Afghan asylum seekers. It is really a shameful act on part of UNHCR to suspend the provision of its services to Afghan nationals only as international law calls for impartial and fair treatment of all asylum seekers irrespective of their nationalities.
For Further Information:
Email

Haider Ali (email provided below)

Twitter

Afghan Refugees group in Turkey: @AfgRefugees
Hazara.net: @hazaranet
The following two tabs change content below.
Haider Ali
The writer is a Human Rights activist in Australia and can be contacted at: haiderali.aus@gmail.com
Latest posts by Haider Ali (see all)