Improvised Explosive Rips IT University Bus Carrying Hazara Students; 6 Killed, 69 Injured - June 18, 2012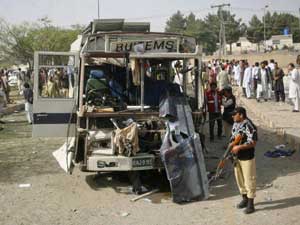 Mechid TV: Assistant Professor Mohammad Hussain who was injured in BUITMS Bus attack passed away around midnight on June 25, 2012.

An improvised bomb, planted in a parked car, targeted the BUITMS IT University bus killing at least 5 and injuring over 69 people. According to sources, the bus was coming from Alamdar Road after picking up mostly Hazara students. The blast happened on Samungli Road next to the Federal Investigative Agency (FIA) building.
Unconfirmed reports blamed the bomb blast on the State supported Lashkar-e Jhangvi (LeJ) terrorist organization that is responsible for virtually all the attacks on Hazaras in Pakistan. The LeJ is also blamed by the Afghan government for the attacking the Shia religious procession (of Ashura) in Kabul, Afghanistan.
The Asian Human Rights Organization has accused the Pakistani Military Intelligence Agency (ISI) and the Frontier Corps (FC) for protecting and training the terrorists. US Government cables on Wiki Leaks accuses the Saudi Government for providing millions of dollars to fund these terrorist networks.

The Media (Pakistan and World Media) usually plays in the hands of the terrorists in labelling Hazaras as "Shias" in trying to paint this as an ongoing war between Shias and Sunnis. In reality, the Hazaras have never attacked anyone despite of giving over 700 casualities and thousands of injuries to these State-Sponsored Terrorists.
Victims:
Professor Mohammad Hussain (succumbed to injuries on June 25)
Irfan
Aqil Raza
Shahid
Abdul Hadi
Farooq
Shaheed
Mohammad Hadi

Shaheed Rasheed Ali
The injured include:

Muhammad Ali
Khudaay Raheem
Umar
Chaman Ali
Rehmatullah
Shahab Ali
Muhammad Baseer
Muhammad Abid
Muhammad Ameen
Muhammad Ibrahim
Waqar Hussain
Muhammad Munir
Adil Ahmed
Zakir Hussain
Muhammad Yasin
Naimatullah
Imam Din
Amir Muhammad
Yasir Hussain
Mehar Ali
Irfan Ail
Muhammad Aslam
Riaz Ali
Shujaat Hussain
Samina Bibi
Zulfiqar
Asim
Muhammad Nabi
Asma Batool
Rabia Bibi
Iftikhar Ahmed
Ramzana Bibi
Ahmed Khan
Hamal Khan
Muhammad Ajmal
Muhammad Akmal
Fatima Bibi
Mumtaz Hussain
Waqar Hussain
Fatima
Kaka
Shafqatullah
Mehar
Arsalan
Haroon
Manno Jan
Arif
Saood
Abdullah
Asif
Najibullah
Jalil Ahmed
Safdar Rehman
Mukhtar
Adnan
Kainat
Abdul Razzaq
Navid Shah
Akmal Shah
Source: The Nation
News Sources: