Saira Batool – One of the First 4 Female Fighter Pilots in Pakistan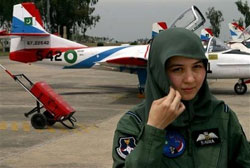 (courtesy: Abbas Wafa)
PAKISTAN welcomed its first female pilots into the country's air force yesterday, breaking into the all-male front-line bastion of its armed forces. Saba Khan, Nadia Gul, Mariam Khalil and Saira Batool were among 36 cadets who received their wings after three and a half years of intensive training. General Ahsan Saleem Hyat, the deputy chief of army staff, said the four had "shown the spirit and courage to rise above the ordinary and break new ground for others to emulate".
"If Pakistan is to rise to the height that it deserves, both men and women of our beloved land must find equal space and opportunity," he said.
Carrying rifles and dressed in the same green uniform as their male colleagues – except for a kameez (tunic) flapping over their trousers, and one wearing a headscarf – they paraded before hundreds of family members and diplomats, and took the military oath.
Standing in front of a T-37 training jet, Flying Officer Saira Batool described her training as tough but "very thrilling".
"My parents, their prayers and my instructors and above all, almighty Allah, helped me achieve this success," said Ms Saira Batool.
The women are the first female pilots in the 58-year history of the Pakistan air force. They trained in MFI-17 Super Mushfhak and T-37 jets and, depending on their abilities and the needs of the air force, could go on to fly fighter jets. Three more women are due to get their wings in October, but the air force will see how they perform before deciding whether to induct more such trainees, said Air Commodore Abid Kwaja, chief of the flight training college.
The women undergo the same training alongside their male colleagues, but live in separate quarters, and in a concession to religious sensitivities in the conservative Islamic nation, do their physical exercises separately from the men. "In the initial part of the training we felt they were a little wanting in muscular power, which is needed to control the aircraft. They were put in the gym and given physical exercises, and within one or two months they came up to physical requirements," said Air Cmdr Kwaja.
"They are as good as the male cadets," he said. "There's no reason they can't become fighter pilots."
About 5 per cent of Pakistan's air force officers are women, mostly serving in areas such as engineering, medicine, air traffic control and administration. Pakistan is still a male-dominated society and generally has a poor record for women's rights. Violence against women is still rife and usually goes unpunished. Women's literacy is only 35 per cent, compared with 62 per cent for men.
The following two tabs change content below.