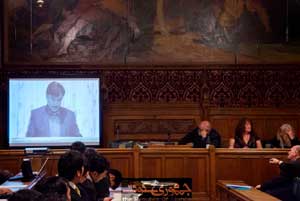 Abdul Khaliq Hazara, Chairman Hazara Democratic
Party (HDP) speaking via video
Quick Facts:
Title: Conference on Hazara Genocide
Date: Nov 19, 2012
Organizers: Hazara Progressive Alliance (HPA), Hazara Organization for Peace and Equality (HOPE), Friends of Hazaras, UK (FOH)
Attendance: Over 14 MPs and one member of House of Lords, Over 140 Hazaras (Note: This hall has a capacity of 100 seating only. Despite RSVP, and a low key advertisement, first 147 people were allowed into the conference, with over 40 people standing to watch the conference)
Location: House of Commons, UK Parliament, Central London
Speakers:
– Mark Lancaster, MP Milton Keynes North (Conservative)
– Iain Stewart, MP Milton Keynes South (Conservative)
– Rt Hon Alan Johnson, MP Kingston Upn Hull West and Hessle (Labour)
– Rt Hon John Denham, MP Southampton, Itchen (Labour)
– Lord Avebury, Eric Lubbock (Liberal Democrat)
– Rt Hon Andrew Smith, MP Oxford East (Labour)
– Mr. Jon Wheale, Candidate for MP (Labour)
– Akram Gizabi, former journalist Voice of America
– Abdul Khaliq Hazara, Chairman Hazara Democratic Party (HDP)
– Zakir Mukhtar (HPA)
– Luci Woodland (FOH)
– Ali Hakimi (HPA)
Flyer of the Event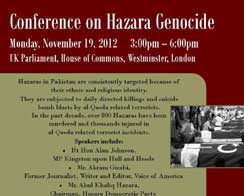 A historic event and a moral victory for the Hazaras [at the grass root level]
in Internationalizing the plight of the besieged Hazara community undergoing
Genocide in Pakistan.
Some highlights as reported in The International News:
The conference in the House of Commons was attended by more than 20 MPs from various parties. They included parliamentarians Robert Buckland, John Denham, Tobias Ellwood, Mr James Gray, Mark Lancaster, John McDonnell, Caroline Nokes, Stephen Pound, Mark Pritchard, Dan Rogerson, Andrew Smith, Iain Stewart, Eric Ollerenshaw OBE, Bob Ainsworth, Jim Cunningham, Chris Huhne, Sue Clayton and Lord Avebury.
MPs on this occasion announced the formation of All Parties Parliamentary Group (APPG) on Hazaras to "address the issues faced by Hazaras in Pakistan to bring an end to the persecution and racial discrimination carried out against Hazaras". Ian Stewart, who was the sponsor of the conference, pledged that he will set up the group and will visit Pakistan with his colleagues.
Alan Johnson, who has become a leading campaigner on behalf of Hazaras, expressed frustration that previous meetings had called "that genocide of Hazaras ended and the perpetrators of this crime were brought to justice", but there has not been a single conviction, there still hasn't been a single arrest. As many as 5000,Hazaras have left Quetta city which is an enormous loss to the city, student can no longer attend the university due to fear, Hazaras are under siege of terror.
MPs said in their speeches that the situation of Hazaras was grave, and they needed protection from terror groups and normal life restored to them. The MPs said the government of Pakistan had failed in its duty to protect its on people and that was a tragedy. They said Hazara professionals, businessmen and labourers were leaving the city as they were under attack.
Organizations involved in the event:
Hazara Progressive Alliance (HPA), UK – is an alliance of two Hazara Organizations (HO + HIF) with focus on raising the plight of the Hazara Genocide in Pakistan. Hazara Organization (HO) is mainly based in Milton Keynes and Hazara International Forum (HIF) is based in London.
Friends of Hazaras (FOH), UK – headed by Luci Woodland, a British teacher, with aim of creating broad based support among the non-Hazara British citizens.
Hazara Organization for Peace and Equality (HOPE) – A global Hazara organization that is mainly focused on speaking on broader issues of interests/concerns for the over 10-million Hazaras around the world.
Hazara Democratic Party (HDP) – The largest and only Hazara political party representing around 600,000 Hazaras in Pakistan. The previous chairman of HDP,Mr. Hussain Ali Yousafi, was assassinated by Al-Qaeda affiliated terrorists on Jan 26, 2009.
News Sources:
The following two tabs change content below.