Main Page: Boat Capsize off Christmas Island on June 9, 2013
Note:
Information will be updated regularly as it becomes available to us.
We do not have any specific information whether any Hazaras were on board this boat. Information on this page will be updated if and when we receive more information about this incident.
Admin, Hazara.net
Highlights:
Boat capsize happened on June 9, 2013

Boat was last spotted approximately 52 kilometers (32 miles) north of Christmas Island according to Home Affairs Minister of Australia, Jason Clare

Number of passengers are believed to be between 55 and 60; all are feared dead
Guardian reported that all onboard were Afghan Hazaras
Relevant Sources:
Relevant Refugees:
Dawn News – June 9, 2013 |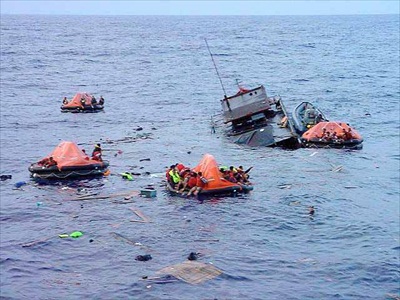 Note: It is not known if the above image is from the current boat
sinking. Image has been shared by Hazaras on social media.
CANBERRA: A boat carrying up to 60 asylum seekers has capsized in the Indian Ocean en route to Australia, with 13 people confirmed dead and no survivors found by the fourth day of searching, an official said on Sunday.
An air and search continued Sunday 120 kilometers (75 nautical miles) northwest of Christmas Island, an Australian territory 500 kilometers (310 miles) south of Jakarta and 2,600 kilometers (1,600 miles) from Perth, the nearest major Australian coastal city, Home Affairs Minister Jason Clare said.
"This is a terrible tragedy; our focus today is on finding people alive," he said.
Up to 60 people are believed to have been aboard the boat, which was headed for Christmas Island where Australia operates a detention camp for asylum seekers, Australian Maritime Safety Authority spokeswoman Jo Meehan said. Their nationalities are unknown.
She said two ships and two airplanes had resumed the search for survivors Sunday.
The boat was first spotted by the crew of an air force plane on Wednesday afternoon stationary but in no apparent distress, Clare said. It was then 52 kilometers (32 miles) north of Christmas Island.
The air crew counted 55 people on deck. They were mostly men, but there were also women and children, Clare said.
A navy ship was sent to intercept the boat, but was unable to find it on reaching the area early Thursday. The search then began.
An air crew spotted the submerged hull and a body on Friday 120 kilometers (75 nautical miles) northwest of the island. The wreckage had apparently drifted there from the unknown scene where it capsized.
Since then, a total of 13 bodies, debris and life jackets had been spotted from search ships and aircraft, Clare said.
Boarder Protection Commander Read Adm. David Johnston said no bodies had been recovered.
"The recovery of bodies is complex and time consuming, so all the surface vessels are continuing (the search) because it remains possible that there are survivors in the water," he said.
He said an assessment would be made later Sunday to decide whether anyone in the water could still be alive. If not, the search would then turn to recovering bodies.
Because of Christmas Island's close proximity to Indonesia, it's the most popular destination for asylum seekers who pay people smugglers to take them from Indonesian ports to Australia in overcrowded and unseaworthy boats. Many of the asylum seekers come from Afghanistan, Iran and Sri Lanka.
Several of the voyages have ended in tragedy with the loss of hundreds of lives as the boats have come in increasing numbers in recent years.
[ Full story on Dawn News ]
Relevant:
The following two tabs change content below.