Quetta – June 6, 2013 |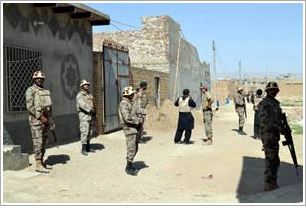 Highlights:
LEJ spokesman Abu Bakr Sadiq confirmed news calling NNI from undisclosed location
Killed: Abdul Malik aka Jawedan, wife, and 2 year old child named Afsa
Killed: Zabihulla (also reported as Naqeebullah, No 3 commander in LEJ Balochistan) aka Ibrahim and wife
"LEJ warns government if dead bodies were not immediately handed to relatives or if relatives were harrassed by police, we will teach the government that will be remembered by their generations. And we don't just make threats. The last month's suicide attack on Inspector General of police's convoy is an example" – Abu Bakr Sadiq
Location: Kharot Abad, Quetta, Pakistan
Source: Dawn News
QUETTA: At least 16 security personnel, including an officer, were injured during a search operation in Quetta's Kali Barat area on Thursday.
The casualties occurred during a security forces' search operation which turned into a clash. Militants attacked the forces with hand grenades and opened fire on them, resulting in the injuries.
Fayyaz Sumbal, the Deputy Inspector General Police told Dawn.com, police and para-military troops conducted an operation in Kharotabab area of Quetta against militants who were involved in targeted killings and bomb explosion.
He said operation was continued for four hours and when there was no chance of escape, terrorist blew themselves up.
The explosion is also said to have killed members of the militants' families. Subsequently, the bodies were shifted to Civil Hospital Quetta.
Personnel from the Frontier Corps (FC), Anti-Terrorist Force (ATF), Balochistan police and intelligence agencies participated in the operation which started at 5 am.
An intelligence official who requested not to be named told the Dawn.com that two militants were from Lashkar-e-Jhangvi, a Sunni militant group. He said both were high profile militants living in a hidden house along with their family in Kharotabad. He said weapons were also recovered from the spot.
Security forces declared the area 'clear' after the operation concluded.
Source 2: Qudrat News [ Urdu ]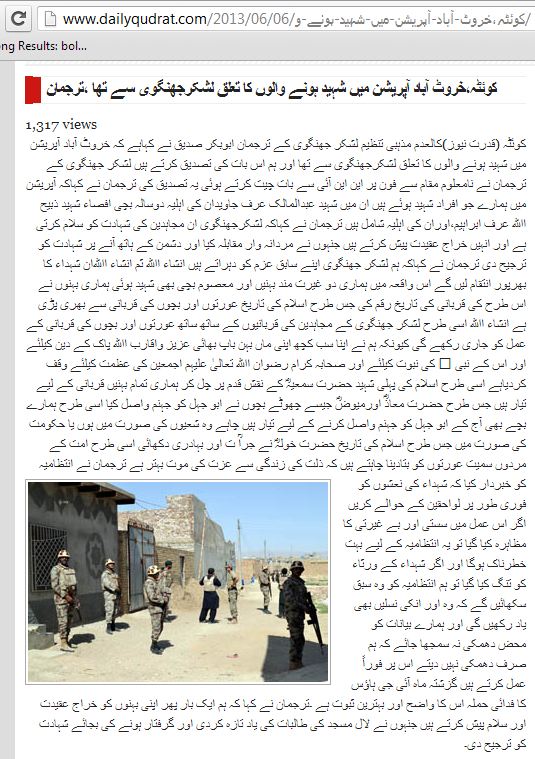 The following two tabs change content below.