July 31, 2014 |
It was a pleasant day in Lal-o-Sar Jangal, Ghor Province Afghanistan. Latifa was thrilled since morning because she was going to Kabul City with her husband today for the honeymoon. Her husband, Nauroz had already told her to get all necessary stuff ready by 10pm.
Nearly a month ago, she got married with Nauroz, his village mate. She was just 22 years old, a young lady with full of dreams to enjoy the marriage life. It was early morning, when she left her bed to start the day but it was not the routine day. She couldn't sleep properly as the honeymoon excitement kept her awake nearly all night. She hurriedly prepared breakfast for the family. Her blood was running fast in her veins. She seemed flying today—feeling over the moon. She wanted to finish all house chores as quick as possible and she also wanted to finish packing before the set time.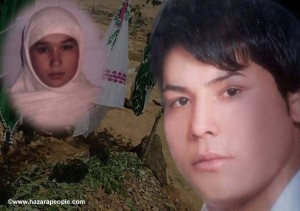 In the evening, her parents visited her home to see off her. She cooked a sumptuous dinner for the family. All family members enjoyed the dinner. Latifa promised to bring beautiful wool shawls, scarves from Kabul and warm shoes for her mother-in-law.
It was around 10pm, when her husband asked her to leave home. She kissed her elders' hands to seek their blessings. In traditional Hazaragi dress, she was looking stunning with a bridal scarf. They both left home and arrived at the bus station, where a mini-bus was waiting to get them on board. The driver put their bags on the roof and tied them up. The commuters took a sigh of relief when the bus started moving forward.
"We will arrive in Kabul in the afternoon," the driver said loudly and sped the bus bit fast.
"Why the bus doesn't go in the morning?" she asked her husband inquisitively.
"It's safe at night rather than in the day light," Nauroz replied confidently.
The mini-bus was going slowly but the commuters could easily feel the jerk and the bump as it was running on the rough and unpaved road. The bus was swaying to either side when it moved bit fast. However, Latifa wasn't feeling the knock and jolt because she was thinking about Kabul City, her honeymoon.
"Do you know which place we should see first in Kabul?" she asked.
"What do you think?" her husband replied.
"I don't know. This is my first time going to Kabul."
"After lunch in Kabul, we'll take a rest for a few hours, and then we'll go to the cinema. We'll watch a Hindi film. What do you think?"
"Sounds great to me."
She didn't know how Kabul looks like. She heard a lot about Kabul City, especially Bagh-e-Babur, Bagh-e-Bala, Qargha, Kabul Zoo, cinemas and of course shopping malls. The beautiful national park Band-e-Amir and historical Bamiyan city known for its giant Buddhas were also in her list before coming home.
When the bus reached Feroz Koh, it stopped.
"Why it's stopped?" she asked curiously.
"I think, it's a normal checking by the authorities—not to worry," her husband explained.
Three bearded armed men got on the bus. One of them put the gun on the head of the driver and shouted to get off the bus.
"Who are they? What are they doing?" she asked nervously.
"I don't know—may be Taliban. Don't know," Nauroz said fearfully.
Both of the armed men were pulling commuters off the bus. She couldn't believe her eyes, when a dark bearded armed man with thick eyebrows and a large nose dragged her out of the bus. She was horrified. She was made to line up beside the bus with other commuters. She also saw more armed men who were getting passengers out of the three buses and were lining them up. The women and children were crying. Armed men were asking everybody to show their ID Cards. She didn't know, why they were asking ID Cards?
After checking ID Cards, the armed men were letting some commuters to go, while some others' hands were being tied on their back. She started crying when her husband's hands were tied on the back. She realized that only Hazaras were being singled out and lined them up against the bus. The armed men were kicking and punching Hazaras. After excluding Hazaras from others, armed men started torturing and shooting including women. She also felt something in her head and after that she didn't know, what happened to her.
In the morning, the horrifying news struck to the national media and the social media networks. 15 innocent people were shot dead in Feroz Koh area including three women and a 9-month old child. Nobody was found injured. They were shot killed because they were Hazaras and Shias. Latifa's body was lying dead beside her husband. Her hands were also tied on the back. She received several bullets but the bullet in the head took her life. She was killed because she was a Hazara and it was the only crime.
As routine, Kabul government issued clichéd statement vowing to bring terrorists to book. It's worth mentioning, that for the past one month, around 50 Hazaras have so far been slaughtered by the religious terrorists in different parts of Afghanistan. No single terrorist in this regard was brought to justice, which is a matter of great concern for Hazaras in Afghanistan.
Angry protesters from different parts of Afghanistan including Kabul, Herath, Mazar-e-Sharif, Bamiyan and Daykundi even from Quetta City, Pakistan took to the street to express their solidarity with aggrieved family members and demanded Kabul Government to stop the killings of Hazaras in Afghanistan and provide full protection to its citizens. Many believe that if the recent ongoing Hazara killings were not stopped immediately by the government, it would further divide Afghanistan on ethnic lines.
The article was originally published on Kabul Press and Hazara People International Network on 29th of July 2014.
The following two tabs change content below.
Muhammad Younas
The writer is an ESOL Teacher at Goodwin Community College in Hull. His blog can be found at http://myounas.com and can be contacted at toyounasat@yahoo.co.uk
Latest posts by Muhammad Younas (see all)