By Amjad Hussain
Quetta, Nov 11, 2014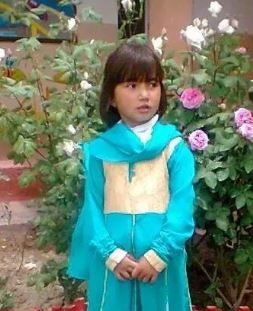 Victim, Sahar Batool (RIP)
"Dad, where are you, this beast is trying to molest me. He is thrashing me badly, I am feeling great pain. Mom, please come and help me out otherwise he is going to kill me. Aneesa, my sister, mom and dad are not listening to me; please you come and save me from this devil. Asif my brother, where are you? Your sister is fighting for her life and you are unaware of it. Oh my God, nobody from my family is listening to me. Is there anybody who can push this devil away from me and let me go to my home," these must be the sentences uttered by 7-year old Hazara girl, Sahar Batool, when being subjected to torture by his mighty captive before her death.
Sahar was tortured to death in one of the most barbaric manner on October 29 after being kidnapped from outside her home in PSP Colony located in Quetta's extremely sensitive cantonment area. According to police FIR Sahar went out of home around 9 am on that day but did not come back. Her bruises-riddled body with a deep wound on her throat was found lying near the garbage dump of the colony at around 1:30 pm. The postmortem report says the muscles and organs of the victim's neck and face were injured and her Hyoid bone fractured. Asphyxia was declared as the cause of death. The doctor who conducted the postmortem is of the view that the victim must have been subjected to an attempted rape.
Police have termed this murder a mystery and say they are still clueless to reach out to the culprits. They have also rejected the impression of involvement of any sectarian element in the case. Police had detained five people following the murder but released them later after declaring them innocent.
Why police have failed to identify and capture the culprits even eleven days after the incident? This is the question which is being raised by various quarters and the victim's family. There are certain factors attached with this brutal murder which needs to be taken in view to get the answer of this question. They are as under:
PSP colony is situated on busy VIP thoroughfare, Zarghoon Road which houses around 80 to 90 residential quarters all occupied by people employed in various departments of Pakistan Army. The entire episode (the disappearance of the girl from outside her home, her subjection to torture and disposal of her body) happened within four hours from 9 am to 1 pm. The body was found at the garbage heap near the girl's home. These facts suggest that the murder must have taken place within the colony in one of its quarters and that too near the girl's home. Involvement of any outsider in this cold-blooded murder is out of question as the outsiders are unable to commit such a heinous crime in open air within the colony. The only option with them was to take the victim out of colony's boundary and in that case not even an insane murderer would ever dare to get back to the colony to dump the body near the victim's home after committing such a gruesome act. The murder must have taken place in any quarter near the girl's home as the culprit was unable to dump the body to any deserted place away from the crime scene due to fear of being caught up by somebody.
According to victim's father, Sahar's body, after being found, was immediately shifted to combined military hospital by one of his neighbors where from it was moved to civil hospital for autopsy. It was then brought to his home for just fifteen minutes and then shifted to an imambargah from where it was moved to Hazara graveyard for burial in the evening. The body was laid to rest within six to seven hours of the incident; thus not letting the bereaved parents record their protest along with the body and apprise the Hazara tribe elites of the tragedy. It shows the act was done with some evil intention to stop the murder from catching any media or public attention. The man who arranged this hasty burial was a Hazara man, as Sahar's father claims, and never visited his home again after that day.
Soon after the incident the place where Sahar's body was found lying was cordoned off by Military Intelligence's officials and nobody was allowed either to visit or take photographs or videos of the site. According to journalists in Quetta all media personnel were stopped from covering the story and a special directive was issued by Inter Services Public Relation – Army's media wing – to media outlets not to publish or telecast any news in this regard. This act of Pakistan Army has raised so many questions in public mind.
Sahar's father, Ghulam Sakhi, has been working in one of Pakistan Army's department – Ordnance Depot – as gardener for the last 23 years. Despite being such a senior employee, he is not getting any particular support from his department with regard to solution of the mysterious murder case of his minor daughter. His department's chief who is a high-rank military officer can use his sources to get the culprits arrested at the earliest, but his indifference to the murder has also created doubts inn public minds.
According to Sahar's father, Hazara tribe notables including Sardar Saadat Ali (who is known for his close ties with high-rank military officers) and MPA Syed Mohammad Raza visited his home and made commitment to approach the concerned high-ups to ensure arrest of the culprits but the killers are still at large which means that all Hazara notables have failed to influence the concerned quarters in this regard.
This is the first-ever incident of its kind which has happened in this colony. There are so many other girls of Sahar's age in the same colony, but the culprits targeted Sahar who was a Hazara by ethnicity and Shia by sect. It means Sahar was targeted after being considered an easy prey due to his ethnicity and sect.
According to Sahar's father, there is a residential quarter just behind their home occupied by an EME employee Ashiq Hussain. Sahar used to go there to play with his daughters of her age. Sahar's voice was heard for the last time by her mother from behind their home in front of Ashiq's quarter. Ashiq has also two young sons one of whom had gone to market with his mother for shopping while the other one was present at home on that day. The son and his parents deny his presence at home on the day. But, Sahar's sister who was looking after her in the colony after her disappearance had seen Ashiq's son standing near the garbage heap. He had also tried to mislead Sahar's sister by telling her that he has not seen Sahar around the garbage heap and that she must look after her in other places of the colony.
Sahar's father also says that after the incident the military officials visited his home along with a sniffer dog. The dog was made smell Sahar's clothes after which he went to a nearby quarter occupied by the prayer leader of the colony's mosque. Dog's action led to spread of the news in social media that motive behind Sahar's murder was sectarian.
The above facts and happenings clearly indicate that the culprits are within the colony but are enjoying the protection and favor of the forces before which not only the police department but even the provincial government has no say. Whenever these forces get involved in any case the civilian governments and its law enforcement agencies always become clueless to reach out to the culprits as is the case with the Baloch missing persons and Hazara's targeted killings in Balochistan. As far as the matter of sectarianism in Sahar murder case is concerned it is yet to be ascertained but one thing is for sure that whoever are the culprits they have the patronage of the same forces which terrorists involved in Hazara's killings in Balochistan are enjoying for the last over a decade.
The following two tabs change content below.