Last updated: April 18, 2017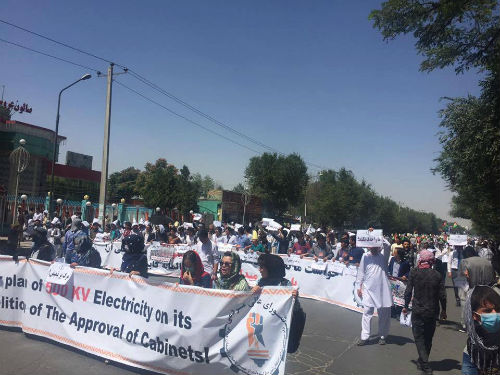 Follow our Twitter and Facebook feed for updated information
Related: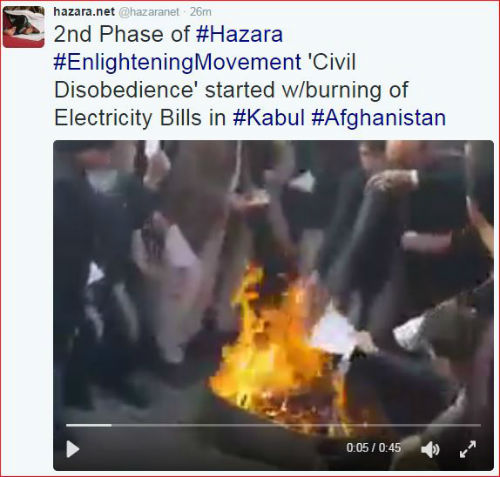 Sept 1:
Today, September 1, is 40th day of the Shuhada of #DehmazangMassacre in Kabul. The occasion is marked with a global Twitter campaign #Justice4Hazaras. More updates will be posted following the Twitter campaign.
Twitter: @hazaranet @RepublicSilence @WHCOrg
Victims details: @HopeHazara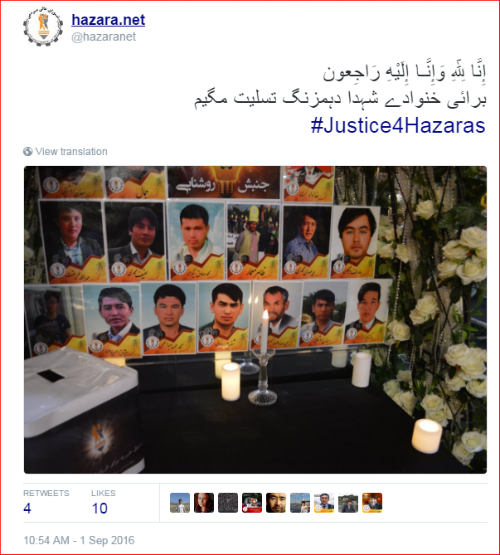 MAIN STORY:
Kabul July 23, 2016: At least 80 Hazaras are killed and over 250 wounded in suicide attack targeting Hazara protesters in Kabul, Afghanistan. The blast, claimed by Tehreek-e Taliban Pakistan (TTP) aka Daesh in Afghanistan, happened at the Dehmazang square in Kabul targeting the Hazara protest movement known as Junbish-e Roshnai (Enlightening Movement).
https://www.youtube.com/watch?v=o-qSsYvMldg
CCTV Footage of Kabul blast (courtesy: TOLONews)
According to Washginton Post, this was the single most deadliest attack in the history of Kabul. The second largest attack also targeted Hazaras and Shias during Ashura procession in December 2011 killing at least 70.
Background: TUTAP and Junbish-e Roshnai Protest Movement (Enlightening Movement)
TUTAP stands for 'Turkmenistan Uzbekistan Tajikistan Afghanistan Pakistan (TUTAP).' The project is carried out by Asian Development Bank (ADB) and funded by the governments of USA, UK, and Japan:
ADB's assistance will come from its Asian Development Fund, with cofinance of $57 million from the ADB-administered Afghanistan Infrastructure Fund, which includes contributions from the governments of Japan, UK and US. The Government of Afghanistan will contribute $4 million for a total investment cost of $220 million, with the project due to run for about 2.8 years with an estimated completion date of December 2016.
Picture Courtesy: AAN
On July 23, 2016, a large number of Hazara protesters had gathered at the Dehmazang square to voice their anger and frustration at the re-routing of the TUTAP power line from Hazara-dominated Bamyan province to Southern Salang Tunnel (Twitter: #TUTAPviaBamyan).
The Afghan Analysts Network (AAN) provides a detailed background on TUTAP conflict and Junbish-e Roshnai protest movement. A short summary of TUTAP conflict is also provided by Outlook Afghanistan.
The Hazara protest over TUTAP has been ongoing across Afghanistan and around the globe for months. However, the anger behind Junbish-e Roshnai's protest movement is not entirely about electricity. The TUTAPviaBamyan protest is about a realization—based on 100 plus years of intense persecution of Hazaras by every successive Afghan government—that no Pashtun Government in Afghanistan will ever allow any strategic initiative to go through Hazara dominated parts of Afghanistan historically known as Hazarajat.
While this particular protest was focused on TUTAP project, Hazaras from all over the globe are rallying for a protest platform—Junbish-e Roshnai is one example—which is run by the masses and not controlled by the traditional 'leaders' who are accused of changing their loyalties for personal favors from the government. The broader protest platform is mostly focused on the marginalization of Hazaras in Afghanistan, Pakistan, and Iran.
See also:
TUTAP: Centgas 2.0?
In December, 1998, Hazara.net shared news of US-based oil giant UNOCAL pulling out of the Centgas Consortium to bring oil and gas from central asian republic of Turkmenistan via Afghanistan to Pakistan and India. The consortium fell apart after the Feminist groups in the United States alleged that UNOCAL was helping the Taliban regime that has been ruthlessly killing the minorities in the Afghanistan, and have barred women from every facet of life.
According to media reports in France and Britian, a delegation of high ranking Taliban officals met with the UNOCAL in Texas in December to discuss the building of a pipeline. On December 15, 1997 UNOCAL arranged a high level meeting in Washington between the US Undersecretary of State for South Asia Karl Inderforth and the Taliban delegation . The Taliban delegation included Acting Minister for Mines and Industry Ahmad Jan, Acting Minister for Culture and Information Amir Muttaqi, Acting Minister for Planning Din Muhammad, and Mujahid – the Taliban permanent Delegate on the United Nations. In Febraury, company representatives allegedly visited Kabul, the capital of Afghanistan, for four days where they held talks with Taliban authorities on oil and gas exploration in Afghanistan. After a delegation from CENTGAS visited Afghanistan, Mawlawi Ahmad Jan – the Taliban mines and industries minister – said that preparations to build the pipeline should begin by the end of 1998.
The Centgas consortium was cancelled in March, 2001, after its biggest shareholder UNOCAL pulled out due to the public pressure.
The Hazaras have long maintained that powerful stakeholders—United States, Afghanistan, Pakistan, Iran, among others—see groups like Taliban necessary to guarantee the safety of 'Centgas type' projects in Afghanistan. Whether Centgas or TUTAP, the solution will be heavily tilted in favor of South.
TUTAP: The Dehmazang Massacre of Hazaras
Pakistan based TTP, aka Daesh in Afghanistan, has accepted responsibility for July 23, 2016, suicide attack that claimed at least 80 Hazara lives and left close to 250 critically wounded.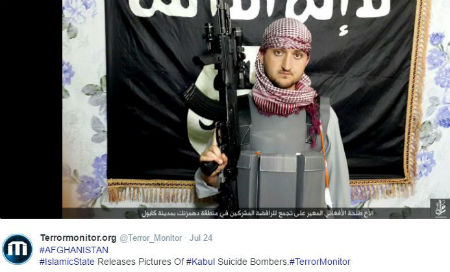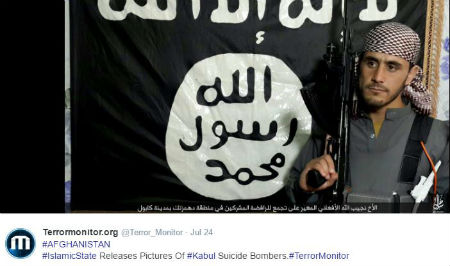 For those unfamiliar with Afghanistan-Pakistan region, it is important to make a note—also confirmed by US Government—that Daesh is mostly just another name for Tehreek Taliban Pakistan (TTP). No real evidence has surfaced proving links between the group in Afghanistan with Daesh. Equally important to note that 'Daesh' and Taliban fighting in Afghanistan is more like a turf war between two mafias. The difference between Daesh and Taliban is only 'black and white' (flags, turbans etc.). Else, both are ethnically Pashtun and ideologically Deobandi coming from the same Saudi/GCC financed madrassas in Pakistan such as 'University of Jihad' in Akkora Khattak in KPK, Pakistan.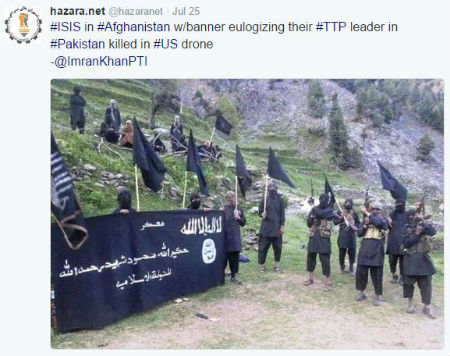 It is too soon to know the real details of the July 23rd attack targeting Hazara protesters in Dehmazang square. However, video of the attack and the information surfacing online paints a different picture than one that surfaced in the major news outlets across the globe.
1. BBC journalist, Bilal Sarwary's tweet suggests that Government knew in advance about the attack. Why then it did not convey a serious message to the Hazara protesters which also includes many Hazara Government notables such as that of MP from Herat, Ahmad Behzad?

2. Hazara protesters are alleging that many Hazara protesters died of gun shot wounds fired by the Afghan Police.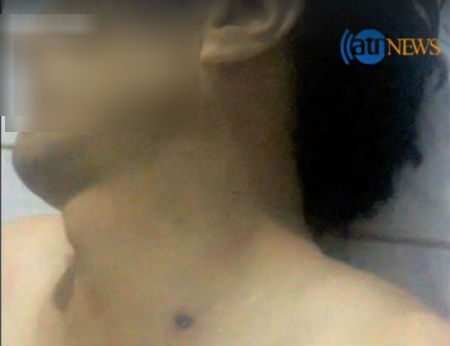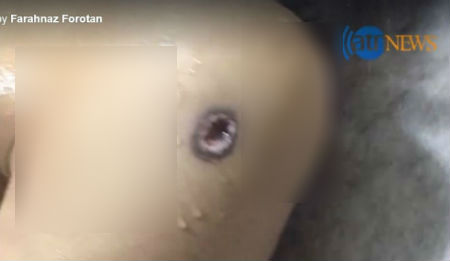 3. There is inconsistency in the reported number of suicide bombers (reported as three) with the CCTV camera footage showing only one (see video above).
TUTAP: Afghan Government vs Enlightening Movement
As stated above, TUTAP is only one issue between the Afghan Government and the Enlightening movement. It is important to note that in the recent elections, Hazaras were the only ethnic group that crossed ethnic fault line to vote for Mr. Ashraf Ghani, an ethnic Pashtun, in large numbers giving him an edge to win the presidency. The Hazaras had very high hopes that Ashraf Ghani's presidency and NATO would give them equal footing in Afghan society. This 'equal footing' is echoed in the words of the revered Hazara leader, late Abdul Ali Mazari, that 'Being a Hazara should no longer be a crime [in Afghanistan].'
Timeline of recent events in the run up to TUTAP protests, DehmazangMassacre:

Hazara Kidnappings (Starting Feb, 2015): Since the start of Mr. Ashraf Ghani's presidency, a new phenomena of 'Hazara Abducting' has been ongoing in Afghanistan. The Hazaras accuse the Afghan Government of complicity in the ongoing Hazara abductions in which scores of Hazara passengers are routinely rounded up from buses on various highways and taken at gun point by Taliban or Daesh terrorists.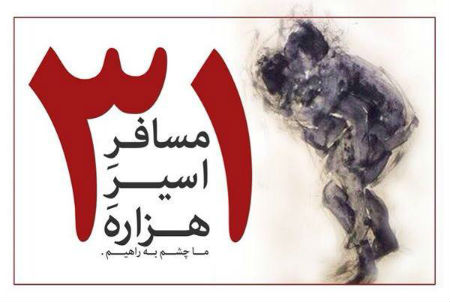 Zabul Bheading – May 11, 2015: Enlightening Movement managed to bring a massive number of protesters on the street of Kabul in the aftermath of the 'Zabul 7 beheading' of Hazara men, women, children, by Daesh. Despite Government's best efforts– including by the 'accidental' Hazara leaders like Mohaqiq and Khalili– to quietly 'bury' this issue with the victims, the coffins made its way from Zabul to Ghazni (hometown of victims) and then to Kabul on Nov 10th. On Nov 11th, Kabul saw the biggest rally recorded where protesters from all caste, creed, and gender joined the massive rally carrying victims' coffins to the Presidential Palace (ARG).
https://www.youtube.com/watch?v=i92Twz344qs
Jalrez Massacre – July, 2015: Taliban massacred at least 22 Hazara Afghan Soldiers in district Jalrez, Maidan Wardak province of Afghanistan. The Hazaras accused that Afghan Govt intentionally delayed help to Hazara soldiers who stood their ground fighting and waiting for help from Afghan Govt till they ran out of bullets, captured by Taliban, chopped into peaces, and then burnt.
https://www.youtube.com/watch?v=tNJthnp9cos
https://www.youtube.com/watch?v=HnMbiX9fwTg
Afghan Government's EU Deportation Spree – Dec, 2015: Hazara protesters of the Enlightening movement were prepared for President Ashraf Ghani's arrival in Sweden to allegedly sign deportation papers of the Afghan refugees from the EU.
https://www.youtube.com/watch?v=NYOAkS_5RwI
Afghan President's guards beats Hazara protersters in UK – May, 2016: Afghan President's bodyguards created a major embarrassment for their host in London beating British Hazara protesters of Enlightening movement during the Royal United Services Institute (RUSI) conference.
https://www.youtube.com/watch?v=jtfv415t-Pg
NATO Warsaw Summit – July, 2016: Hazara Enlightening movement's protest outside NATO Summit in Warsaw, Poland credited for Afghan President cancelling his speech.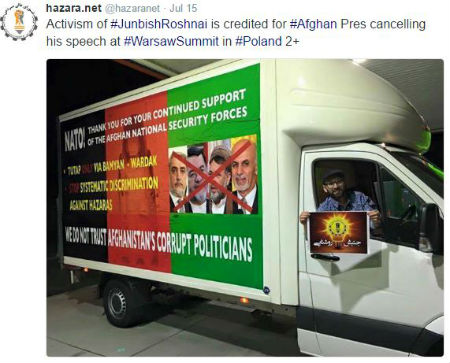 Anger, Condemnations, Funerals, and the Deepened Resolve: Where is the Hazara protest movement headed?
Statements/Articles:
Follow our Twitter and Facebook feed for updated information/picture galleries.
https://twitter.com/hazaranet/status/771442667578359808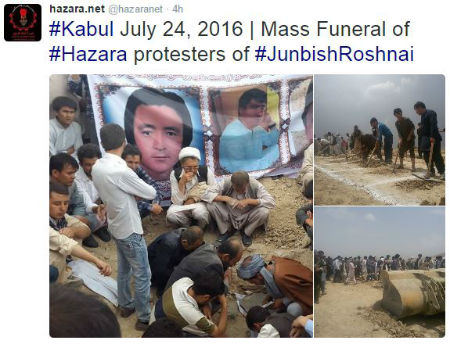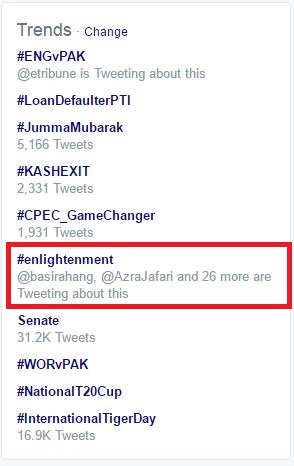 [More will be added soon]
Sources:
The following two tabs change content below.