Quetta – June 12, 2017 |
Pakistan has resumed target killing of Hazaras again. Two Hazaras — brother and sister — were gunned down by 'unidentified terrorists' on Spinni Road, in Quetta — the provincial capital of restive Balochistan in Pakistan. According to HOPE, this is 196th attack on Hazaras in Pakistan.
pt #Hazara Victim: Shakeel
Both Brother and Sisters were buried in HazaraTown cemetery
Pic: FB/Mirror TV pic.twitter.com/de2Z9A6EkN

— HOPEhazara (@HOPEhazara) June 5, 2017
The sibling were traveling on a motorbike from one Hazara enclave (HazaraTown) to the other (Alamdar Road area) on the opposite side of the city. This is the second attack on Hazaras on same stretch of road in 2017.
Majority of Saudi-affiliated terrorists — AlQaeda ISIS TTP LEJ etc. — target Hazaras travelling between two of community's enclave. Over 90% of attacks are within 10 mile radius.
There are two main routes in and out of HazaraTown.
The one mile stretch of Kirani Road is considered 'too unsafe' for Hazaras only. Government has warned Hazaras not to travel on this road or they will be responsible if attacked. There are 19 attack within one mile on this road.

The Government considers Spinni Road the 'safe route' for Hazaras — over a dozen attacks have already taken on this road (marked in blue in below image).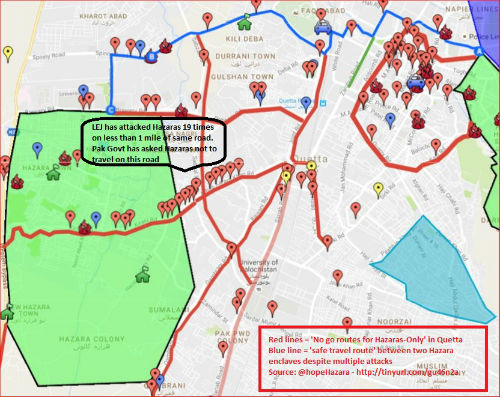 Last week two Chinese Nations were abducted at gun point from Quetta city. Supposedly, the Pakistani Army is conducting major operation against ISIS in Mastung district, in outskirts of Quetta city, to recover them. Previously, Pakistan has denied any existence of ISIS.
What 100s of Hazara lives didn´t achieve the kidnap of 2 Chinese did 12 `terrorists` killed in Mastung https://t.co/qmB1lug3RR via @dawn_com

— Abbas Nasir (@abbasnasir59) June 5, 2017
Mastung is hub of Saudi-affiliated Lashkar-e Jhangvi (LEJ) terrorists responsible for nearly all of 200 attacks on Hazaras. It is unclear if by ISIS Pakistani Government means Punjab-based LEJ — which it helped create and nurtured to counter Shias in Pakistan.
In restive Balochistan, Hazaras believe Govt okays killing them to divert attention or as justification for an operation against Baloch separatists.
Sources
The following two tabs change content below.