Ghazni – April 12, 2018: Hazara district governor of Khwaja Omri among 7 killed by Taliban terrorists. The attack also left wounded 12 NDS personnel.
Dawn news reports, Taliban planted mines to prevent government reinforcements from coming to help and quickly took responsibility for the attack. Hazara MP, Arif Rahmani, said the district governor, intelligence service director and a deputy police official were among those killed in Thursday's attack.
Murdered:
Ali Dost Shams — Khwaja Omri district Governor, Ghazni

Liaqat Ahmadi

TBD
Wounded: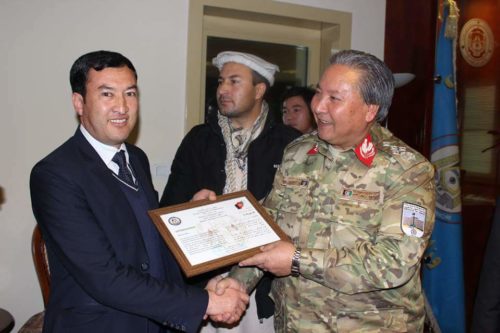 District governor, Ali Dost Shams (L) with General Murad Ali Murad
#Ghazni: 7 Afghan police, including #Hazara district governor of Khwaja Omri, AliDost Shams, killed in Taliban terrorist attack last night. At least 10 other Police/Army personnel reported wounded @dailyetilaatroz https://t.co/sPqLPCPMdK#TwitterHazaras

— HOPEhazara (@HOPEhazara) April 12, 2018
Taliban militants have attacked a district near Ghazni in Afghanistan, killing the district's governor before retreating pic.twitter.com/kiaP9Idv8x

— TRT World Now (@TRTWorldNow) April 12, 2018
Today at the @journalismfest I woke up with very sad news. #Taliban terrorists killed my dear friend and university classmate Alidost Shams and 7 policemen. He was district governor of Khwaja Omary district in #Ghazni province. I can't imagine this and can't explain my pain. pic.twitter.com/YTYNC9SIpI

— Basir Ahang (@basirahang) April 12, 2018
AliDost Shams. RIP.

Afghanistan's policy for known history has been to dehumanize and exterminate Hazaras. Taliban thugs are continuation of what ARG has been doing for over a century.
Q is for Hazaras: What are we going to do about it?#TwitterHazaras https://t.co/NjPQbMQtkJ

— Hazara.Net (@hazaranet) April 12, 2018
Afghanistan | ARG & NATO aren't serious. They will never allow Hazaras stake in security of AFG. Hazaras need serious dialog w/any nation willing to help them take the fight to ISIS-Taliban https://t.co/ugIjYvJGI4#TwitterHazaras RIP #AliDostShams #KhwajaOmri #Ghazni

— Hazara.Net (@hazaranet) April 12, 2018
• ما مردم #هزاره ایم
بیشترمان در جنگ كشته میشویم
بعضی در جاده به قتل می‌رسیم
بعضی در مکتب
بعضی در اداره
بعضی در دریا
بعضی در سر زمین کشاورزی
بعضی در مسجد
"چرا که شغل ما "مُردن" است!"
پ.ن: فقط متاسفم!
در حمله دیشب #طالبان به ولسوالی خواجه عمری #غزنی حداقل ۱۴ نفر کشته شده اند… pic.twitter.com/PrbnE91yIP

— Hossein Madadi (@HosseinMadadiH) April 12, 2018
The attack was one of the deadliest by the Taliban in several weeks and comes as the militants prepare to launch their annual spring offensive, which marks the beginning of the traditional fighting season.https://t.co/EHwBrvfcrO pic.twitter.com/cvIIX99tpr

— Dawn.com (@dawn_com) April 12, 2018
#Ghazni's District Governor Killed in Taliban Attack#Afghanistan https://t.co/yWYmxwk9or pic.twitter.com/Bn5hU2k5uV

— TOLOnews (@TOLOnews) April 12, 2018
https://twitter.com/Habib_Ghaznawi8/status/984529677925670913
The following two tabs change content below.