Last updated: Nov 5, 2016 |
This page is set up to track relevant information regarding release of "Guantanamo Five" Taliban terrorists by US Government in exchange for US soldier, Sgt. Bowe Bergdahl, sometime around May, 2014. At least two of the five Taliban prisoners supervised the Hazara genocide in Mazar-e Sharif, Afghanistan.
—-
Updated: Feb 13, 2015
Was declaring Taliban 'Not Terrorist' part of 'BinLaden deal' ?
Keep in mind that Pakistan, Saudi, UAE, were three nations that accepted Taliban Govt and established diplomatic relation pre-911. In addition, Qatar has been the main negotiator behind release of Gitmo5 Taliban. Not to single out certain nations, Taliban also had relation with US – on the day of 911, Taliban had an office in New York city. A deal establishing Taliban – which 'works well' with ALL players – keeps 'rogue' groups like ISIS in check.
EX-ISI Chief: Pakistan 'Likely' traded Bin Laden to US for Bigger Say on Afghanistan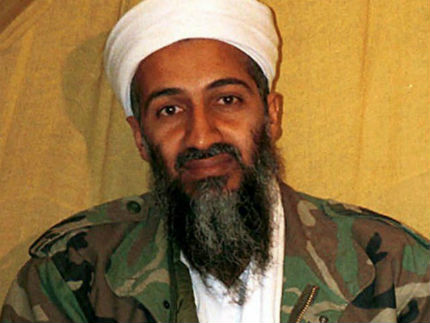 Photo courtesy: AP
"Ret. Lieutenant General Asa Durrani, who is also former director general of Pakistan's Inter-Service's Intelligence (ISI), says Pakistan "likely" knew where Osama bin Laden was and turned him over to the United States in exchange for a bigger say/better role "in the future of Afghanistan."
Source: Breitbart
Updated: Jan 29, 2015
United States has reversed its earlier position on Taliban, now calling them an "armed insurgency" but no longer a Terrorist. White House Press Secretary Josh Earnest explained that AlQaeda and ISIL (ISIS/IS) are terrorist groups but not Taliban. It should be noted that AlQaeda (AQ) considers MullahOmar as its Caliph, and therefore, it is bound by all decisions made by Taliban's chief, Caliph Mullah Omar.
Adding to the the worries, CNN has cited US Officials that Gitmo5 are trying to reach Taliban again.
While US officially reversed its position now, Pakistan's Dawn News reported on Dec 22, 2014, that US will no longer target Taliban leader, Caliph MullahOmar. It is not clear if US will now remove the $10M bounty on MullahOmar's head as mentioned on the National Counter Terrorism Center's website (see below).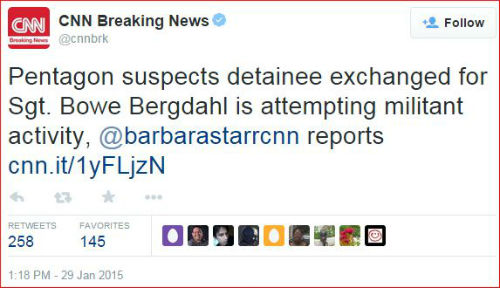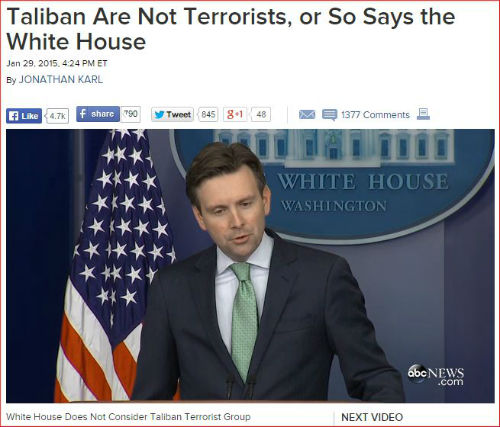 Source: ABC News
US Government – 2014: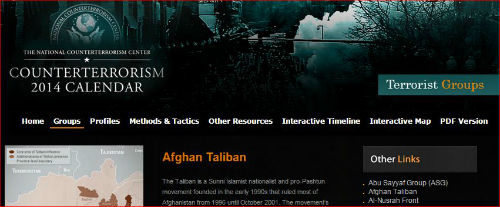 "The Afghan Taliban's leader is Mullah Mohammad Omar, who was the president of Afghanistan during the Taliban's rule. The US Government is offering a $10 million reward for information leading to his capture" – NCTC
Source: The National Counter Terrorism Center, US GOVT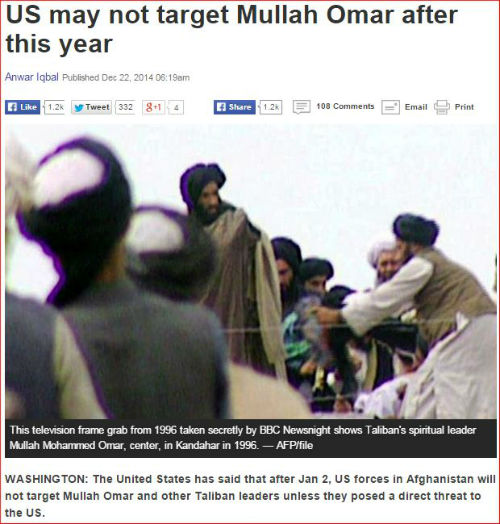 Source: Dawn News
Additional News Sources:
Main Story: US Releases Top Taliban Commanders from Guantanamo Bay
From Top Row (L-to-R): Abdul HaqWasiq, Mulla Norullah Nuri, Mulla Khairullah Khairkhwa, Mohammad Nabi Omari, Mulla Mohammad Fazl, US Sgt. Bowe Bergdahl

Snapshot:
Mohammad Fazl – According to U.S. Department of Defense document obtained by Wikileaks, Fazl is believed to be an associate of Supreme Taliban Commander Mullah Omar and was "wanted by the UN for possible war crimes including the murder of thousands of Shiites" [i.e. Hazaras]
Mullah Norullah Noori – According to U.S. Department of Defense document obtained by Wikileaks, Noori is "wanted by the United Nations (UN) for possible war crimes including the murder of thousands of Shiite Muslims" [i.e. Hazaras]
July 9, 2014: A seemingly cozy US Sgt Bowe Bergdahl with senior Haqqani leader raises new questions whether he was in 'hostile custody.'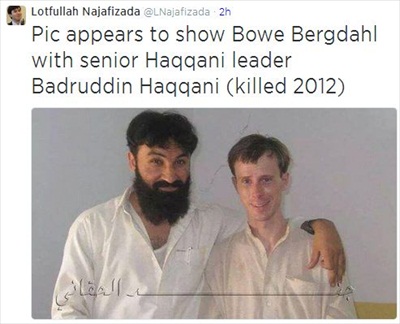 Courtesy: Lotfullah Najafizada (@LNajafizada), Head of TOLONews TV
The release of Gitmo-5 has raised many serious questions. While the US government and media are exclusively focusing on Bergdahl's release, simple and obvious questions are deliberately ignored. Some of these questions are:
Did US break international law by releasing criminals wanted by UN?
What is the US's message to Hazaras by releasing those that committed genocides of Hazaras (which pales 911 killings by comparison)?
Did the US put lives of its Afghan allies at risk?
What did US get in return? What is the guarantee these terrorists will not join their Saudi-inspired Jihad?
Did the US put lives of Americans at risk by negotiating with the terrorists?
Will Taliban and Jihadists allies use this is a clear sign of victory (which they already are) in touting this as "defeating America and bringing it on its knees"?
CNN: President Obama [ video ] – June 5
I make absolutely no apologies
British MP, John Denham – Chairman of Hazara APPG
It is hardly encouraging that two of the Taliban released by the US in a recent prisoner exchange were Mullah Fazl and Mullah Norullah Noori, who both participated in the massacre of thousands of Hazaras in the late 1990s and early 2000s. That does not show a sensitivity to the history or the future dangers.
Hazara.net
Genocide in Mazar-e Sharif is the Hazara 911 – week long frenzied killing resulting in mass murders of 8000 to 15000 Hazaras.
UN / HRW
Mullah Fazl and Mullah Norullah Noori wanted for possible war crimes
Hazara Analyst, Akram Gizabi:
Hazara Analyst, Haider Ali:
The rapidly changing scenario in Afghanistan and reinforcement of Afghan Taliban with the help of the US, Pakistan, Saudi Arabia, Qatar and United Arab Emirates demand of Hazaras all over the world to get united and work out a joint strategy to counter the approaching danger to their survival in Afghanistan and Pakistan by Taliban. [Link to article]
Pakistani News Anchor, Dr. Shahid Masood
Mullah Fazl supervised Hazara killings in 90s!


The policy of the Taliban is to exterminate the Hazaras

Maulawi Mohammed Hanif, Taliban Commander
Announcing their policy to a crowd of 300
people summoned to a mosque [after mass killings in Mazar]
Hazara Genocides by Taliban: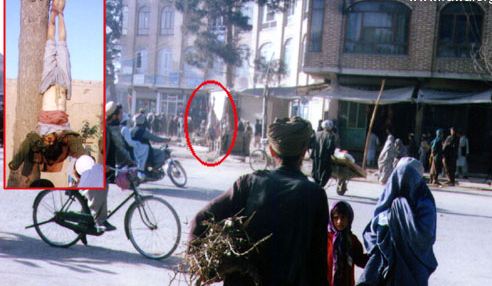 Courtesy: RAWA – Mid May, 1999 – Non-Hazara residents of Herat, Afghanistan, goes on with their daily routine as the body of Hazara is seen hanged from a tree during the genocidal campaign of Hazaras by Taliban
Mazar-e Sharif (Starting Aug 8, 1998)

Bamyan (including destruction of Hazara cultural icon, 2000 years old Buddhas of Bamyan) (Sep 1998 to May 1999)
Robatak Pass (May 2000)
Yakawlang (Jan 2001)
[ Link to Genocide data ]
Video of Bergdahl Swap (released by Taliban)
Note: conversation is in Pashto language
News Sources:
The following two tabs change content below.