Election campaign of major Hazara candidates in Quetta, Pakistan – May 1, 2013 |
Updated – May 12, 2013
In PB-2 seat for Provincial Assembly of Balochistan, the Election Commission of Pakistan has declared Syed Muhammad Raza (MWM) – the extreme right Shia party – a winner over the heavy Hazara favorite, Abdul Khaliq Hazara, chairman Hazara Democratic Party (HDP).
In a press statement, Abdul Khaliq Hazara has rejected the PB-2 results accusing of heavy voting irregularities. According to HDP, in one of the polling booths, the Presiding Officer had registered 295 votes but the result was 450 votes. HDP claims proof of dozens of such irregularities designed to giver victory to a previously unknown candidate of an unknown party [ Daily Qudrat – Urdu ] .
In PB-6, according to figures provided by HDP, with the count remaining in one last booth, HDP's Ahmed Kohzad (HDP) was 600 votes ahead. HDP has reported concerns and of voting irregularities in PB-6 to prevent HDP from winning. With the voting closed for over 24 hours, the result of PB-6 has yet to be announced.
Official Results:
Relevant:
Updated – May 10, 2013:
Sardar Saadat Ali has announced his support for MWM

Major Nadir Ali – the head of powerful Musqa sub tribe and the force behind Jan Ali's (PPP) success in last election – visited HDP headquarters to announce his support.

Tahir Khan Hazara (Independent) has withdrawn from PB-2 in the "bigger interest" of Hazara nation – May 10

[ Statement by Tahir Hazara in Urdu ]
Mostafa Timori (Independent) – favored by MWM – has reportedly withdrawn in favor of Ahmed Kohzad in PB-6 (unconfirmed)

Jalila Haider Advocate (Independent) has withdrawn in favor of Ahmed Kohzad (HDP) on PB-6 – May 10

MWM announced Jaffar Ali's withdrawal for Mostafa Timori (Independent). Rejecting the decision, Jaffar Ali instead announced his withdrawal in favor of Ahmed Kohzad (HDP) on PB-6 seat – May 9

Tahir Khan Hazara (Independent) has withdrawn in favor of Mehmood Khan Achakzai (PKMAP) on NA-259 – May 8
MWM has announced support for Dr. Ruqia Hashmi, the only Hazara female contesting for National Assembly NA-259 seat – May 7
Ibrahim Hazara (MQM) has withdrawn in favor of Tahir Khan Hazara on PB-2 seat – May 5
Tanzeem withdrew its candidate, Asghar Gulzari, in favor of Jan Ali Changezi (PPP) on PB-2 seat – May 3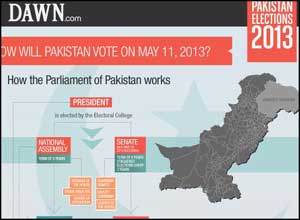 Hazara Democratic Party (HDP)
Snapshot:
Only Political party representing Hazaras in Pakistan (party has issued tickets for two candidates to contest election in Punjab)
Former chairman, Hussain Ali Yusufi, assassinated by Pro-Saudi LEJ terrorists on Jan 26, 2009
Current chairman, Khaliq Hazara, escaped assassination attemp by Pro-Saudi LEJ on April 23, 2013
Played an active role in raising the Hazara genocide issue at the world level during the global protests in 2011, 2012, and in the after math of two major terrorist attacks on Hazara enclaves in 2013 (Alamdar Road on Jan 6, 2013 and Kirani road, Hazara town on Feb 16, 2013) by Saudi-supported LEJ/ASWJ/SSP terrorists. In addition, HDP has been active in raising the Hazara Genocide issue on the media and also participated in special adjournment debate on Hazara Genocide held in the House of Commons in the UK Parliament.
Official site on Facebook: https://www.facebook.com/HDPofficial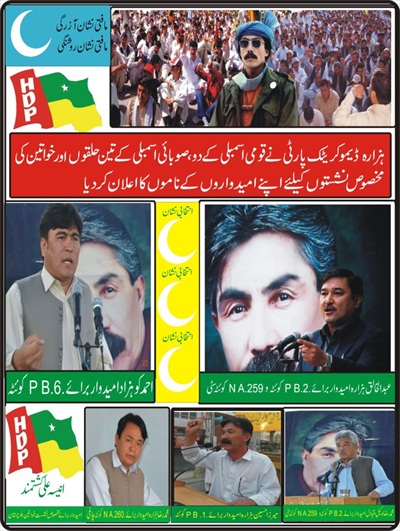 Majlis Wahdat Muslimeen (MWM)
Snapshot:
Note:
1. Currently there are no indication that MWM includes any Shias that are pro-Iraq (especially followers of revered Shia leader, Grand Ayatollah Sistani)
2. All pictures are taken from official MWM social media website.
More Quetta-PB-2 campaign photos will be posted as they become available.
Tahir Khan Hazara (Independent)
Snapshot:
Chairman and ideologue of former political party Hazara Progressive Forum (HPF)

Famous for his one-of-a-kind activist efforts against social ills in Hazara society e.g. overspending on marriages
Former active member of Pakistan People Party (PPP)
Official page on Facebook: https://www.facebook.com/tahirkhan.hazara
Candidates
Dr. Ruqia Saeed Hashmi (PML-Q) – NA-259
Abdul Khaliq Hazara (HDP) – PB-2 / NA-259
Reza Wakil (HDP) – PB-2 / NA-259 (Backup candidate to Khaliq Hazara)
Ahmed Kohzad (HDP) – PB-6
Mohammad Raza Hazara (HDP) – NA-250
Aneesa Ali Khistmand (HDP) – Women Reserve Seat
Haji Imran Ali (MWM) – PB-1

Syed Mohammad Raza Rizvi (MWM) – PB-2
Jaffar Ali (MWM) – PB-6

MWM announced Jaffar Ali's withdrawal for Mostafa Timori (Independent). Rejecting the decision, Jaffar Ali instead announced his withdrawal in favor of Ahmed Kohzad (HDP) on PB-6 seat

Syed Ghulam Hussain (MWM) – NA-259

Tahir Khan Hazara (Independent) – PB-2 / NA-259

NA-259 – Withdraws in favor of Mehmood Khan Achakzai (PMAP)
PB-2 – Withdraws in the bigger interest of Hazara nation

Jan Ali Changezi (PPP) – PB-2
Ibrahim Hazara (MQM) – PB-2

PB-2 – Withdraws in favor of Tahir Khan Hazara (Independent)

Jalila Haider (Independent ) – PB-6

PB-6 – Withdraws in favor of Ahmed Kohzad (HDP)
Snapshot Past Elections
Provincial Assembly PB-2 Quetta Winners:
2013
PB-2 – to be provided

PB-6 – Yet to be announced
2008
PB-6: Ainullah Shams (MMA) – Vote: 5441; Yousufi (HDP) – Vote: 3401
2002
1997
PB-2: Sardar Nisar Hazara (Independent) – Vote: 8829
1990
PB-2: Noor Mohammad Sarraf – Vote: Unknown

1988
PB-2: Noor Mohammad Sarraf – Vote: Unknown
1985
PB-2: Sardar Nisar Hazara (Independent) – Vote: Unknown

1977
PB-2: Talib Hussain Hazara (Independent) – Vote: Unknown (winner)
Pulled a major upset by beating the heavily favored, Saifullah Paracha, in an epic battle turning out Hazara masses with a popular slogan, "Sooki Roti Kayenge, Talib Ko Jitayenge" (We will eat dry bread but we will elect Talib)
National Assembly (MNA) Winners: