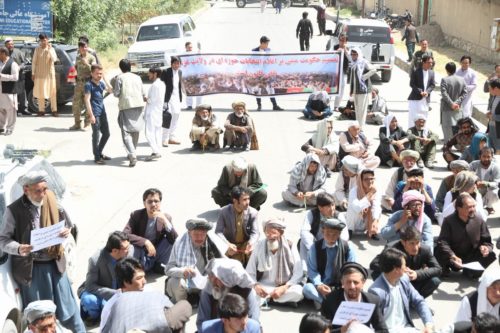 'Yuk Baam, 2 Hawa' by Ishaq Mohammadi
Ghazni, Afghanistan – June 2018:
According to Afghanistan's constitution, entire province counts as one constituency whereby seats are allocated according to the population. In the last parliamentary election in September 2010, Pashtuns had a low voter turnout in Ghazni due to the threats by Taliban, resulting in Hazaras winning all 11 seats of Ghazni. There were uproar and protests but the Election Commission upheld the results as constitutional saying low turnout in certain areas due to political reasons is outside Election Commission's jurisdiction.
Related Articles:
Ghazni Related:
After announcement of Election schedule to be held in October 2018, few dozen Ghazni Pashtuns set up a protest camp outside Election Commission and Governor's office demanding to divide the province in three separate constituencies to ensure Pashtun representation in Ghazni.
In June 2018, the Afghan Election Commission, in flagrant disregard and violation of constitution, decided in favor of protesters and decided to divide Ghazni in three constituencies: one Pashtun, one Hazara and one central constituency. The absurdity aside, there are at least two main issues with this decision.
According to constitution, an amendment like this requires at least 170 days prior to election, which did not happen.
If an amendment like this is to be made, then why only in Ghazni and not for every province in the nation?
For example, in Uruzgan — heart of Hazarajat region with 100% Hazaras prior to Hazara genocide during 1890 by Pashtun Afghan Government– the two Hazara districts of Uruzgan Khas and Gezao (Gizab) are always under threat by Taliban and local Pashtuns preventing the Hazara population from voting. Likewise, there is similar situation in Helmand and Balkh for Hazaras (Recent video of MP Dr. Latif Pidram, an ethnic Tajik, caused uproar in parliament when he referred to a recent debate in parliament where Pashtun MPs told Hazaras in Helmand to go vote in 'their own province' like DaiKundi. Dr. Pidram was verbally and physically assaulted by dozens of Pashtun MPs after he termed such debate as fascist and drew parallels with situation in Ghazni .
It is clear that Afghan President Dr. Ashraf Ghani's –like all previous Pashtun predecessors for last 120+ years– is following same policies designed to maintain Pashtuns upper hand at all costs while systemically marginalize Hazaras. He has done everything to muzzle any protest and dissent towards his fascist policies. This is exactly what is now happening in Ghazni. After Hazaras gathered for protest in front of the Election Commission and Governor, the government sighting 'security risks' refused to give permission and protection for protest, and also banned assembly of Hazaras coming from nearby Hazara districts.
To make things 'interesting', suddenly Taliban issues five days ultimatum to Hazara-only districts in Ghazni demanding they are with Kabul Government or Taliban's Islamic Emirate. Coincidence?
Keep in mind that Taliban has always maintained that their fight has been against the imperialistic foreigners (NATO) and Government agencies such as ANA and Police. The recent statement from Mr. Mohammad Mohaqiq, second Chief Executive in Afghan Government, that 'Threats by Taliban are in fact work of Afghan Intelligence agencies' seems more in line with reality of the situation.
URDU Translation
https://www.facebook.com/hazara.net/posts/2261175283898131
The following two tabs change content below.