Last Updated: July 9, 2018 |
Did we miss any news of Hazara Kidnapping? Do you have updated information about Hazara Kidnappings in Afghanistan?
Please contact us:
Qarabagh, Ghazni – Aug 19, 2017
Taliban kidnapped nine Hazaras, including two women
GHOR, Oct 25 (2017?): Body of 1 of 5 Hazara students found that were kidnapped by Taliban terrorists from Ghor on Sept 1 – source Hasht Subh
163 Hazara passengers have been kidnapped and murdered in Afghanistan, says Afghan Lawmaker – Oct 1, 2016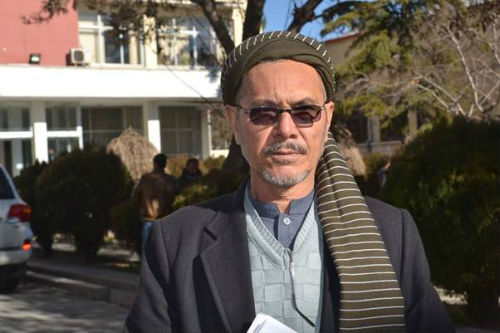 Hazara Kidnappings in Afghanistan (Reverse Chronological Order)
Ghazni (Jaghuri – Qarabagh) – July 9, 2018
Taliban terrorists stop passenger bus and take Hazara passengers from Jaghuri at gunpoint. The incident is reported in Qarabagh area of Ghazni province in Afghanistan. [ Source ]
Maidan – July 8, 2018
#Taliban kidnapped 9 #Hazara including 2 women in Qarabagh district. The vice governor of #Ghazni says they brought them to Waghaz district pic.twitter.com/ulJ5KqJNq4

— Basir Ahang (@basirahang) August 19, 2017
Kabul-Bamiyan HWY (near Jalrez) – Oct 5, 2016?
Another 25 Hazaras travelers have been singled out and taken by Taliban terrorists [ Twitter | News Source ]
We are awaiting update from our sources in Afghanistan
Ghazni (Highway near Jaghori) – Sept 12, 2016
During shootout between Afghan Security and Taliban, one Hazara student Altaf from Tamaki district in Jaghori has been killed. Taliban kidnapped 5 other Hazara students during this incident in "Mani" on Jaghori – Ghazni highway [ Twitter | News Sources ].
MaidanWardak (Jalrez) – Sept 6, 2016
Ghor – Sept 1, 2016
According BBC Persian, unknown armed group stopped 2 passenger vans on Shinya hill of Daulatyar district in Ghor province, Afghanistan. Five passengers, after being identified as Hazaras, were taken away at gun point. Local sources verifying this incident and add that 4 of them are Hazara Students from Bamyan on their home for Eid celebration with their families. No group has claimed responsibility as of reporting of this news but Taliban terrorists are active in that area [ Twitter | BBC | Hazara.Net FB ]
[Missing Information – We missed reporting cases that may have happened between below and above reported Kidnappings]
Zabul (Shahjoi) – Nov 21, 2015
Released – Location to be confirmed – Nov 11, 2014
A number of kidnapped Hazara were released on Nov 11 , possibly due to immense pressure on the Kabul Govt due to protest rallies across Afghanistan – UPDATED info will be provided soon.
Zabul (Arghandab) – Nov 8, 2015
7 Hazaras beheaded – four men (one reported as 16/unconfirmed), two women and one 9-year old girl
Baghalan (Dahane Baghlan area) – July 26, 2015
Ghazni – Ajristan (Daaya) – Malistan – April 16, 2015
Nimruz – Sistan (inside Balochestan, Iran) – Reported: April 15, 2015
Status = Unconfirmed; No webpage created yet.
45 Hazaras kidnapped
Sar-e Pol – April 1, 2015
Status = Unconfirmed; No webpage created yet.
9 Hazaras kidnapped
Press TV on Sar-e Pul kidnapping
Ghazni (Jaghori – Qarabagh Highway) – March 31, 2015
Status = Unconfirmed; No webpage created yet.
30 Hazaras kidnapped
Ehsanullah Emiri, WSJ reporter

Herat-Farah Highway – March 17, 2015
6 Hazaras kidnapped, 6 missing
Ghazni (Jaghori – GhazniCity Highway) – March 15, 2015
10 Hazaras kidnapped, 9 released, 1 missing
Zabul (Qandahar-Kabul Highway) – Feb 24, 2015
32 Hazaras kidnapped, 1 released, 31 missing
Note: 1 killed (non-Hazara), 1 died in custody
Protest Updates

Confirmation of protests in following nations / cities. For updated information, please visit our Facebook page.
Afghanistan – Bamiyan, Kabul
Austria
Australia – Melbourne, Perth, Brisbane, Adelaide, Canberra
Belgium – Brussels
Canada – Toronto, Ottawa
Denmark – Copenhagen
Germany – Hamburg, Munich
Greece – Athens
India – Hyderabad
Italy – Rome
NewZealand – Hamilton, Auckland
Norway – Oslo
Pakistan – Quetta, Peshawar
Sweden, Malmo – April 7, 2015
UK – London
USA – Washington DC, Atlanta, Denver, New York City
News Updates
Posted: April 13, 2015
This is first known Hazara casualty directly related to Hazara Kidnappings in Afghanistan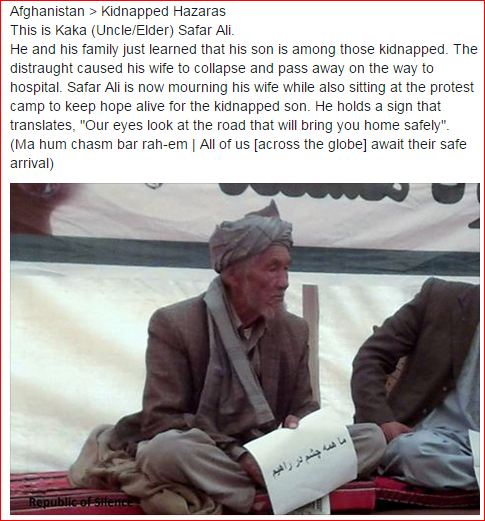 Picture: Courtesy RepublicOfSilence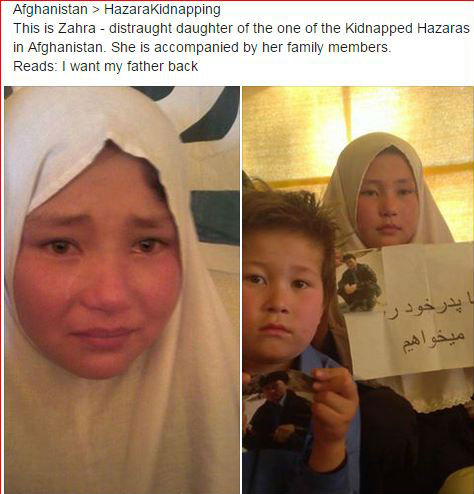 Picture: Courtesy RepublicOfSilence
Based on news from KHAAMA, Pajhwok News, and Hazara sources, the victim was an ANA soldier belonging to Tajik ethnicity and not Shia. Our condolences to the family of the victim regardless of ethnic/religious affiliations.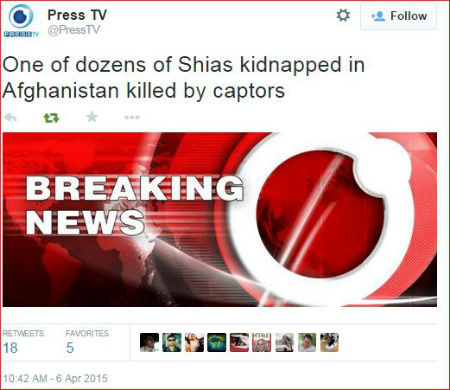 Mohammad Mohaqiq – April 6, 2015
ISIS behind Hazara kidnappings. Former Taliban commanders, Mullah Abdullah Kaka and his deputy Mullah Mansur Dadullah are behind the abductions. They have changed their white flag of the Taliban for the black IS flag.
Nuance
Activism Sites (related to this issue)
Relevant Information
The following two tabs change content below.