Quetta – June 15, 2013 |
Note: There were three attacks in Quetta [region] on June 15, 2013:
Attack 1: In the first and unrelated attack in the town of Ziarat (130 km from Quetta), the Baloch separatists from Baloch Liberation Army (BLA) shocked the Pakistani nation by destroying the Jinnah residency in Ziarat: a Pakistani heritage site in which Pakistan's founder, Mohammad Ali Jinnah, spent his last days shortly after the independence of Pakistan [Aug 14, 1947].
Sources: [ Express Tribune | Dawn | Al-Jazeera ]
Attack 2: Improvised explosives planted in Sardar Bahadur Khan (SBK) Women University bus kills over a dozen, including 14 female students of SBK. Attack was claimed by Al-Qaeda affiliated Lashkar-e Jhangvi (LEJ) terrorists.
Attack 3: Related to Attack 2, Al-Qaeda affiliated LEJ terrorists laid siege of nearby Bolan Medical College Hospital where the injured from SBK attack were brought.
Sources: Attack 2 and 3 – [ Dawn News | Al-Jazeera | NYTimes | CNBC | BBC Urdu – Audio]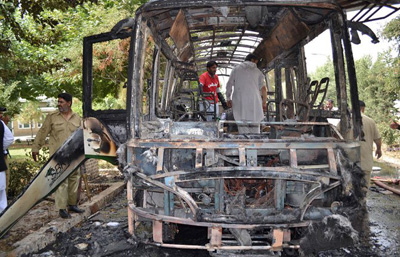 Courtesy: Dawn News
Approximately around 3:00 pm local Quetta time, between 35 to 40 students and teachers of Sardar Bahadur Khan (SBK) Women University located on Brewery road boarded the school bus ready for home. Shortly after, the CCTV footage captured the planted bomb going off, ripping through the bus and resulting in a major fire. According to police sources, between 14 female students and staff of SBK were killed and over a dozen [perhaps many of whom were not in the bus] critically wounded.
SBK is located a stones throw from Bolan Medical College/Hospital (BMC). As ambulances ferried the critically wounded, mostly women, between 5 to 8 terrorists laid siege of the hospital, causing at least two suicide blast inside the hospital, and a gun battle with security forces [FC paramilitary force and police] that lasted for several hours.
On the report of the first blast, a heavy contingent of security personnel along with the Deputy Commissioner and Assistant Commissioner of Quetta rushed to the hospital, walking into the ambush. The Deputy Commissioner of Quetta was killed, including 4 FC personnel, and at least 4 nurses, among others.
The Al-Qaeda affiliated Lashkar-e Jhangvi terrorists claimed responsibility for the attack calling the news media from an "undisclosed" location. According to the group, the attack was to avenge the police operation against LEJ on June 6th, 2013.
28 Killed includes:
14 female students of SBK Women's Univ
Deputy Commissioner Quetta, Abdul Mansoor Kakar + his body guard
4 FC personnel
4 Nurses that included a Head nurse, Iffat Faqir Muhammad and three trainee nurses as confirmed by Pakistan Nursing Federation president Riaz Louise
4 terrorists killed, 1 suspected arrestedNote: Official figures given by various sources keep on using "24 killed" but no source has disputed the above tally of those killed. Therefore, adding all of them up comes to 28.
34 Injured includes:
Director General Health, Essa Jogezai
Assistant Commissioner Quetta, Anwar Ali
F.C. Captain
SHO police [sheriff/incharge of police precinct]
CNBC reporter Zainuddin
Hostages:
Were Hazara female students of SBK the intended target?
Senator Hasil Bizenjo, senior vice president of the ruling National Party in Balochistan, said that the targeted bus originally used to take Hazara girls to Hazara areas. The route was changed only a couple of days ago.
[ On june 18, 2012, LEJ attacked bus carrying Hazara students of IT University killing 5 and injuring over 69. Majority killed and injured were Hazaras ]
According to Mr. Bizenjo, terrorists also used an ambulance decoy as if carrying the bomb blast injured to get into the Hospital emergency area. As the doctors and nurses rushed to receive the ambulance, the terrorists blew himself up and those that rushed to help. Several of the terrorists then took to the roof top of the hospital and inside the ward…
However, the Hazara writer, Hassan Reza Changezi, in his Urdu blog dispels Mr. Bizenjo's belief – a common held belief now – that the Hazara female students were the intended target (in the light of the more information since the attack).
Eye Witness inside BMC, Dr. Abu Bakr Siddiq:
According to Dr. Abu Bakr Siddiq, an eye witness on duty inside the hospital at the time of the attack, the terrorists were heard ordering those who are Sunni can get out [of hospital]. And that they won't let any Shias leave [intending to kill any Shias found inside the BMC].
Note: This information has not been confirmed by any other witness present inside the hospital at the time of the attack.
Source: BBC Urdu
3 Hazara [students?] injured:
According to Mechid TV, three Hazara students were reportedly injured in the ensuing chaos. The identity of those injured could not be verified at this time.
Who are the Lashkar-e Jhangvi (LEJ) terrorists?
The Al-Qaeda affiliated LEJ terrorists is involved in the ongoing genocidal campaign against the 600,000 strong Hazaras community mostly living in quetta region. Since 1999, the group has killed over 1300 Hazaras and critically wounded over 3000. The group has vowed to make Pakistan the "graveyard of Hazaras." The Hazara Organization for Peace and Equality (HOPE) has documented at least 135 separate attacks targeting Hazaras to date [ Google Map of attacks ].
Profile: Lashkar-e Jhangvi
Why subsequent Pakistani Governments have failed to take action against Al-Qaeda affiliated LEJ terrorist network?
Everyone inside the Pakistani government and political parties are afraid of answering this question. As a result, there is little information shared by the state about the nature of its relationship with LEJ.
In the recent elections, LEJ's parent organization, Ahle Sunnat Wa Al-Jamat (ASWJ) – formerly the banned terrorist outfit, Sipah Sahaba Pakistan (SSP) – was in electoral alliance both in center and in Balochistan with the ruling party of Nawaz Sharif. Sharif's own Law Minister of Punjab, Rana Sanaullah (cousin of Chief Justice of Pakistan, Iftikhar Mohammad Chaudry) is a close ally of ASWJ [picture link].
Dawood Badini, LEJ #2 in Balochistan, is the nephew of 911-master-mind, Khalid Sheikh Mohammad, and is a close relative of Ramzi Yousef, the master-mind of first world trade center bombing in 1993, who is currently serving life sentence in the United States.
The LEJ is widely believed to be receiving major funds from Saudi and other gulf states. Recall, Saudi Arabia saved the life of Nawaz Sharif and his family when the then dictator General Pervaiz Musharef toppled Sharif's government in a "bloodless coup" on Tuesday, Oct 12, 1999. Sharif and his family was allowed to "leave" Pakistan based on a deal brokered by Crown Prince Abdullah bin Abdul Aziz Al Saud.
The group also enjoys major support from all Deobandi/Salafi based right wing parties, almost all of whom are involved in running the network of over 20,000 Saudi supported madrassas.
The following two tabs change content below.