Oct 1, 2013 – Hazaras across the globe commemorate October 1st, 2013, as their first 'Hazara Solidarity Day' – a day in which Hazara communities honor the memories of their fallen heroes and express their solidarity with the Hazaras undergoing persecution, genocide, and systemic discrimination in various countries across the globe.
The day marks an important milestone for the Hazaras coming together as a nation in their struggle against a violent network of Salafi/Deobandi Islamic extremists funded by powerful countries such as Saudi Arabia, Kuwait, United Arab Emirates , and Qatar [ Source: One | Two ].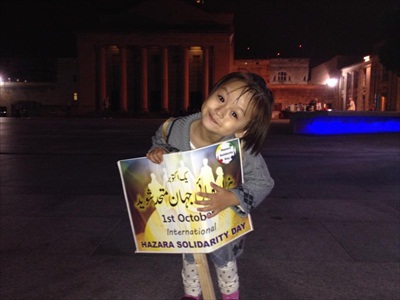 Hazara girl in UK on Solidarity Day
The call for Hazara Solidarity Day came from Hazara Democratic Party (HDP) in observance of Oct 1, 2011, which saw the largest grass roots movement by Hazaras across the world (29 cities in 17 countries) to condemn the ongoing genocide of Hazaras in Pakistan.
According to Hazara Organization for Peace and Equality (HOPE), Al-Qaeda affiliated networks in Pakistan are responsible for the ongoing genocide of Hazaras in which over 1300 Hazaras have been murdered and over 3500 Hazaras are wounded (majority with permanent disabilities) [ See Google Map of all attack locations ].
The Al-Qaeda affiliated networks in Afghanistan, as well as other Deobandi/Salafi Jihadi networks, are responsible for carrying several genocide of Hazaras in Afghanistan murdering between 10,000 and 20,000 Hazaras, as well as the rape and abductions of Hazara mothers and daughers, destruction of the cultural heritage such as the 2000-year old Buddha statues carved into the mountains of Bamyan, and "scorched earth" policy of burning down Hazara villages and farmlands across Hazarajat (or Hazaristan; the historic homeland of Hazaras) in Afghanistan.
What is Hazara Solidarity Day?
Oct, 2011: Largest grass roots movement by Hazaras across the world (29 cities in 17 countries) to condemn the ongoing genocide of Hazara community in Pakistan
April / May 2012: Hazara grass roots organized the second peaceful global protest across the world (29 cities in 18 countries)
Jan 10, 2013: Twin blast in the heart of the Hazara enclave on Alamdar Road kills 108 and injures at least 120
Jan 10 – Jan 17: Hazaras sets history with their unique peaceful protest by refusing to bury the dead bodies until government started a targeted operation against terrorists (Hazaras and Human Rights organizations have accused Pakistani government of complicity with the terrorists). The relatives silently sits with the bodies of their loved ones for over 76 hours in freezing sub-zero temperature.
Civil society all over Pakistan and across the world joins hands, forcing the shameless Pakistani government to dissolve the state government in Balochistan province.
"I am Hazara" and "We are all Hazaras" becomes the most popular theme of the protests as people around the world stands in solidarity with the Hazaras.
Note:
* only protests confirmed by Hazara.net are listed here; actual number of protests were higher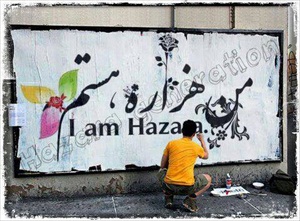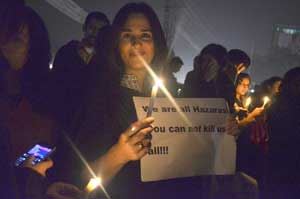 Articles / News on Solidarity Day
Solidarity Events across the globe
* Info will be posted as it becomes available to us
Afghanistan – Bamyan
(courtesy: Jawad Hamdard Kia)
Oct 1, 2013 – Solidarity event in Bamyan [Dari/PDF] – Will be uploaded soon
Afghanistan – Kabul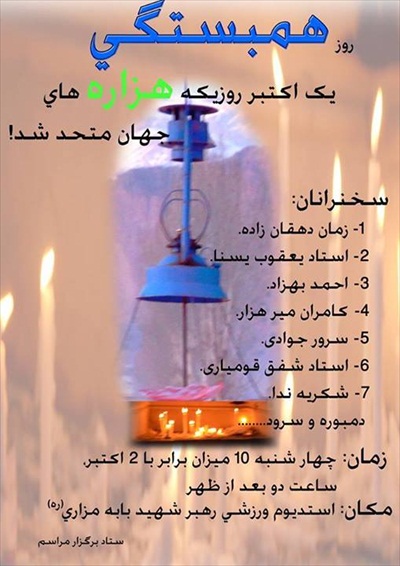 Australia – Geelong
Pakistan – Quetta
Hazara Democratic Party rally in Quetta
Pakistan – Islamabad
Hazara Students Federation (HSF), Islamabad unit
United Kingdom – South Hampton
(photo courtesy: Aziz Haidary and Hazara Killings @ FB)

USA – Newyork
(photo courtesy: Liaqat Ali/Dawood Ali)
Hazaras @ Social Media
* Info will be posted as it becomes available to us
Below some of the messages on Social Media from Hazaras across the globe -:- Afghanistan (Bamyan, Kabul), Pakistan (Quetta, Islamabad, Karachi), Norway, Australia, UK (London), USA (Michigan, Newyork), Sweden…

Wahdat Guardian Org