Quetta, Pakistan – June 30, 2013: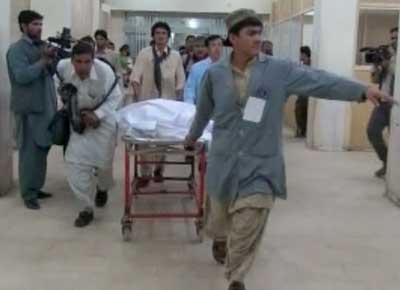 At least 33 Hazaras were killed (including 9 women and 4 children) and over 70 seriously injured (15 in critical condition) when Al-Qaeda affiliated terrorists carried a suicide attack and exploded an improvised explosive device in a crowded area in Ali Abad, Hazara Town area. The attacks were meters away from Abu Talib mosque near Blakhi chowk (4-way) in Ali Abad.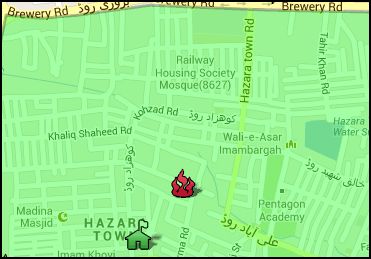 The attack, once again, has happened despite the fact that the entire area is cordoned off by security agencies and every person entering the area is checked.
Al-Qaeda affiliated Lashkar-e Jhangvi (LEJ) terrorists called NNI late sunday evening and claimed responsibility for the attacks.
Victims List (courtesy: VOHY/HDP/MWM):
Note: Data has been compiled from three separate lists; chances of errors/omissions/misspelling exists in the below data.
Abdul Hussain s/o Shah Zawar
Musa Zawar s/o Ghulam Hassan
Asadullah s/o Abdul Hakim
RahmatUllah s/o Ewaz Ali
Ali Madad s/o Rahmat
Ali Haider s/o Mohammad Jawad
Fouzia d/o Mohammad Hassan
Begum Jan d/o Ghulam Haider
Maryam d/o Ewaz
Habiba w/o Qambar Ali
Behrang [Yousafi?] s/o Ahmed Zia
M. Asif s/o Mohammad Musa
Syed Ewaz s/o Syed Ali Haider
Mohammad Bashir s/o Ghulam Nabi
Shukria d/o Ghulam Haider
Ali Akbar s/o Ghulam Haider
Mohammad Juma s/o Mohammad Hussain
Bakhtawar d/o Mohammad Nabi
Maryam w/o Musa
Fatima Hassan d/o Amir Hussain
Dayana[?] d/o Qadeer
Karbalai Ali Raza s/o Karbalai Zahir
Maryam w/o Abdul Hakim
Shakira d/o Mirza Hussain
Safar Ali s/o Ishaq Ali
Arshad Hussain Rezai s/o Mohammad Rahim Rezai
Sharif s/o Fazal Ahmed
Legend: s/o = son of ; d/o = daughter of; w/o = wife of.
Video
Video footage by Hazara sources showed extremely disturbing footage of dead bodies of Hazaras laying in Bolan Medical College (BMC) with absolutely not a single doctor available on duty and most of the wards with dead locks on them.
WARNING: Contains footage of dead bodies
Recall, on June 15 of this year, the Al-Qaeda affiliated LEJ terrorists carried out two terrorist attacks targeting SBK Women University and Bolan Medical College killing 28 and injuring 25.
On Jan 10, the twin bomb blast by LEJ terrorists targeting the Hazara enclave of Alamdar Road killed 107 and injured over 120 (80 to 90% were Hazaras).
On Feb 16, LEJ claimed responsibility for the attack in Hazara town, killing 94 and injuring over 190 – almost all Hazaras including dozens of women and children.
According to Hazara Organization for Peace and Equality (HOPE), LEJ has thus far claimed responsibility for 138 separate attacks on Hazaras, killing over 1300 and injuring over 3000. [ See Google Map of all 138 attack locations ]
Dawood Badini, LEJ #2 in Balochistan, is the nephew of 911-master-mind, Khalid Sheikh Mohammad, and is a close relative of Ramzi Yousef, the master-mind of first world trade center bombing in 1993, who is currently serving life sentence in the United States.
Responsible for at least 140 separate attacks on Hazaras killing approx 1400 and injuring over 3000.
The LEJ is a Salafi/Deobandi based sectarian outfit that is financed by Saudi Arabia and wealthy Sunni extremist Arabs in the Middle East
Various Human Rights organizations have accused Pakistani establishment (including its elite security force, the ISI) for supporting and protecting the LEJ terrorists. To date, not a single LEJ terrorist has been brought to justice by Pakistani government.
In the recent Pakistani elections, ASWJ – the parent organization of LEJ – was the electoral partners of PML-N – the ruling party of current Pakistani Prime Minister, Mohammad Nawaz Sharif.
LEJ Statement – English translation by Hazara.net
Quetta (Qudrat News): Banned religious organization, Lashkar-e Jhangvi (LEJ) has accepted responsibility for suicide and improvised explosive blast in Ali Abad, Hazara Town. Abu Bakr Sadiq, LEJ's spokesperson, called NNI late Sunday evening from an undisclosed location that first our mujahid ("holy warrior") conducted a suicide attack in Ali Abad and then they detonated an improvised explosive device via remote control. The spokesman said that we want to tell the Shiites that they should not let their guards down just because of the "martyrdom" of some of our colleagues during our fight with the Government and that we are always in their pursuit. Just like we have said before that we will not even let them escape even in the deserts of Balochistan. We have been following what we have said and will continue to do so. We have attacked them before and we will continue this process in future. We will not let them escape by any means.
The spokesman said that their struggle will continue till the establishment of the Islamic Caliphate. We warn the government to stop detaining our colleagues and that our attacks will continue against civil establishment, police, and security agencies.
LEJ Statement – Urdu Version (as published on Qudrat News)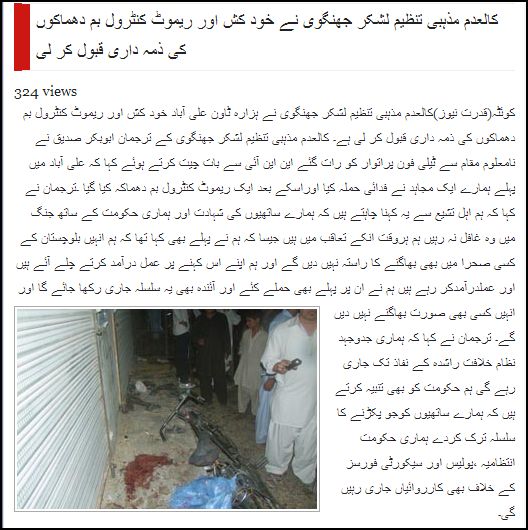 Sources:
The following two tabs change content below.