Developing Story – Updated: July 16, 2013 |
AlQaeda affiliated terrorists killed 4 more unarmed Hazara civilians while injuring two others in Quetta, Pakistan.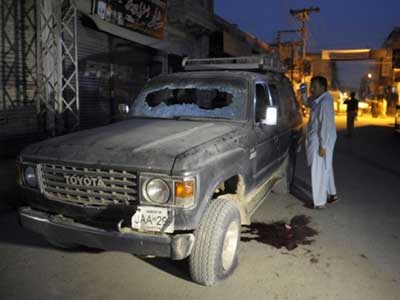 According to sources, 4 terrorists riding on motor cycles opened fire on a black SUV killing 4 Hazara occupants while wounding 2 others. The incident happened on a very busy Masjid road near Kaghan Hotel around 7:30 pm local time right before Iftar (open of fast time for month of Ramazan/fasting).
The victims are reported as Raza Hussain (owner of electronic shop) , Ali Raza, Ali Akbar, and Mohammad Idrees (boxer), and the injured are reported as Taqi Muhammad and Syed Faizul Haq.
The terrorist left in no apparent hurry unchallenged by any type of law enforcement agencies. The City Police station is less than a mile away from the place of incident. Usually Police parties are deployed around the area.
Hazara Democratic Party (HDP) and all other parties have announced a shutter down strike in Quetta for Tuesday, July 16, 2013.
Genocide of Hazaras by AlQaeda affiliated terrorists
Recall, on June 15 of this year, the Al-Qaeda affiliated LEJ terrorists carried out two terrorist attacks targeting SBK Women University and Bolan Medical College killing 28 and injuring 25.
On Jan 10, the twin bomb blast by LEJ terrorists targeting the Hazara enclave of Alamdar Road killed 107 and injured over 120 (80 to 90% were Hazaras).
On Feb 16, LEJ claimed responsibility for the attack in Hazara town, killing 94 and injuring over 190 – almost all Hazaras including dozens of women and children.
According to Hazara Organization for Peace and Equality (HOPE), LEJ has thus far claimed responsibility for 139 separate attacks on Hazaras, killing over 1300 and injuring over 3000 [ See Google Map of all 139 attack locations ].
Dawood Badini, LEJ #2 in Balochistan, is the nephew of 911-master-mind, Khalid Sheikh Mohammad, and is a close relative of Ramzi Yousef, the master-mind of first world trade center bombing in 1993, who is currently serving life sentence in the United States.
Responsible for at least 140 separate attacks on Hazaras killing approx 1400 and injuring over 3000.
The LEJ is a Salafi/Deobandi based sectarian outfit that is financed by Saudi Arabia and wealthy Sunni extremist Arabs in the Middle East
Various Human Rights organizations have accused Pakistani establishment (including its elite security force, the ISI) for supporting and protecting the LEJ terrorists. To date, not a single LEJ terrorist has been brought to justice by Pakistani government.
In the recent Pakistani elections, ASWJ – the parent organization of LEJ – was the electoral partners of PML-N – the ruling party of current Pakistani Prime Minister, Mohammad Nawaz Sharif.
News Sources
The following two tabs change content below.