Quetta – July 22, 2013 – According to sources, AlQaeda affiliated Jaish-ul-Islam terrorists riding on motorcyle(s) fired indiscriminately on a Hazara-owned Yellow Cab on the busiest Shara-e-Iqbal (Qandhari Bazar) killing two Hazaras and injuring three others. Jaish-ul-Islam terrorists are believed to be same as LEJ. The motive is to create confusion and to show themselves much bigger in number.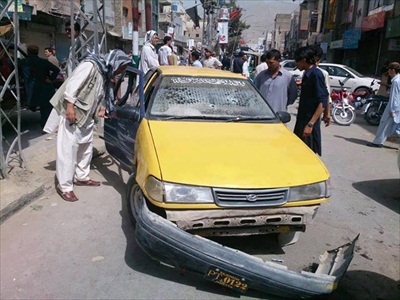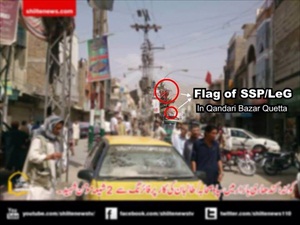 Flags of LEJ/SSP/ASWJ can be seen on the electric poles in Qandhari Bazar.
The attack location – Shara-e-Iqbal or Qandhari Bazar – is only a few hundred yards away from the "city police thana" (city police precinct). Usually dozens of police parties (numbering 4 to 8) patrol the streets. Due to ongoing security situation, the Frontier Corps (FC) – semi Army with heavy weaponry- are also deployed. Yet for the 140th time, the terrorists once again "escaped" from the crime scene without any challenge from the law enforcement agencies.
Victims of Saudi-UAE-funded terrorism: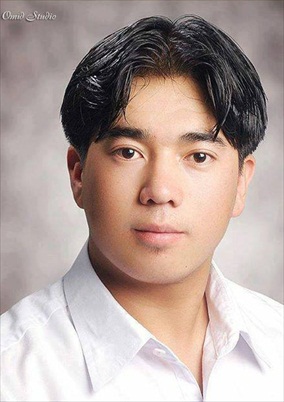 Shaheed Ramzan Ali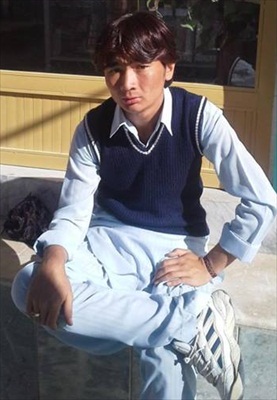 Shaheed Shukrullah Abbas
Statement by Jaish-ul-Islam terrorists:
English Translation by Hazara.net :
Quetta (NNI): Banned religious organization, Jaish-ul-Islam has claimed responsibility for attacking the Yellow Cab on Shara-e-Iqbal. The spokesman, Ghazi Haq Nawaz (1), called [NNI] from undisclosed location and said that our "holy fighters" have targeted the "Shiite's Cab" in which two Shias became the target of our "holy fighters" and we, Jaish-ul-Islam, take responsibility for the attack. This attack was the revenge of the Muslims killed on Kasi road. Spokesman said that we warned media and government of our intention to continue attacks against the Shias. Spokesman said that we kill Hazaras not because they are Hazaras but because they are Shias and because we can identify them easily from their [Asiatic] features (2). Ghazi Haq Nawaz said that we will continue such attacks against the Shias until the establishment of THE Islamic Caliphate [in Pakistan].
Note:
Haq Nawaz is namesake of Haq Nawaz Jhangvi – founder of LEJ. As mentioned above, this org is same as LEJ.
LEJ and its sister extremist Sunni Deobandi terrorist outfits – funded by Saudi, UAE, Qatar – have also attacked Shrines frequented by ordinary Sunnis (Sufis, Brelvis, etc.) such as Data Darbar in Lahore, tomb of Rehman Baba – a sufi poet of Sunni origin, among others. In addition, LEJ has also been involved in killing leaders of Sunni Tehreek. They are correct in that Hazaras make an easy target due to their Asiatic features. But the "Shias are our target" argument is ludicrous. The real aim of these foreign-funded Takfiri organizations are to create a sectarian war between the Shias and Sunni masses in Pakistan. The only possible way to establish a Caliphate (according to their sick and demented mindset) is to pit the 40-million Shias of Pakistan against 140-million Sunnis (Brelvis, Sufis, and non-takfiri Sunnis), resulting in the break up of nuclear armed Pakistan. Currently, the Takfiri groups such as Deobandis and Salafis have an upper hand in their terrorist designs due to heavy funding by the above mentioned Arab countries and the West's indifference in trying to secure their "short term" interests by standing with countries (Saudi, UAE, Qatar) promoting extremism all over the world.
Urdu version (NNI News):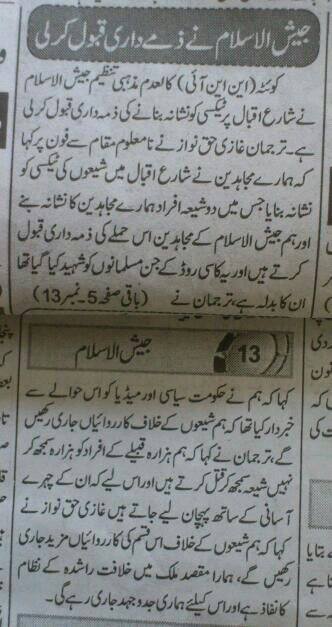 Recent Lashkar-e Jhangvi attacks:
On July 16, LEJ terrorists killed 4 Hazara youth on Masjid road which is situated within a mile radius of this attack.
On June 15, LEJ terrorists carried out two terrorist attacks targeting SBK Women University and Bolan Medical College killing 28 and injuring 25.
On Feb 16, LEJ claimed responsibility for the attack in Hazara town killing 94 and injuring over 190 – almost all Hazaras – including dozens of women and children.
On Jan 10, the twin bomb blast by LEJ terrorists targeting the Hazara enclave of Alamdar Road killed 107 and injured over 120 (80 to 90% were Hazaras).
According to Hazara Organization for Peace and Equality (HOPE), LEJ has thus far claimed responsibility for 140 separate attacks on Hazaras, killing over 1300 and injuring over 3000 [ See Google Map of all 140 attack locations ].
Dawood Badini, LEJ #2 in Balochistan, is the nephew of 911-master-mind, Khalid Sheikh Mohammad, and is a close relative of Ramzi Yousef, the master-mind of first world trade center bombing in 1993, who is currently serving life sentence in the United States.
Responsible for at least 140 separate attacks on Hazaras killing approx 1400 and injuring over 3000.
The LEJ is a Salafi/Deobandi based sectarian outfit that is financed by Saudi Arabia, UAE, Qatar, and wealthy Sunni extremist Arabs in the Middle East. According to Wikileaks, citing leaked diplomatic cables of US Embassy in Pakistan, the extremist Deobandi organizations receive at least $100 million dollars annually from these countries.
Various Human Rights organizations have accused Pakistani establishment (including its elite security force, the ISI) for supporting and protecting the LEJ terrorists. To date, not a single LEJ terrorist has been brought to justice by Pakistani government.
In the recent Pakistani elections, Ahle Sunnat Wul Jamat (ASWJ) – the parent organization of LEJ – was the electoral partners of PML-N – the ruling party of current Pakistani Prime Minister, Mohammad Nawaz Sharif.
Sources
The following two tabs change content below.