Quetta – Feb 23, 2015 | On Feb 16, 2013, an 800-1000Kg 'Liquid Bomb' was used by AlQaeda-affiliated Lashkar-e Jhangvi (LEJ) targeting Hazara school children in the Hazara enclave of HazaraTown, killing at least 94 and injuring over 190.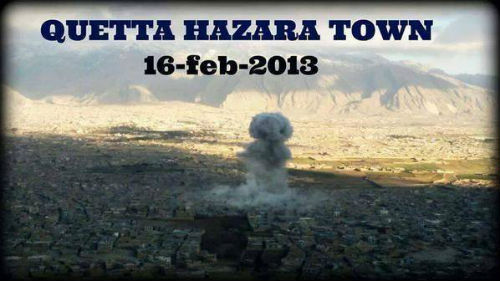 HazaraTown Blast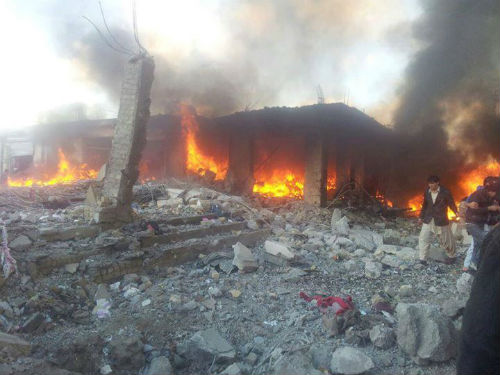 Scene of devastation at the site of the blast
SUMMARY
This document provides context to Former Senator Pakistan, Faisal Raza Abidi's Feb 16th speech in HazaraTown, Quetta, on the occasion of '2nd Anniversary of HazaraTown Blast.' While the issue at hand is Mr. Abidi's inflammatory speech, the main purpose is to provide a big picture, as well as shed light on the missed nuances about the Hazara Nation.
Faisal Raza Abidi's Speech
Mr. Abidi was invited by Majlis-e Wahdat-ul Muslimeen (MWM) – a right-wing Shia political party closely allied with Iran. The gathering included members of MWM and residents of HazaraTown area hoping to hear solution from a notable of Pakistani State to end the ongoing genocide of Hazaras. The rally did not include any Hazara notables or secular Hazara parties that speaks for the Hazara nation.
Excerpts from his Urdu speech along with English translation is provided below.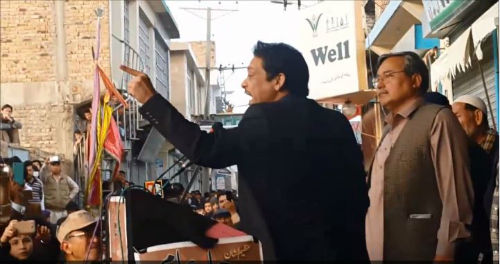 >> VIDEO: Senator Faisal Raza Abidi's speech in Quetta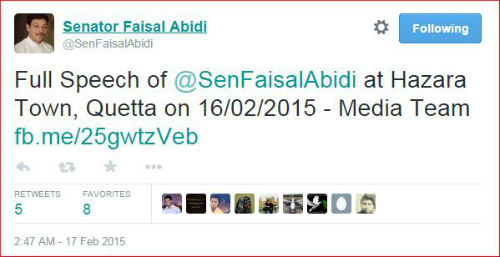 Excerpts of Urdu Speech (with English Translation):
[Timeline – Excerpt]
3:35 – Tumhara kaam sur laina, hamara kam sur daina
Your job is to behead, our job is to give our head (Ref to Karbala 1400 years ago)

4:12 – Ref to CIA, Mossad – previously seeing Pakistanis like animals and with suspicion … your [Hazaras] sacrifices [1400 killed], peaceful protest, changed view of Pakistan and outside world

5:20 – With patience [over killings], You showed your loyalty to the State, to State Institutions, to State's Army

6:49 – Ya insaaf milega ya Khuda-ki Qasam in hukumrano ko fin-Nahr kar dainge. Hukumrano ko sabaq sikhanay kay liye may yahan mojood hun

Either we get justice, or we swear to God that we will send these rulers to hell. I have come here to teach these rulers a lesson.

6:50 – Huma apni Riyasat ki baqa ki jung lad rahe hain. Aur ye yad rakhiyega kay puri dunya ki security forces ka nishana Afwaj-e Pakistan hain

We are fighting for the survival of our State [Pakistan]. And keep in mind that the Army of Pakistan is on the target of all the security forces of the world.

7:00 – Is mission ko may nay apnaya aur 18 carore awam ko Afwaj Pakistan bananay ki mission pay nikal pada

I have adopted this mission and embarked on a mission to convert 180M people to Army of Pakistan
15:20 – Jab Jab inki [Siasat dano] shakle daikha karo, khabar dar inko kuch na kehna, inki shakle diakh kay aikh he nara mara karo: Pak Fauj Zindabad

Whenever you see these politicians faces, be warned not to say anything, when you see their faces, just chant one slogan: Long Live Pakistan Army
18:45 – Aik din zaroor ayega jab Afwaj-e Pakistan ki ijazat say hum aslaha uta-yenge. Aur Islami qanoon kay tay-hat khoon ka badla khoon hain … hisab laingay

One day will come that with Pakistan Army's permission we will pick up arms; According to Islamic Laws, it is 'Eye for an Eye' (blood for blood)…we will hold them accountable
19:15 – (3 Times) 'aap Fauji adalat pur atemad ka izhar kartay hain'?
(3 times, pushing people to respond louder each time) Do you bestow your trust on Military Courts?

19:45 – Kiya aap ko yaqeen hain Fauji adalato say aap ko insaaf milega?
Do you believe you will get justice from Military Courts?

Blooper moment:
19:53 – [Former] Chief Justice of Pakistan – someone responds 'ZindaBad', pause, correction, MurdaBad

Sen: [slogan] Chief Justice of Pakistan
Crowd: Long Live!
Sen: puzzled, pause
Crowd: laughs
Crowd: Down with Chief Justice!

20:50 – Kiya aap apnay khoon ka hisab Fauji adalato say lainge?
Will you seek justice from Military Courts for your [spilled] blood?

22:30 – Tum say aik akhri baat karna chahtay hain … dehshat gardi kya khelaf karwai honi chahiye (words not clear)…

Sen Abidi: I will say one last thing to you all… there should be action against terrorism (words not clear) we give you 15 days …

[Someone sitting on Stage] we give you one month more;
Sen Abidi: If he [Sharif] didn't honor his words and enact National Emergency in a month … then there will be Martial Law in Pakistan (Sittin-Protest ultimatum leading to Martial law?)

24:30 – Nawaz Sharif Murdabad!!
Down with [Prime Minister] Nawaz Sharif!!

25:00 – Chaudry Nisar …
[crowd] Murdabad
Sen Abidi: Only say 'Pak Fauj Zindabad – bus'
Decision will be on MARCH 16 (ultimatum)

Crowd: [anticipating another slogan] Down With [Ch. Nisar]
Sen Abidi: Only say: Only Say Pakistan Army – and that is it!
Decision will be on MARCH 16 (ultimatum)

Ref to Sharif/Nisar: If you honored your words and enacted emergency using Article 245 giving Army the authority then we congratulate you, and let you complete the remainder of your time in office till 2018

26:50 – (2 times) Promise you won't pick up arms until Army gives consent

29:20 – Reference to Jordanian pilot: One pilot burned, Jordan changed entire policy, 82K deaths and Qaum still enjoying its Cricket.

29:50 – Think of Pakistan's defense as Cricket match: It is time to defend Pakistan. And to defend it, 180 million must come forward as Army of Pakistan.

31:00 and 32:30 – We will not just get these rulers out but get them to the gallows [via Court Martial]

32:00 – Sen + Crowd chants: Go Nawaz Go

36:09 – Aik Yazeed fin-Nahr howa [ref to earlier killing of LEJ head in Balochistan, Usman Saifullah Kurd, that same day]

One Yazeed (reference to Karbala battle 1400 years ago) went to hell

36:30 – 'Wada karain kay [wardi] janaza may shirkat lazim hain … wardi ko ahteram dainay hain'

Promise you will ensure participation in a funeral of Army men … that you will respect [Army] uniform

37:35 – (twice) Kiya aap mujhe 'Voice of Shuhada-e Pakistan' tasleem kartay hain? Do you accept me as 'Voice of Martyrs of Pakistan'?
About Faisal Raza Abidi
Mr. Abidi is a Shia and a former Senator of Pakistan Peoples Party (PPP) of late Benazir Bhutto. He is best known for his fire-brand conversation style taking on the Selective Status-Quo of Pakistan and makes frequent guest appearances in Pakistani media. His PPP was the ruling party prior to Prime Minister Nawaz Sharif's (PMLN) government. In 15 years, 170 targeted attacks, 1400 Hazara deaths, Senator Abidi did not once find time to visit bereaved Hazara families in Quetta for condolences. The good Senator was also found wanted when Hazara MNA, Syed Abbas – also from PPP – boycotted the Pakistani Parliament sessions by daily sitting outside the building. Two of the back-to-back attacks (Jan 10 – Alamdar Road enclave, Feb 16 – Hazara Town enclave) were the biggest in Pakistan's history and led to major protests all across Pakistan, and world.
Adding insult to injury, several of his PPP party leaders made extremely derogatory and callous remarks in the aftermath of the 'Mastung Attack' in which Hazaras were pulled out of a bus, lined up, and shot-dead in a 'firing squad' style by Lashkar-e Jhangvi [1][2].
PPP Chief Minister of Balochistan: "I will send a truck load of tissues for the victim's loved ones to wipe their tears. If I were not a politician, I would have sent Tobacco instead"
About MWM
MWM came into prominence after successfully rallying the Shias, also going through a Genocide by proxies with links to State, across Pakistan in the aftermath of the 'Twin Blast' in Hazara enclave of Alamdar Road, killing 108 and injuring over 120. Secular Hazaras, however, accuse MWM of playing 'Politics of Dead,' capitalizing on the unique and completely peaceful protest by Hazaras for its benefit towards a controversial election win of the MPA seat from Alamdar Road.
MWM also gained notoriety after it led the 'Anti-Islam movie' rally where the charged crowd attacked the US Consulate in Karachi, removing the US flag from the building.
On Sept 10, 2010, 72 (53 Hazaras) were killed and 172 injured when a suicide bomber struck the MWM-led 'Al-Quds' rally – an annual event originally initiated by Ayatollah Khomeini's Iran (1979) to express solidarity with the Palestinian people and oppose Zionism and Israel's existence.
The fore runner of MWM (in Quetta) was Fiqh-e Jafaria led by Sheikh Tawasuli. On July 6, 1985, an Al-Quds style rally on Alamdar Road resulted in a confrontation with the Government. The '6 July' as it is commonly known, resulted in deep suspicion of the Hazaras in the eyes of the Pakistani Establishment, and that suspicion and discrimination continues to date.
MWM also held a controversial 'Shuhada Conference' in AlamdarRoad Hazara enclave in which, among others, Former Senator Faisal Raza Abidi made his first appearance.
CONCLUSIONS
It is unclear, Who is Faisal Raza Abidi? He is not a Shia religious scholar, nor is he part of Pakistani State since he resigned from his Senate seat. He is not part of MWM, and it is unclear if he is still part of PPP. The self-proclaimed title of 'Voice of Shuhada of Pakistan' has absolutely no meaning. Even if taken at face value, he can't proclaim the title in front of Hazaras since not once did he attend any shaheed's funeral (ie not once in 15 yrs, 170 attacks, 1400 deaths, including attacks so big that consumed the entire nation of Pakistan and sparked world wide protests and hunger strikes, and where families sat with 100+ coffins for days in sub-zero frigid Quetta temperatures).

MWM and Faisal Raza Abidi are political allies of IRAN. The fact that they are also Shia is irrelevant since their public profile is political, not religious. MWM rallies and banners prominently displays Iran's leaders, and their stand – 'Death to America' chant – against United States is consistent with that of Iran (something never used by Grand Ayatollah Sistani of Iraq). If MWM was about Shias, it would have given equal prominence to Iraq (as Iran, if not more), since it contains 90% of Shia religious sites. Interestingly, MWM gained many sympathy votes after slogans comparing its election symbol of Tent with that of the tents of Karbala's martyrs (Iraq).
Since issue is politics and not religion, representation of Hazaras can only be done by those who speaks for the Hazaragi values and its culture. For example, one can understand that Awami National Party (ANP) in KPK, or Pashtunkwah Party (PMAP) in Pakistan, can be a representative of Pashtun culture and values, and not Taliban even if/when 100% of Taliban were to be Pashtuns. In the case of Hazaras, same is true of the difference between Hazara Democratic Party (HDP) and Majli-e Wahdat-ul Muslimeen (MWM).
Hazara Genocide, as well as Shia Genocide, in Pakistan is not religiously motivated. The notables of Pakistani State are openly admitting of State's involvement in creating and grooming the proxies for their 'strategic' use. Abidi's incessant references to Army [in his speech] is not compatible with the ground reality in Pakistan [1][2][3]. Proxies of Pakistani State have killed over 20,000 Hazaras in Afghanistan and Pakistan. LEJ masterminds whom Abidi calls as 'Yazid' – 'escaped' from secure Army area without breaking a single lock. If he was 'Yazid' then Abidi should speak clearly on who is behind protecting the 'Yazids' of Pakistan.

Residents of Balochistan – Baloch, Pashtuns, Hazaras – have lived side by side for centuries. They know each other's value system. The tribal code is the norm when interacting with each other or resolving conflicts. This ensures an issue does not escalate beyond a certain point. Everyone understand the toxic situation in Balochistan. Both Hazara and Baloch are going through a very tough time in Balochistan. But the likelihood of a wider conflict between the nationalists – both of whom are secular – is highly unlikely. The religious elements does not represent any culture. Regardless, safety and security of citizens is the responsibility of the Pakistani State as defined by the United Nations.
'ISI Cultivated Taliban' – Gen Musharraf – Feb 2015
"Taliban are my strategic reserve and I can unleash them in tens of thousands against India when I want" – General Musharraf, April 1999
Sipah-e Sahaba (SSP), parent of LEJ, received patronage from Army's General Zia /ISI trained 25,000 Punjabi in Afghanistan – Fmr. DG FIA, Tariq Khosa's Speech in Pakistan Senate, Sept 29, 2012
Follow Us:
Twitter: @hazaranet
Facebook: https://www.facebook.com/hazara.net
The following two tabs change content below.