Quetta – July 27, 2013 |
Hazara town residents shoot down would be suicide bomber in Quetta averting another major disaster. The bomber managed to get pass multiple security check posts when volunteers on security patrol challenged him before shooting him dead.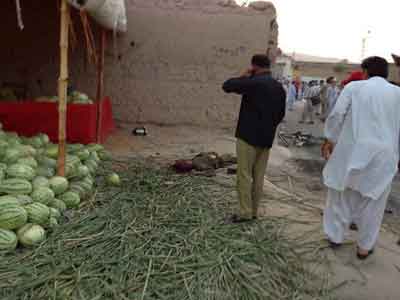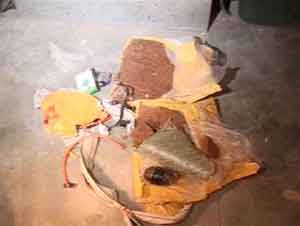 Photo: Suicide vest
According to police sources, the bomber was armed with a hand grenade and a suicide vest packed with 10 kilograms of high grade explosives and ball bearings. The vest was safely deactivated by the police.
The apparent target of the attack may have been the packed Hazara mosque right before the Iftar time (opening of the Fast).
The police and other security agencies have not provided an explanation of how the bomber managed to get pass multiple security check points.
In the recent past, AlQaeda affiliated terrorist networks such as Lashkar Jhangvi (LEJ) and Jaish-ul Islam (another alias for LEJ) have claimed all attacks on Hazaras in Pakistan.
Recent Lashkar-e Jhangvi attacks:
On July 22, Jaish-ul-Islam terrorists killed 2 Hazaras on the busiest Qandhari Bazar in broad day light.
On July 16, LEJ terrorists killed 4 Hazara youth on Masjid road which is situated within a mile radius of this attack.
On June 15, LEJ terrorists carried out two terrorist attacks targeting SBK Women University and Bolan Medical College killing 28 and injuring 25.
On Feb 16, LEJ claimed responsibility for the attack in Hazara town killing 94 and injuring over 190 – almost all Hazaras – including dozens of women and children.
On Jan 10, the twin bomb blast by LEJ terrorists targeting the Hazara enclave of Alamdar Road killed 107 and injured over 120 (80 to 90% were Hazaras).
According to Hazara Organization for Peace and Equality (HOPE), AlQaeda affiliated terrorist groups have thus far claimed responsibility for 141 separate attacks on Hazaras, killing over 1300 and injuring over 3000 [ See Google Map of all 141 attack locations ].
Dawood Badini, LEJ #2 in Balochistan, is the nephew of 911-master-mind, Khalid Sheikh Mohammad, and is a close relative of Ramzi Yousef, the master-mind of first world trade center bombing in 1993, who is currently serving life sentence in the United States.
Responsible for at least 141 separate attacks on Hazaras killing approx 1400 and injuring over 3000.
The LEJ is a Salafi/Deobandi based sectarian outfit that is financed by Saudi Arabia, UAE, Qatar, and wealthy Sunni extremist Arabs in the Middle East. According to Wikileaks, citing leaked diplomatic cables of US Embassy in Pakistan, the extremist Deobandi organizations receive at least $100 million dollars annually from these countries.
Various Human Rights organizations have accused Pakistani establishment (including its elite security force, the ISI) for supporting and protecting the LEJ terrorists. To date, not a single LEJ terrorist has been brought to justice by Pakistani government.
In the recent Pakistani elections, Ahle Sunnat Wul Jamat (ASWJ) – the parent organization of LEJ – was the electoral partners of PML-N – the ruling party of current Pakistani Prime Minister, Mohammad Nawaz Sharif.
Sources:
The following two tabs change content below.